It is always interesting to see the publicly available information from some of these orgs — standing in stark contrast to the PR lies that are spouted at the "international events."
The New York Ideal Org has a Facebook page where they keep track of each Clear they make. As you can see, one of their staff members attested to Clear a couple of weeks ago. It's the latest entry on their FB page.
But they are very diligent about announcing their clears — apart from a few random posts about CCHR or the Birthday Event, it is pretty much all that appears on this FB page (which by the way, has a grand total of 1264 likes…)
So, it's a pretty good measuring stick of the "Planetary Clearing" emanating from one of the first and most prominent of the "ideal" orgs in scientology.
It comes as no surprise that John Silvestro is the FIRST and ONLY Clear NY Org has made in 2017.
But that seems to be a little unfair as a sampling, so I went back a YEAR. This is the last one reported before John — on May 5th 2016!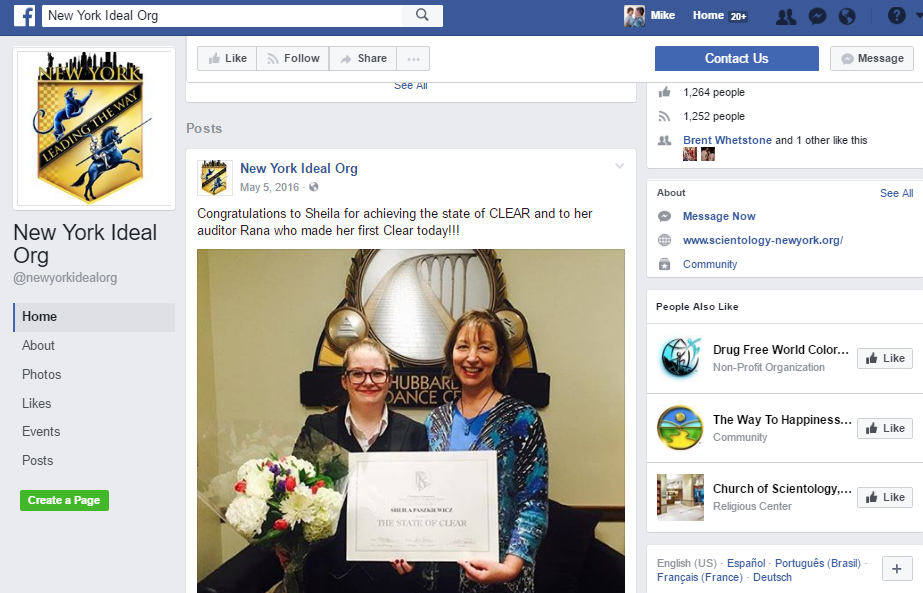 Giving them the benefit of the doubt, and thinking perhaps they had an end of winter rush on making Clears, I went back to the beginning of 2016. There were 3 more. I guess you could call that a rush…
So, in all of 2016, the mighty $20 million dollar renovated NY Org made a grand total of FOUR Clears. 2 of the 5 Clears made since January 1, 2016 have been staff members.
Remember, this org has some unique factors in its favor: It is 100 yards from one of the most populated places on earth, Times Square. It is the continental org and has the Continental Management organization (CLO and CMO) right there, overseeing every move they make. There are 20 million people within 50 miles. And there is only one other Ideal Org in East Harlem and a non-existent org in name only on Long Island. That is it for "Clearing New York."
I hate to break it to you scientologists — 4 people a year just isn't making planetary clearing a reality.
It is an absurd joke. Wake up and smell the coffee people. You are in a deluded state. And if you think every other org is doing great and it's just NY Org that is failing, that is just more delusion. I bet Harlem hasn't made a SINGLE Clear in that time. Long Island probably has NEVER made a Clear. Buffalo hasn't made one either. Same goes for almost every other org on earth. They are considered to be Super Orgs if they make 50 Clears a YEAR.  In fact, not even the double SH Size, model, Sea Org, ideal LA Org has ever accomplished that. And if they made 50 a WEEK they would still be going backwards compared to population growth.
Scientologists – think for yourself, as long as its what we tell you to think.