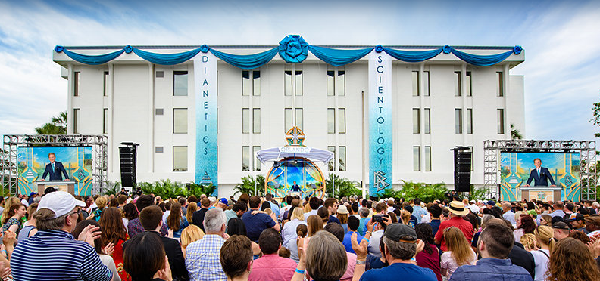 This is the headline scientology has on their website announcing the "new" org in Orlando.
A STAR BURSTS IN "THE CITY BEAUTIFUL" AS A RIBBON FALLS ON THE NEW CHURCH OF SCIENTOLOGY
Complete gibberish. And it goes on for paragraphs, starting with this:
A "Magic Kingdom" of a metropolitan region where enchantment is routine, the surreal is real and stars are wished upon, the "Theme Park Capital of the World" is entirely unique. Home to wonderlands such as Walt Disney World, SeaWorld Orlando, Universal Studios and the Wizarding World of Harry Potter among many more, Orlando's massive playground draws fun-loving, thrill-seeking tourists of all ages from across the globe.
I guess they actually think this is clever? It has NOTHING to do with the "ideal org" off the beaten path of the main attractions. Shermanspeak goes into hyperdrive describing this mausoleum as a "shining star," already twinkling in the Church's growing interstellar galaxy.
This "interstellar galaxy" must only be visible from the front porch of eternity. Because everyone else sees the shrinking world of scientology, with fewer and fewer missions and orgs, less and less people at each event and newly opened empty buildings.
But they reserved the most nauseating Shermanspeak for the great man himself. I wonder if he truly thinks he sounds erudite or magisterial rather than pretentious and absurd?
In commemorating the special occasion, Mr. David Miscavige, the ecclesiastical leader of the Scientology religion, reflected: "Beyond all else for which your city is renowned, there is still another way to spin this tale and it follows from a different brand of magic. Because with the fall of that inaugural ribbon, a new Church of Scientology arises and with it a kingdom of spiritual freedom where every citizen reigns."
And then came this rather odd admission (who knows if the facts are accurate, but let's accept them at face value):
Illicit drug use is a primary concern in the Greater Orlando area, as it is in every community, large or small in Florida, where 85% of the nation's oxycodone pills are made. Through the Church-supported "Truth About Drugs" international education initiative, Scientologists have been on the front lines enlightening over a half-million youth and adults in Orlando alone, on the dangers of drug abuse.
In attempting to be dramatic, they admit the biggest org in the world (Flag) and the biggest Class V ideal, St Hill size org in Tampa, plus the ideal org in Miami are failing miserably. For these people who are saving the planet from everything, including specifically the "scourge of drugs", they are doing a particularly poor job if 85% of the nation's oxycodone pills are made in their backyard… What happened to the most effective anti-drug campaign on earth? Saving this planet my ass.
And this one was just plucked from thin air because it sounded good — nobody has seen Volunteer Ministers in Central Florida until Flag sent a few to pick up trash a couple of weeks ago so they would have some photos to put up in the org:
Embodying their well-known slogan "Something Can Be Done About It," Florida's famous Scientology Volunteer Ministers are a familiar sight around Central Florida in their signature yellow T-shirts, especially during the summer hurricane season. They have been helping to repair hurricane swept homes and ruined lives. 
As has become routine for these events, the "blue-ribbon dignitaries" on hand were a Who's Who of Unknowns to share the stage with the Chairman of the Bored. This time they included a woman "of" the Florida School Boards Association; an At-Risk Youth Educator, a Lieutenant of the "US Armed Forces" (Army? Air Force? Navy? Marines? Coast Guard?); and last and perhaps least, a Pastor. It must be getting embarrassing for the leader of leaders to be sharing the stage with people like this. They cannot even persuade a local Mayor, any politician, Police Chief or religious leader to come out and be seen with them.
Oh, how the mighty have fallen. This is no Mayor of San Francisco or US Congressman for NY…
And as mentioned in the last event — the "photo op" is strictly forced perspective "short man step forward, everyone else stay where you are," and even that didn't solve the problem. Applebox tech is needed here.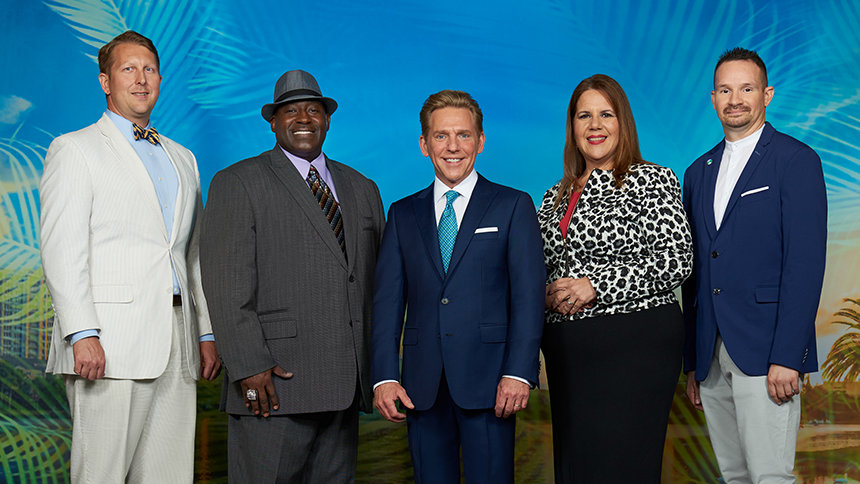 The turnout was pegged at 2,000. Everyone knows how over-inflated their numbers ALWAYS are. My estimate from the photos would be no more than 500. And this is with Flag and Tampa org basically owning the whole event. What a poor show. They can't even get 1000 people to drive 90 minutes to pay homage to Dear Leader.
You can see the photo of the ribbon yanking — dominated by Flag whales exclusively. I am not sure there is anyone from Orlando on that stage at all other than the 2 EDs, one of whom appears to be a recent Flag public recruit.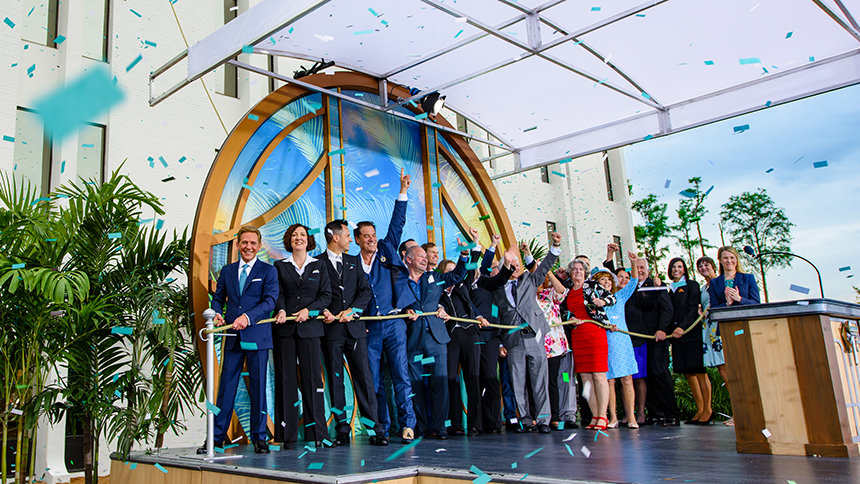 All around, another pig's ear presented as a silk purse — and a full set of finest Corinthian leather luggage and an all-expenses paid vacation to the Magic Kingdom. Notwithstanding all that has come before, and in light of what we have seen here today, it's a monumentally incredible watershed moment that transcends time itself and transports us through the barn doors of eternal happiness to a state of grammatical fatigue, not to mention complete adrenal and bank account exhaustion.