So much for the first month — a big fat nothing. None of the four epic accomplishments was done….
Wonder how many people are sitting around at Flag waiting for anything to happen — desperately trying to avoid the regges? (Good luck with that)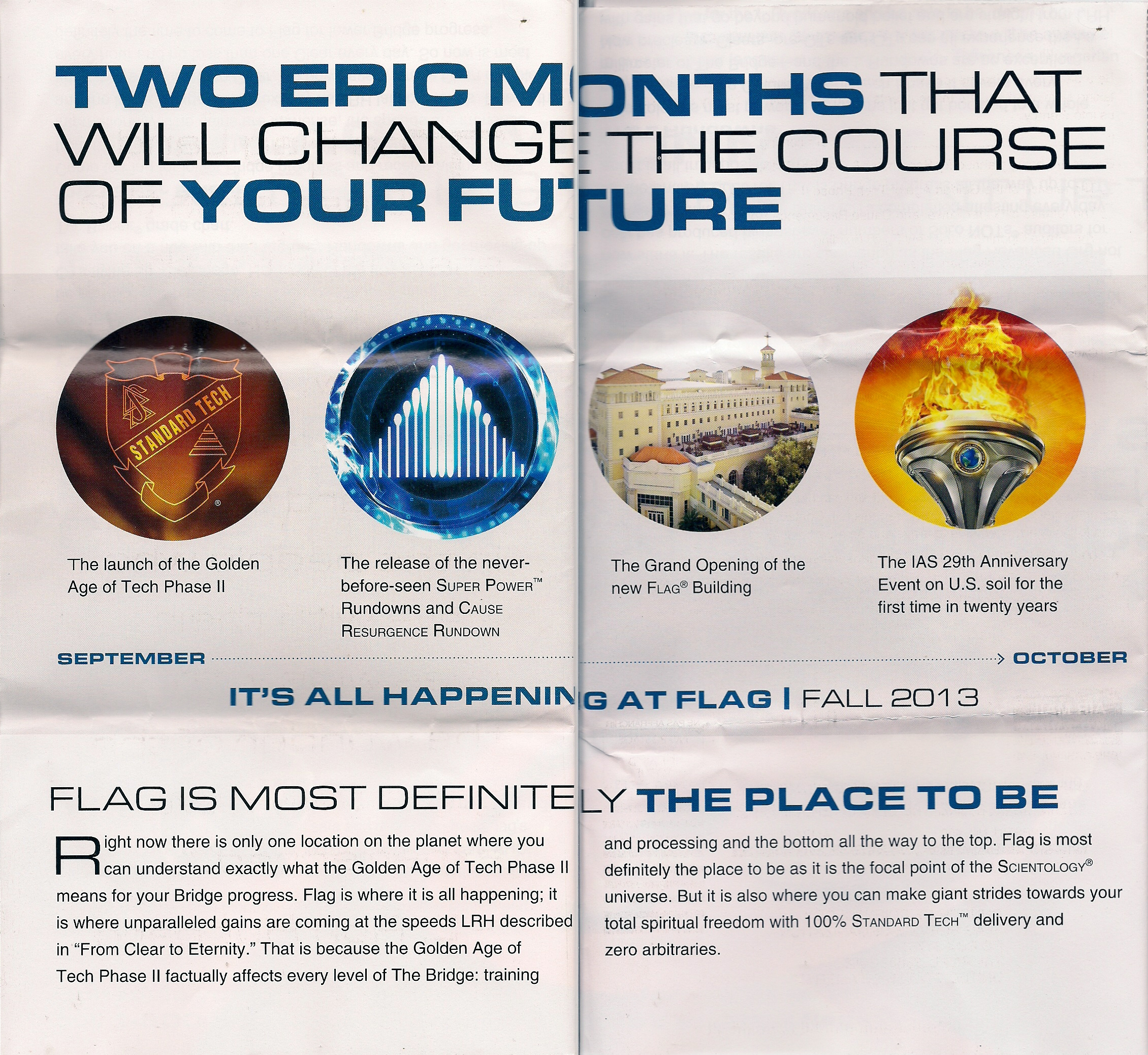 Now they are piling on. Promoting the wonders of the IAS event "directly following" the opening of the SP Building and release of GAG II. 
Make your plans to attend. We are just not telling you WHEN it will be. But when we finally make up our minds a week before the event you will be expected to be there.
From: Nitzan Burstein, IAS Administrations [mailto:[email protected]] 

Sent: Saturday, September 28, 2013 8:02 PM
To: 
Subject: Come to the IAS Anniversary—Live at Flag!

Dear ,

This year the IAS Anniversary will be held LIVE at Flag for the first time ever!

There is no more exciting place to be right now than Flag. The Golden Age of Tech Phase II is soon to be released and the new Flag building will open its doors for the delivery of Super Power. And directly following this will be the IAS 29th Anniversary celebration.

So make your plans now to attend. Join the thousands of Scientologists who will be arriving at Flag from all over the world for the biggest IAS Anniversary event ever. Find out who the new Freedom Medal Winners are, celebrate the spectacular accomplishments of the year and see the plans for future expansion unfold. 

This is a once-in-a-lifetime event which you'll not want to miss!

We will let you know the Anniversary date just as soon as it is finalized. But keep your fall calendar clear and be ready to come to Flag for the IAS Anniversary weekend.

Email [email protected] now to confirm you are coming.

SPECIAL TRAVEL PACKAGES ARE AVAILABLE. Contact the Central Reservation unit at Flag for more information

U.S. or Canada: 1-800-233-FLAG
International:        +1 727-467-5008 or
Email:                  

Sincerely,

Nitzan Burstein
IAS Administrations
And finally, Flag is in on the act — attend EVERY Friday Graduation (except when Voldemort decides to cancel it on Friday afternoon like the last 2 weeks). And, be sure to keep "every weekend open from now through the IAS event" — EXCEPT we are not telling you when the IAS event will be.  Except that it's not September or October. But, rest assured, you can make plans for this event just as you did for the Freewinds Maiden Voyage and Auditor's Day. It is happening until we tell you it isn't, then you just need to forget we said anything at all.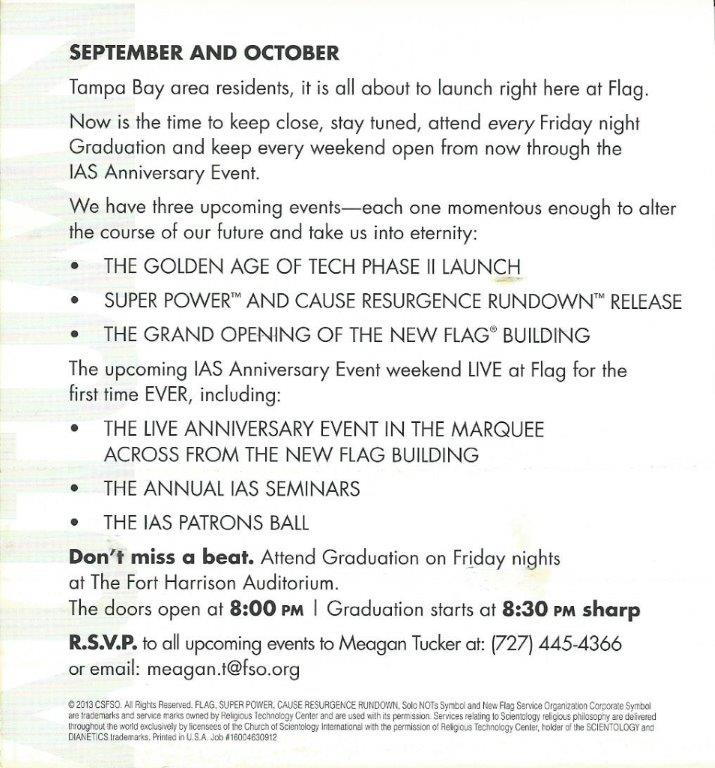 The mass confusion is spreading. This is publicized mayhem being played out in public for all to see.
Ignore all the hype about golden ages and new civilizations and monumental tidal waves of outrageously standard on Sourciness and just read what they are saying.
We are so incompetent we cannot plan or execute these massively important events and announcements. We don't even know when they will be. And this from the masters of organization and stat manipulation that can count the number of pages of "new tech" shipped to Flag and the individual grommets in the tent and the precise number of drills passed by the 947.3 students studying the "streamlined" meter course.  And the events cannot be planned more than a week in advance??
In the words of my old friend, Earl Cooley, Miscavige and Co. don't know whether to shit or wind their watches.