This was a recent article in Canada about the Quebec City "ideal" org.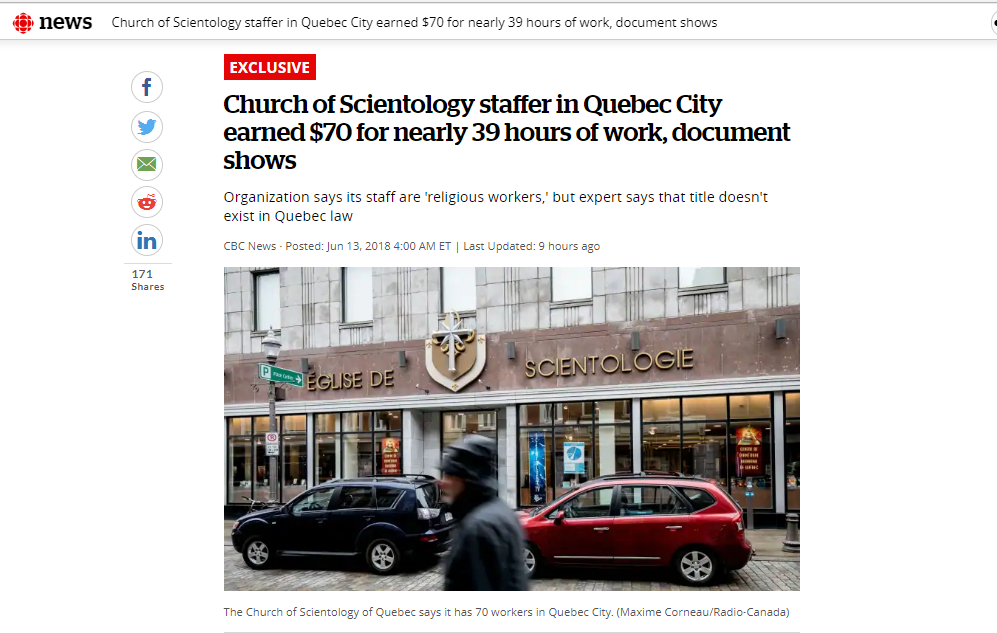 There are a few things of note.
The sleaze that scientology staff are "volunteers" has worked in a lot of countries and states. Apparently, their luck ran out in Quebec. It is a farce to claim that people who often work 60, 70 or 80 hours a week on a "staff pay system" with contracts that have enforcement clauses if the full term is not served are "volunteers." It strains all credibility when you see the recruitment pitches to join offering $500 to $1000 per week (see last Thursday Funnies).
As the Quebec officials note, you are either a volunteer or an employee. You cannot be a volunteer employee under the law.
The pitch Hubbard made for "St Hill Size Orgs" is that this is the size they are "beyond the make-break point." Miscavige proclaimed the reason orgs were NOT attaining "SH Size" was because they were not able to "perform all the functions of an org" and thus he developed the "ideal orgs." This was supposed to make attaining SH Size possible virtually over night. After all, they STILL promote that "going Ideal" means instant "10X Expansion."
You can see what Hubbard told the staff yourself, right on the front page of LRH ED 339R-1 on 10 October 1982.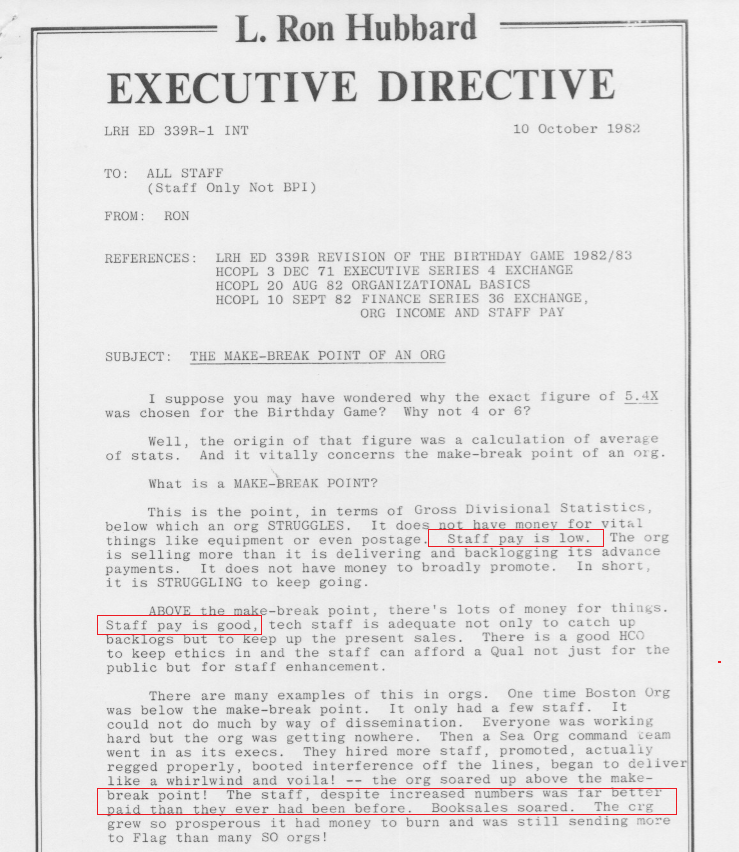 You may not also know that he goes on for pages talking about how this sort of expansion only takes a matter of WEEKS. That if you are on purpose and decide to do it, it gets done and the only reason orgs fail to accomplish this sort of expansion is their own lack of intention to do so.
In 1982.
It is more than 35 YEARS later. And it still hasn't happened.
In fact, the "grand opening" occurred in January 2010 (it's cold in Quebec in January, Miscavige gave it a miss, I think very cold weather freezes his botox and he cannot talk). That is 8 1/2 YEARS ago. Hubbard would be pissed. Weeks have turned into months and now years. $70 a week is not "good" staff pay.  You could not live as a homeless person on $70 a week.
Yet further evidence that scientology orgs are failing all over the world.