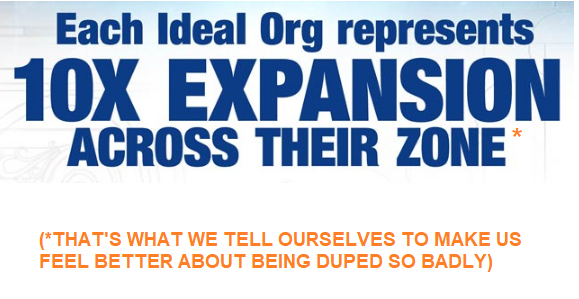 It is a very warped world inside the scientology bubble.
Occasionally we get a glimpse that is not just the "We ARE Clearing ____city, country, the planet" or "we are expanding faster than ever in history" or the wildly overused "monumental, epic, highest ever, greatest in history, golden age" etc etc
Here we have some reality. The Senior C/S Kansas City is trying to get some more tech staff to join his 12 auditors (a number he seems strangely quite proud of…)
He tries to sell the upsides of Kansas City — move here and join staff because we have trees, hills, fountains and music — but he also slips in some inadvertent clangers.
First, he has been there for more than 21 years — absolute proof according to Hubbard that his tech is terrible and he is off purpose, otherwise this place would be way beyond St. Hill Size by now. Apparently he makes his money through real estate and is NOT making a living as a staff member. Another massive no-no according to Hubbard.
But, let's focus on the REAL problem.
There are, according to Dan, 2.3 million people in the city (let's not count all the rest of the midwest this org is supposed to be responsible for). And yet they are PROUD of making 20 Clears last YEAR. Yes, not 20 in a week or a day, but 20 in a year.
They probably hope they will 10 times their stats moving into this new building. They have been told this is what will happen, but based on all other orgs — they will likely see a one or two week increase and then sink back to previous levels. But to be charitable let's give them 10X expansion.
This would mean 200 Clears in a year.
The area population is increasing about 1.5% per annum. Which is about 35,000 people each year.
They are so far off the correct order of magnitude to make Clearing their area a reality it isn't funny. Just to keep up and not have Kansas City become LESS CLEAR, they would have to make 100 Clears EVERY DAY.
Sorry Dan, things really ARE hopeless.
But good luck with your PTS to the Middle Class real estate stuff. Should get you a big commendation from RTC.
Kansas City is a big fail.
But a roaring success compared to Ventura or Albuquerque or any org in Canada or France, or, or, or…