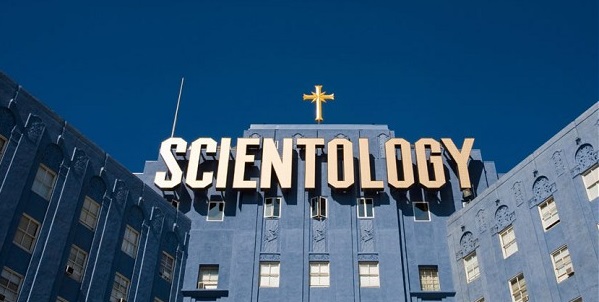 Our weekly installment of wisdom and thought/argument provoking from Terra Cognita.
The Religious Graveyard
Once religions reach a tipping point, they're hard to close down. After accumulating thousands of well-to-do followers, amassing a fortune in real estate, accruing Midas-like money, and establishing a worldwide presence, religions are damn hard to get rid of. Not only has too much been invested in the physical infrastructure, its faithful have devoted too much of their spiritual lives to let go.
The written word is more resilient than we mere mortals. Organizations can be demolished, its property seized, and all its assets given back to those who were duped. But unless society goes all Fahrenheit 451, it's nearly impossible to get rid of doctrine. Especially in the digital age when information is disseminated with the push of few keystrokes.
Scientology meets the above criteria. They have the money, they have the real estate, they have the members, and LRH made sure they have the requisite number of written words.
David Miscavige will die sooner or later. L. Ron Hubbard never will. Regardless of the percentage of truth in his books and lectures, he incorporated just enough glue to make his words stick to those in search of betterment—not all people, but enough. Even though more people have left the church than remain, they'll always be those who believe LRH's material works if just applied properly.
Russia and Germany lived on after Stalin and Hitler were deposed. Not as the countries they were before the war, but they survived nonetheless. Likewise, Scientology will endure once DM's gone.
Scientology has banked so much cash and amassed so much real estate that taking apart the organization would be a Herculean task, if not impossible. Undoing Scientology would be akin to dismantling General Motors or the Catholic Church. The court battles alone could take decades.
Stockpiling as much cash and real estate as quickly as he can just might be DM's strategy for handling future attacks. Saving the planet and its people has taken a back seat to saving the church (if saving Earth ever was a real goal).
But What About All of Scientology's Crimes and Abuses?
The US government has shown little inclination to go after Scientology. Despite Miscavige's propaganda, there aren't more than 10,000 active members in the United States (50 Class V Orgs, times a generous 150 members in each, equals 7,500 US Scientologists). The Justice Department has bigger fish to fry, especially in lieu of all the shenanigans its current administration has added to its pot of issues.
The US boasts a long history of religious freedom. No judge wants to be known as "down on religion." Most are tolerant of other practices; most are reluctant to challenge a person's Constitutional right to practice his own faith. Crazier—some would say more dangerous—religions than Scientology have persevered, some for thousands of years.
The largest churches in the world have committed the greatest atrocities: Crusades, Jihads, enslavement of indigenous people, polygamy, pedophilia, acts of terrorism, repression of women, human trafficking, and intolerance of other belief systems. The list goes on and on.
I don't mean to dismiss Scientology's crimes, but they pale in comparison to historical examples executed by more mainstream religions—both in number and severity.
I'm not saying Scientology should be given a "get out of jail free card," or that it be absolved of all guilt and responsibility. I'm just saying that the US tends to look the other way when it comes to abuses committed under the auspices of religion.
What about the IRS?
The Internal Revenue Service famously brought down Al Capone. Might they do the same with Scientology by revoking its exempt status?
First of all "gangsterism" isn't a religion. Secondly, Scientology already bought off the IRS. And thirdly, even if the IRS did declare Scientology wasn't a religion and tried to collect on back taxes, the case would take decades to adjudicate. And even if the church lost, chances are they'd only be liable for paying taxes in the future, not retroactively.
Taking down Scientology would be like trying to sumo wrestle a rhinoceros—or like trying to sue a massive tentacled, multi-national corporation. Even when these monstrous companies lose, what they pay in damages is a pittance compared to quarterly revenues. They almost always settle, never admit to wrongdoing, and when the company stock plunges, their CEOs float off into the sunset on the strings of obscene golden parachutes.
Depending on the Internal Revenue Service to topple Scientology is futile. And even if the IRS tried, I'm sure the church has a substantial defense plan already in place to fight them off.
But what about all that Crazy Stuff?
All bibles are swollen with lies, outlandish theories and beliefs, and "allegorical" tales so bizarre that no sane literary agent would ever read beyond the first fourteen lines before tossing it in the reject pile. LRH text is no different.
And yet, human beings continue to believe and practice. And donate. And proselytize. And donate. And hope. And donate some more. And pray to one god or another. And hope for salvation and a better afterlife. And donate more. And eventually turn from ashes to dust.
People will always believe in LRH and Scientology. Some will open up their own versions in one far-off desert or another while others work valiantly to salvage their mother church. E-meter or no e-meter, people will give auditing a try. Some will have huge wins. Some won't. Some will try involving their friends. Some will post on blogs such as this one.
Cognitive dissonance is a human condition. Might be written into our DNA.
Last Words
What's the answer to a corrupt church standing guard over an indecent dragon-cache of riches?
Spread as much truth as possible in the face of its lies. Reveal its abuses. Write, post, reply. Film, watch, comment. Read, talk, and spread the word. Sue?
There's always a chance.
Still not Declared,
Terra Cognita
PS:  I must add a note to this as I believe Terra is not giving enough credence to two factors:
The IRS can administratively change their determination that scientology does not satisfy its criteria for religious organization exemption. To do so would make the future revenue stream dry up, but it would also change the perception of courts that scientology must be afforded 1st Amendment protection to hide their immoral and fraudulent practices 
The church lives in the US., the most litigious society on earth. It has a lot of money. There are a lot of lawyers. Should the IRS change their view, it would become a feeding frenzy to tear flesh off that beast. Even if the IRS doesn't change their view, there are still a lot of lawyers and $3 billion reasons why they would be interested. It will happen sooner or later. Asthe PR climate changes, it becomes a more and more attractive target. Once that dam bursts, the end will surely be nigh.