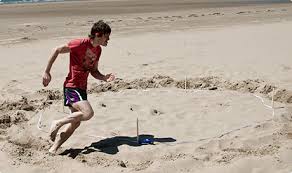 The hype is now rolling for the Running Program (Cause Resurgence Rundown) and it is fascinating to see.
Somehow it encapsulates so much of what is wrong with the over-the-top efforts to sell Scientology.  As it is repeated and expanded it devalues anything of worth in the subject.
Now the claims are that running around in a circle for days on end is a powerful OT rundown …from LRH research on the whole track…. and this is amazing technology never before seen in this society and age. (?)  Oh come now. Calm down a bit don't you think?  
It's just RUNNING!
In circles no less…. 
Miscavige used to use this as punishment.  I have run around a pole at the Int Base on the now bulldozed "Running Program Track" many times in full uniform in the midday heat because I (and everyone else in WDC or everyone else in CMOI or everyone else in the meeting he was just in) needed to "get in PT" or "stop dramatizing being an SP" or whatever.  Certainly it was not to accomplish OT EXTERIORIZATION (all caps)…. And I don't even know where THAT comes from in the middle of this email?
If this is so beneficial why not make it available to everyone for free? I don't think there is any harm in it.  It probably has the same benefits many runners claim they experience from running — see this New York Times article entitled Yes Running Can Make You High.  There is no cost involved in letting someone run. They claim they have to "C/S" it. No, just hand them an "instruction sheet" that tells them to run until they have a cognition. 
$2500 for the privilege of being allowed to run "in outer space" (ie an "entire floor" with a track that has no windows so there are no distractions) is obscene. They can ONLY get away with this by touting it as an "OT Rundown" and "based on Whole Track research." 
It is this sort of corny over promotion and exorbitant fees for doing nothing that gives Scientology such a bad name (along with abusing people, disconnection, insane public statements, PI's etc etc).
Some koolaid drinking brown-nosers will do the Running Program and proclaim it has given them powers beyond OT VIII or the L's or Dianetics or TR 0 and it will be touted like crazy. But the word of mouth WILL get out and this will be another bust. An honest "success story" from this rundown would be "Enjoyed running and am going to continue to run at home now as it made me feel good. Exercise is healthy and I can think more clearly and don't feel as stressed by life when I am running."
A thetan exterior process you can do in a body — right. So is daydreaming if you want to get right down to it. 
I hope people get the word before too many people hand over $2500 for the privilege of exercising in the SP building.  
LA Fitness is cheaper. And they don't have IAS regges sitting in the changing rooms.
Date: Thu, 05 Dec 2013
From: Barbara Dews <barbaradews@flag.org>
Subject: Technology Never Before Seen on Earth has Arrived

Flag Service Consultant Newsletter
Technology Never Before Seen on Earth
Has Now Arrived!

Generate and Control Energy at Will!

From LRH research on the whole track comes a powerful OT rundown. You will experience amazing technology never before seen in this society and age. The Cause Resurgence Rundown.

This rundown is so powerful, it can pull a thetan out of anything. You won't just blow facsimiles and ridges. You'll restore your innate power to generate your won energy and flows.

OT EXTERIORIZATION

The Cause Resurgence Rundown is based on research in an area of the track that predates this current planet by countless millennia.

THE GAINS FROM THE CAUSE RESURGENCE RUNDOWN INCLUDE:

Power to generate your own energy and flows
Blowing facsimiles and ridges
Your flows as a being straight and smooth
In present time, like you've never experienced before
Rocketed Cause

This is from LRH Research on the Whole Track.

It's an OT whole track Objective process like no other. A thetan exterior process you can do in a body.

Restore the true source of energy in your universe. Generate and straighten out all flows. Raise your cause level out of this universe.

It's an OT action addressing the thetan directly. But not limited to OTs.

You can do it at many points on the Bridge. Preclear. Pre-OT. OT. And it is an unlimited rundown. A rundown you can do multiple times, with greater and greater gains the higher you are on the Bridge. 

Staggering in simplicity, awesome in power, the Cause Resurgence Rundown rockets your cause and control.

It smooths out and opens your energy flows wide. It leaves your space and flows clean. 

Step up to CAUSE!!

The minimum case prerequisites for the Cause Resurgence Rundown are the Purification Rundown and Objectives Completion.

Time: On average: 2 to 4 weeks

Cost: $2500

The Cause Resurgence Rundown delivery space encompasses an entire floor of the new Flag Building. It is like stepping off planet Earth into the far reaches of outer space. There is nothing like to be found anywhere. A highly-trained team of expert Cause Resurgence delivery Staff know precisely how to ensure you receive 100% standard delivery of the rundown and achieve the full stellar results.

Restore your innate power to generate your own energy and flows. Everything is in place for your Cause Resurgence Rundown.

I want to help you arrive for this incredibly OT service. Please call me or write anytime for anything.

Love,
Barbara Dews
Flag Service Consultant
323 872 3585
http://www.scientology.org/
http://www.whatisscientology.org/

Freedom is reached by going up through the GRADES of auditing.      LRH HCOB 5 April 1969