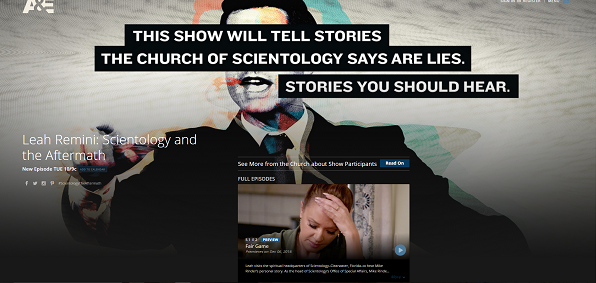 The Reddit AMA ("ask Me Anything") special has now aired, and now it's on to Episode 4 tomorrow (The Rise of Miscavige).
As always, I am interested in your views – including criticisms and things you think might be better explained or covered.
I also suspect there are quite a number of new people who are coming to this blog for the first time. To all of you, welcome.
I thought you might find it instructive to be directed to some earlier postings I have done that may help explain some things if you just watched the show or are curious about the bizarre scientology statements about Leah, me or anyone who has a differing opinion of their infallibility and dares voice it.
Perhaps most important is to understand the mindset scientologists have about those who criticize any part of it:
Dealing with Critics of Scientology — The L. Ron Hubbard Playbook
And here is a fairly short explanation of how disconnection is used in scientology (and how they try to spin the practice):
Disconnection: the PR and the Truth
An overview of the efforts by scientology to smear Leah Remini:
Scientology Dead Agents* Itself
And finally, a recent post about the unenforceable agreements scientology tries to hold over people's heads to make them fear speaking the truth:
Thank you
Thank you to all who continue to send messages of support and love by text, phone, email, FB, twitter, instagram and even stopping us in the street or at the grocery store. It has been quite overwhelming. I cannot hope to respond to everyone. I try to read everything and that alone is a challenge. If I do not "Like" your comment or Tweet or respond to your message, please understand it is appreciated.
Many wonder what they can do. Call your Congressman and Senator to do something about the ongoing abuses. Write to the IRS. Support and comment on media articles and blogs that cover the abuses (like Tony Ortega at the Underground Bunker) and express your support to A&E for stepping up and taking on scientology.
Watch Leah Remini: Scientology The Aftermath every week and tell your friends to do so.
Don't ever think you have no voice or there is nothing you can do. There is plenty.
The support of Leah and everyone else involved is invaluable and appreciated. Please don't stop. Knowing there are a lot of people out there on our side is comforting and gives strength.