You may have seen this pitch and others on Tony's site and social media.
Flaunting government guidelines recommending no gatherings of more than 10 people, scientology instead uses the pandemic as a reason to encourage people to COME IN TO THE ORG.
It's batshit crazy. Take a read and I will then try to explain the madness from a scientology perspective.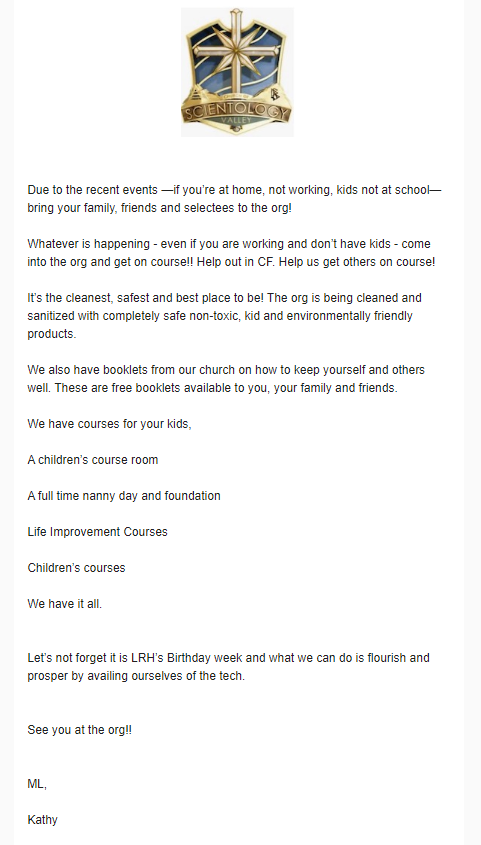 Admittedly, that one was before the stricter requirements for social distancing were in force in California, but then, after the Governor ordered that everyone stay in their homes, this one came in: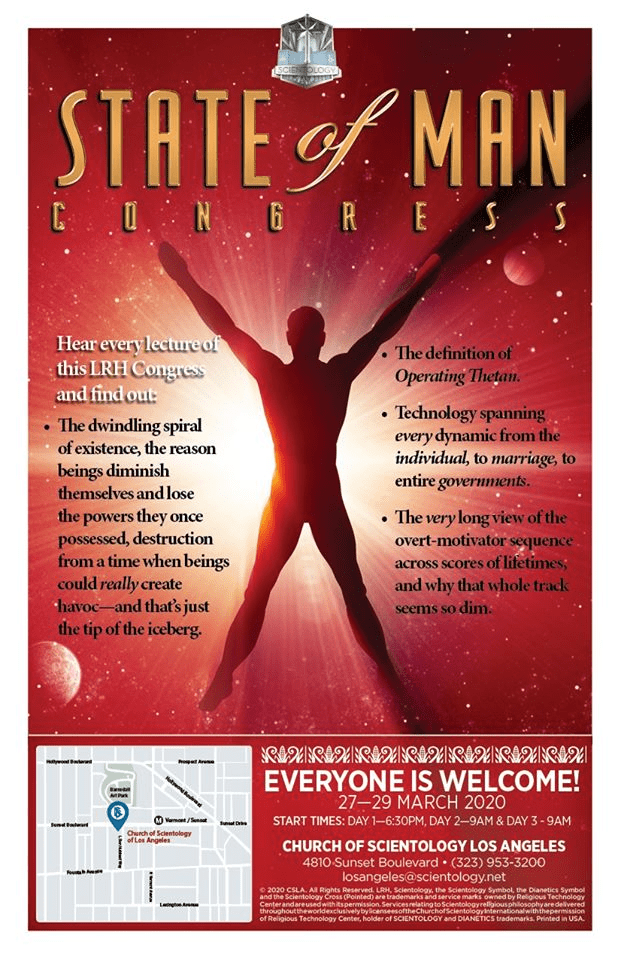 A combination of factors makes scientology act insane in this regard.
First among them, believe it or not, is the need to "get stats up." This drives staff members in scientology orgs to do irrational, even illegal things. The pressure to be "upstat" and not let the team down in the vital cause of clearing the planet and this sector of the universe is a mighty powerful motivation for staff members.
This is combined with the general belief that the government is not to be trusted and that the media are "merchants of chaos" who spread false information to scare the population and thus control them. These are articles of faith in scientology, repeated often by Hubbard in his writings and lectures.
Add to this the general disdain for "wogs" and anything they say or do is based on "bank think" — the result of the collective "reactive mind" of poor, deluded men. Not much credence is given to anything that emanates from wogs, rather than Hubbard. Medical science is low on the list. Hubbard's disdain for the medical profession began when they rejected Dianetics. And things did not improve from there.
And finally, the belief in scientology that in order to be sick, you must be "PTS" or a Potential Trouble Source, which means you are connected to and effect of a Suppressive Person. This is a black and white Hubbard edict in ALL CAPS:
ILLNESS = ONLY PTS
ONLY PTS = ILLNESS
By now every old time scientologist has done the "PTS/SP Course" more than once. This course claims to make them impervious to SP's. They can "Confront and Shatter" SP's and Suppression. So, they know they are not PTS so they adopt the motto of Alfred E. Neumann: "What, me worry?"
This is a dangerous mixture of insanities that causes scientologists, especially staff members, to behave in ways that are not in their best interests. Though they of course "know" they are.
More delusion inside the bubble. But this could be deadly.