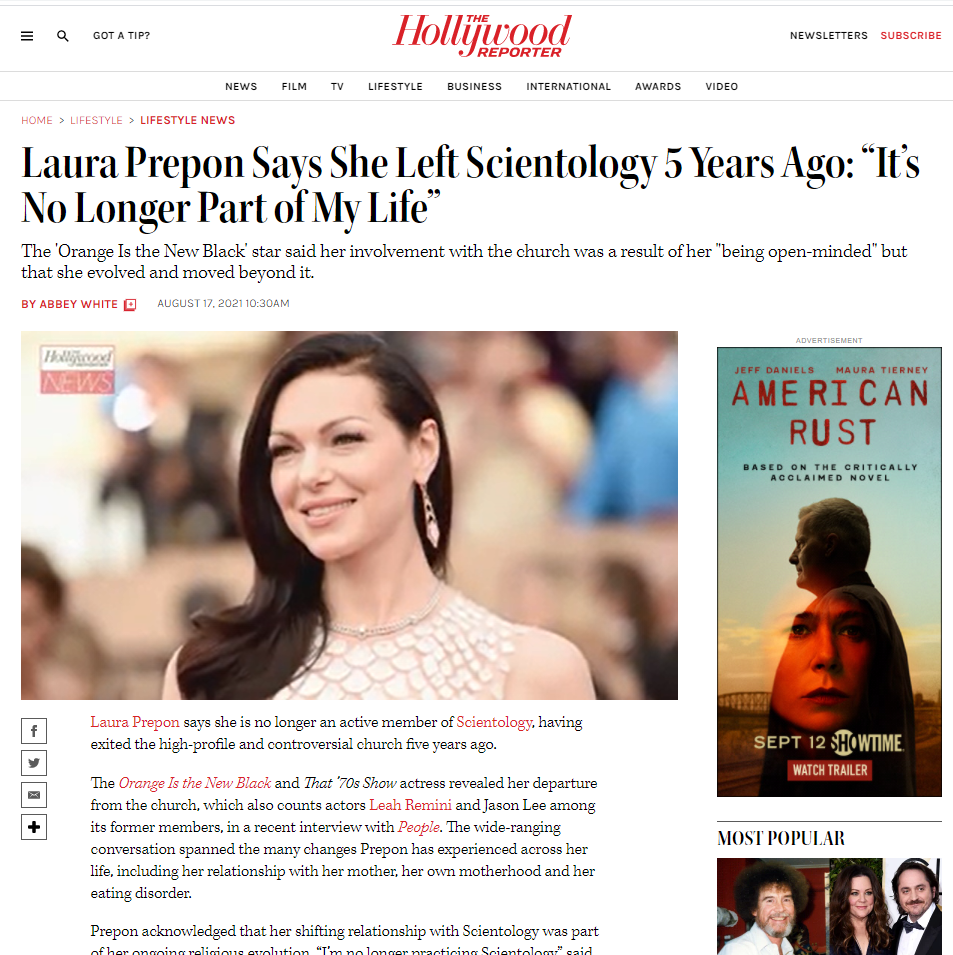 The recent article about Laura Prepon where she announced she had not been in scientology for 5 years made me wonder how many of the other scientology celebrities may be "out." It's pretty common in the scientology world for people to simply stop participating, without making any big announcement. There is even a term for it these days: "under the radar." It spares the person the harassment that comes from declaring you are done, and in many instances the loss of friends and family or jobs.
Laura Prepon hadn't made public statements about scientology for many years.  But she is not the only scientologist celebrity laying low. And even those who clearly remain in the sheeple mindset, like Kirstie Alley and Nancy Cartwright — what are they doing to "disseminate scientology" these days? From the organization's perspective, a celebrity is not pulling their weight if they are not out spreading the good word. They have a platform in the public eye and they should be using it.
Even Tom Cruise, the greatest disseminator in the history of dissemination, has been strangely silent about promoting the virtues of scientology in the media.
Apparently, the subject has become too toxic for even the big dog of the litter. By definition he has serious PTS phenomenon on display. A far cry from the days of the black turtleneck video "Have I ever seen an SP hahahahahahahaha" and acting like a lunatic with Matt Lauer.
Just peruse this list and ask yourself, when was the last time I heard them talk about scientology? Apart from Elisabeth Moss who is asked about the obvious cognitive dissonance of her role in The Handmaid's Tale and the reality of scientology abuses, and her lame responses to the timid questions, I can't recall any of them saying a thing.
That is really bad news for scientology's future. And I wonder how many are "under the radar"?
The Hall of Shame:
Erika Christensen
Jenna Elfmann
Tom Cruise
John Travolta
Kirstie Alley
Michael Pena
Nancy Cartwirght
Elisabeth Moss
Beck — he claimed he is no longer a scientologist
Juliette Lewis
Vonnie Ribisi
Jason Dohring
Mark Isham
Marisol Nichols
Anne Archer
Greta Van Susteren
Katherine Bell — not sure if she still considers herself a scientologist
Interested to hear any feedback on info on public statements either way on any of them.