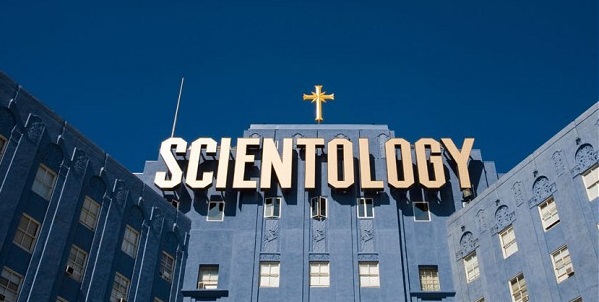 A day later than usual, but here is the latest offering from Terra Cognita
Scientology Food Chain
I don't remember where exactly, but somewhere L. Ron Hubbard talked about and created his hierarchy of churches in which new public would start their services at lower orgs and work their way up the lines, ultimately ending up on the Freewinds. He created this system because, as usual, he knew better.
This design system has never worked and Scientology churches at every level have been insolvent and failing for decades.
The Hierarchy
At the bottom of this hierarchy, LRH created Field Groups made up of one or more people offering basic, introductory Scientology services such as Life Repair and the Purification Rundown. These groups are fairly independent and designed to feed people to missions and Class 5 Orgs. Most Field Groups operate out of their homes.
Next up the ladder are missions. They offer basic, introductory services and are supposed to feed Class 5 Orgs. Many are small and struggling, with only a few staff. Some are larger and more successful than these orgs they serve.
Class 5 Orgs' purposes are to make auditors and Clears and drive people into advanced Orgs for their OT Levels. There are around forty of these Class 5s in the United States. Current leader, David Miscavige, has a plan to make each of them "ideal," staffed with hundreds of personnel. The "unideal" org near where I live, has a dozen staff at most, none of which are full-time. It too, has been insolvent for decades. I'm sure I could count on one hand the number of Clears and Class 5 auditors they've made in the last twenty-five years.
Per LRH's model, Class 5 Orgs are supposed to be surrounded by—and control—dozens of missions. If Orgs are the hub of the wheel, missions lie at the end of each of their spokes. Most of these orgs are lucky to be associated with one nearby mission.
Next up the food chain are the advanced orgs: Saint Hills, Advanced Orgs, Flag, and the Freewinds. They're all staffed by Sea Org members, their auditors are more highly trained, and each promote that they deliver better service than Class 5 Orgs and missions.
Saint Hills were designed to deliver the St. Hill Special Briefing Course—essentially a long course containing most of LRH's written and spoken work. Ninety-nine percent of Scientologists bypass this org and its one course. And since DM cancelled the SHSBC some years ago, there is even less purpose for these superfluous orgs—who've been forced to offer lower level services that were designed to be delivered in missions and Class 5 Orgs.
Advanced Orgs deliver the confidential OT levels 1 through 5.
Flag, in Clearwater, is headquarters for Scientology, and is charged with delivering OT levels 6 and 7, the L's, and few other rundowns. Flag is touted as the pinnacle of tech delivery and the mecca of standard perfection.
The Freewinds is an old, converted passenger ship where OT 8 is delivered. Why did Scientology go through all the expense to outfit a ship and not just deliver this one service at Flag? There is no good reason. The ship should have been mothballed years ago.
Poachers, Rustlers, and Thieves
What all these orgs and missions have in common is that they all poach each other's public.
LRH's system was originally designed so that Scientologists would move from lower ranking churches to higher ones in an orderly fashion. For instance, they'd do a communications course and receive their Life Repair at their local mission. Then they'd go to a nearby Class 5 Org train to become an auditor, receive their Grades, and theoretically, go Clear. A few would move to Los Angeles or England to do the SHSBC but most would go on to an Advanced Org—an AO—to begin their OT levels. After completing OT 5, they'd graduate to Flag for 6 and 7, and finally, fly off to the Caribbean for fun and games and OT 8 on the Freewinds.
Over the years, this model has degenerated to a Lord of the Flies, every org for himself paradigm. Higher orgs now offer services that were originally intended to be delivered at lower orgs. Lower orgs have been forced to suck it up, grit their teeth, and pretend this is okay.
Presently, Class 5 Orgs deliver all the same services offered at missions; AOs deliver all the same services offered at missions and Class 5 Orgs; and Flag delivers all the same services offered at missions, Class 5 Orgs, and AOs. Each of these church promotes that they provide better and more precise service than their lower counterparts. Flag even developed a special "Case Cracker" unit to "handle" the constant stream of failed PCs from lower orgs. (PC: short for preclear; commonly, anyone receiving auditing.)
Check Out the Latest Mag
One need but look at Flag or AOLA's (Advanced Org, Los Angeles) list of completions posted in their magazines to see this pattern of thievery. The vast majority of these completions are from courses and auditing levels that should have been done at Class 5 Orgs and missions. It's kind of pathetic seeing these advanced orgs reduced to delivering Life Repairs and Student Hats to pad their stats—and pocketbooks.
This whole pattern of lower orgs funneling people to higher orgs has failed. This failure has become self-perpetuating. The more that the public is turned-off about Scientology, the fewer and fewer people sign up for introductory services and go on to become Clear. As missions and Class 5 Orgs drive fewer and fewer truly qualified Scientologists upward, the more the upper orgs are forced to poach what few members remain at these lower orgs. This in turn, contributes to the failure and insolvency at these lower echelons.
Come to our Org! It's the Best!
Scientologists receive email, letters, and magazines every day from higher orgs promoting services that, per policy, should be done at their local mission or org. For instance, someone living in Seattle will receive a flyer promoting they do the Purification Rundown at ASHO in Los Angeles. (Apparently, LA has better saunas than Washington. Something to do with the quality of the wood, I think.)
Instead of "pushing power" to lower orgs and missions, advanced orgs do just the opposite, stealing away every church member they can. It's like eating their young. Instead of nurturing their "children," advanced orgs suck dry their subordinate orgs and missions of every body and dollar they can get their hands on.
The staff at these lower orgs and missions aren't immune from this robbery, either. When I was posted at a Class 5 Org, Sea Org missions would regularly tromp in and rip-off fully-trained personnel. If we were lucky they'd "instant hat" some new person still on the Comm Course and throw him on post a day or two later. He'd almost always fail.
Logistics
This whole hierarchical org system is logistically inefficient and has never worked. It failed from day one. People tend to do their services at whichever org or mission is closest, especially at the lower levels of their Bridge. It makes sense to buy your butter and cheese at your neighborhood market. Not at some "fancy" store an hour up the highway.
After completing her Life Repair at her downtown mission, Sally can't afford the time to drive fifty miles to the nearest Class 5 Org every evening for her next service. Especially if she wants to eat dinner with her husband and kids and stay awake at work the next day.
Oftentimes, the distance between orgs and missions are hundreds of miles. The distance between Class 5 Orgs and Advanced Orgs often exceed thousands of miles. People often "drop off the Bridge" because the distances are simply too great to continue.
Last Words
Assuming the continued existence of Scientology, there is no good reason for their hierarchy of churches. Missions and Class 5 Orgs should be one and the same. Saint Hills are completely unnecessary. Flag and Freewinds are a scam; all of their services could easily be delivered at an advanced org.
This whole pattern is crazy. It doesn't work now. It never worked from the outset. And yet, for some reason, church management not only clings to this disastrous scheme, but has been "strengthening" it by turning Class 5 Orgs into "ideal" monstrosities. What other successful organization in the world operates this way? No colleges, businesses, or corporations I can think of.
This pecking order-model of organizational Scientology has contributed hugely to its downfall.
Still not Declared,
Terra Cognita