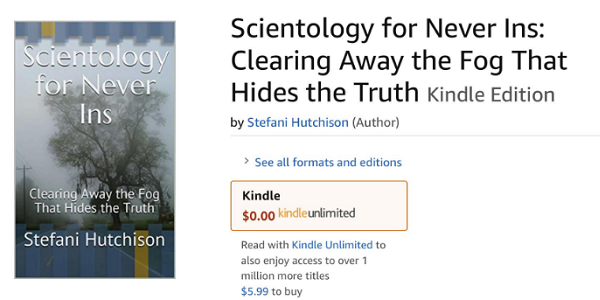 There is a new book available on Amazon by a regular reader of this blog and major supporter of the campaign to end the abuses of scientology.
I asked Stefani for a short description.
The book is just supposed to be a starting point for Never Ins who hear some of the strange words and phrases Scientology uses but aren't clear on what they are. I also tried to use real examples and facts to show how, no matter what Scientology says, there is always proof they're lying. Explaining Fair Game, I used what they've put you through to show the Policy is still alive and in force. I wanted to really humanize these things so that people hopefully understand what hurt and harm cos causes. COS is so cold and technical, it's easy to overlook the real human cost sometimes for those of us who've never been in the cult.
For the chapter on Suppressive People I actually turned the phrase around at the end and pointed out that being labeled Suppressive is actually a good thing, a sign that one is strong, courageous and doing the right thing.
The book is just supposed to be a primer. A jumping off point that hopefully gets more people interested in finding out more. To that end, I direct people to your blog, Ortega's, Jeffrey's etc for more information.
That said, it's not very long, only about 150 pages, but hopefully those pages are enough to make people really begin to understand how damaging and dangerous Scientology really is.
I know how busy you must be so I really do appreciate your taking the time to notice my book. 
It's a valuable addition to the scientology library. It is also a book EVERY LIBRARY in the world should have. It might actually be found to be a useful addition to their collections unlike the unsolicited donations they are sent of History of Man and Creation of Human Ability that nobody outside a scientologist forced to read them as part of a course cares about.