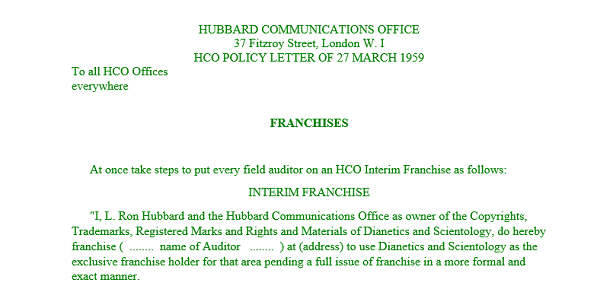 Once upon a time, there was a rather large and fairly prosperous network of scientology franchises (this is what Hubbard originally called them, until like his use of the word "fees" which was changed "donations", the word was replaced by "missions" in order to sound less commercial).
The Franchise network was pretty much decimated during the infamous Mission Holder Convention of 1982 where Miscavige first burst into public view as the new Capo of scientology.
Franchises were always supposed to be the "front lines" of scientology. The spearhead both into new areas of the world and to new public in areas around existing organizations. The idea was that there were supposed to be people who wanted to make a living out of scientology who would get a franchise and hang out their shingle. Franchises and "pioneer" scientologists opened many countries to scientology.
Around the same time as the Mission Holder Convention Hubbard also decreed that in order to open a franchise, someone had to purchase a "Mission Starter Package" which was $40,000 (who knows how much it is today) and consisted of some book stocks, promotional materials and the "hat" of how to open a Mission. These two factors put an end to the Mission Network expansion and it has been contracting since. There are less scientology Missions in the world today than there were in the 1990's. I guess less than 50%.
Miscavige had a bright idea to revitalize the Mission network at some point using Celebrities. He got Anne Archer to open a Mission in Santa Monica. Isaac Hayes and Lisa Marie Presley in Memphis. Jenna Elfman in San Francisco. These lasted for a short time then closed again. Kirstie Alley opened one in Wichita which is still there but has gone through various "Mission Holders". Same with John Travolta in Ocala. Tom Cruise was never required to open a mission to prove his dedication to the cause. But the failure of these missions even when financed by whales and given the cachet of star power had the opposite effect.  If those big beings cannot make a mission work, how could I?
This new promotional item came through from Scientology Missions International and it reminded me of the rapid decline of Scientology as seen through the history of its franchises.
They continue to try to convince people to get on the Mission bandwagon, but it's a losing cause.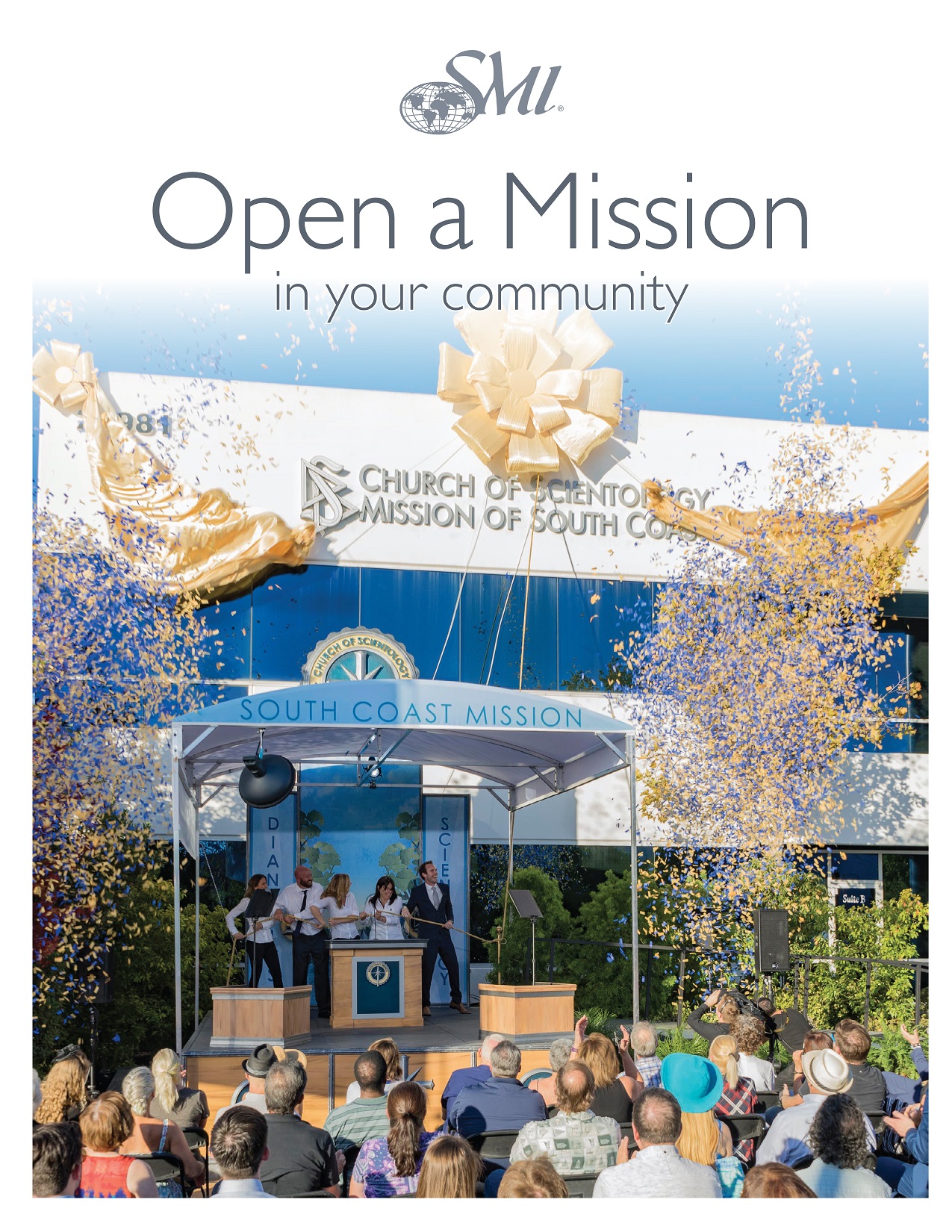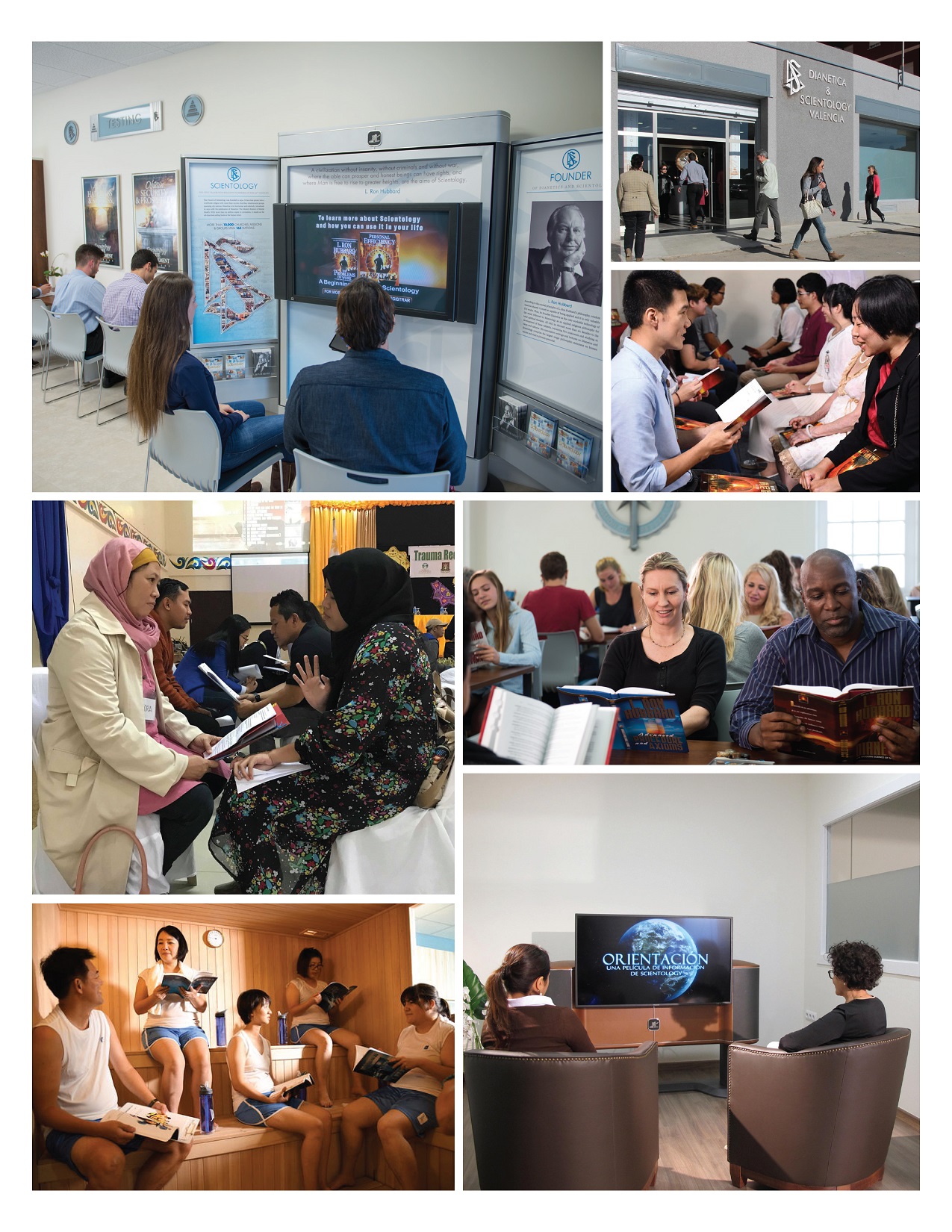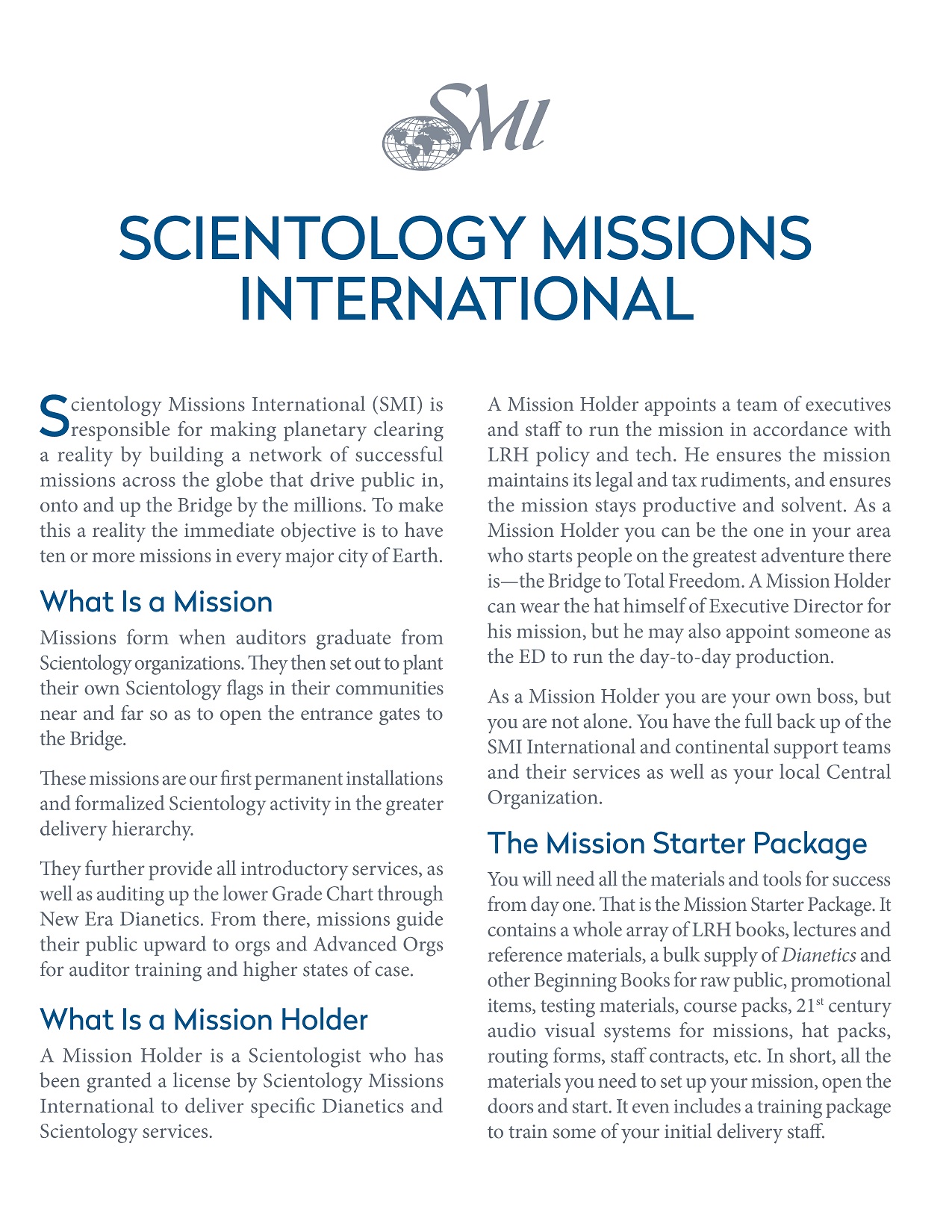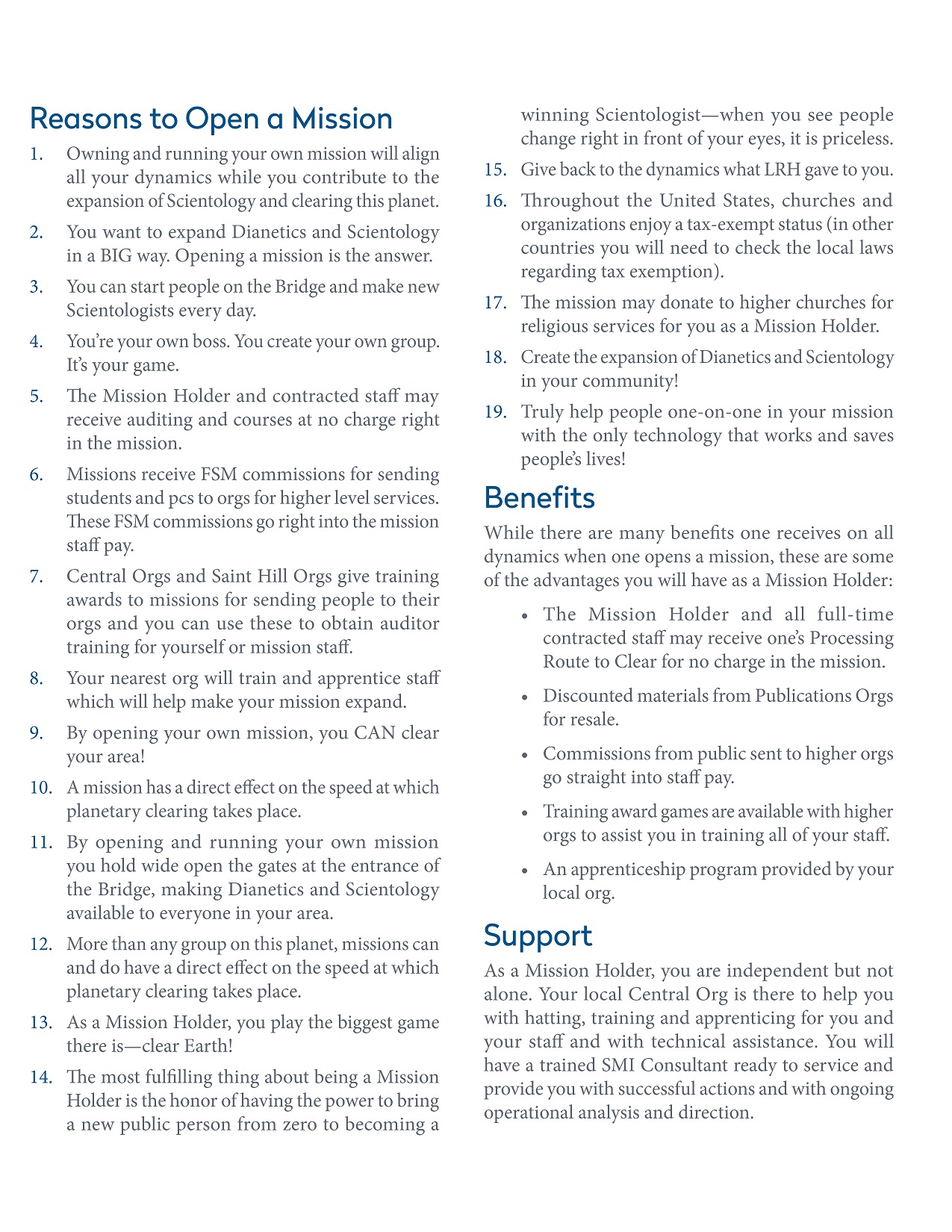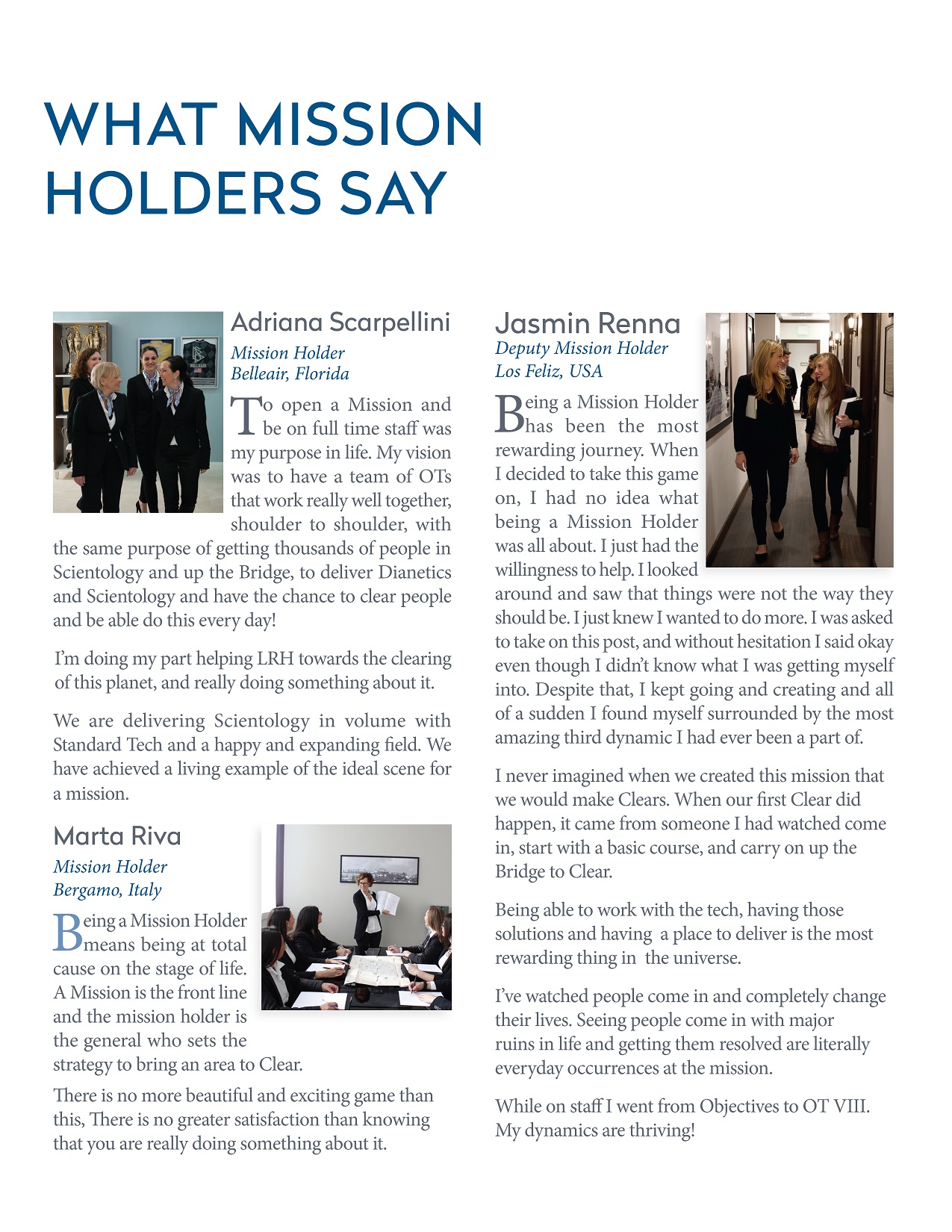 What SMI does NOT promote is how many missions they actually have that are operating. That number continues to shrink. Vast areas of the world have no scientology presence. This is what SMI is supposed to resolve. Even in the United States there are enormous areas where there is no scientology.
SMI is a failure.