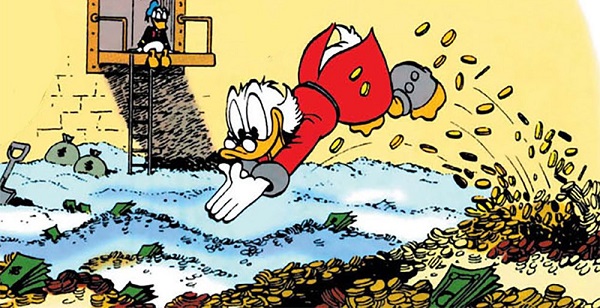 An interesting article in the Tampa Bay Times with one of the most misleading headlines of all time!
Some excerpts below:
She donated nearly $300,000 to Church of Scientology, which doesn't want it
On her Cozy Cottages website, Olga Favrow called herself one of the "leading authorities on real estate" in Tampa Bay.
"You've come to the right place!'' the site said. "Learn how to earn 12 to 15 percent on your investment!"
The pitch proved enticing: Investors from New York, California and Florida gave Favrow's Clearwater-based firm hundreds of thousands of dollars to buy, rehab and resell homes at a profit. But they say they never go their money back.
In the meantime, Favrow donated $278,158 to the Church of Scientology.
Did Favrow use her investors' funds to make those donations? The investors don't allege that directly but in an unusual case, the church says it doesn't want the money because of concerns it might have been "ill-gotten" and "misappropriated."
The church, which has its spiritual headquarters in Clearwater, has put the $278,158 in escrow and filed a lawsuit in Pinellas County Circuit Court asking to be relieved from "any further responsibility'' for the funds while Favrow and the investors battle it out among themselves over who is legally entitled to it.
In separate lawsuits filed against Favrow and Cozy Cottages, three investors are demanding their money back.
…
In response to question from a reporter, the church also issued this statement:
"Once the Church became aware of Ms. Favrow's actions and the fact that funds she had donated to the Church may have been misappropriated by her, the Church took the responsible action and asked the Court to determine the appropriate distribution of those funds. Because there is no way to determine which, if any, of her donations may have been ill-gotten, the Church has turned over all donations it received from Ms. Favrow…and decided to take this step so that anyone harmed by Ms. Favrow's actions could be recompensed fairly through the Court.''
First, they ABSOLUTELY want it, and if they COULD keep it, they would.
Giving the money back certainly appears to be the right thing to do, but that is not what motivates scientology to do anything.  Their motivation is exclusively what is the right thing to do for THEM.
They had no problem taking nearly $300,000 dollars from a 70 year old woman though it was more than she could afford. Par for the course with scientology — take anything and everything they can get from anyone unfortunate enough to sit in front of a reg.
The interesting thing about this is that scientology is giving money back at all. They fight like cornered rats in court to proclaim they have NO obligation to return ANY money given by anyone. No matter if the person was tricked into giving them money or gave money that was NOT in their best interest (put them into debt, forced them to sell their home, spend their kids college fund, IRA etc).
So, why the sudden shift?
The answer is simple. The law does not protect them from receiving ill-gotten monies. Scientology HAS returned money in the past in these circumstances or where bankruptcy courts have been involved. In these circumstances, they cannot hide behind the First Amendment so they "voluntarily" return it and make self-serving statements to try and make themselves look good. They DID challenge being forced to disgorge funds by bankruptcy courts but that didn't last long before they realized they were going to lose every time.
The hypocrisy is clear. If scientology itself takes money from people using fraud — in other words if THEY are the ones who engage in "misappropriating" or generating "ill-gotten" gains, they claim they're not responsible and refuse to return the money because it's a "donation" and nobody has a right to get their money back. And they have gotten away with this for years. But if someone gives them money that may have been  misappropriated or ill-gotten, they return it with shocked indignation — IF it becomes subject to legal proceedings (they do NOT give it back if there is no "flap" even if they find out it was drug money…)
What is so remarkable about this is that they try to make themselves appear ethical, even noble by returning the money, when the truth is that ONLY when they know they cannot possibly win in court do they EVER give money back. Everyone else can go pound sand. no matter how many lies they told or false promises they offered to persuade the person to hand over their money, including promising them (*and the IRS as a condition of their exemption) if they were dissatisfied their money would be returned.