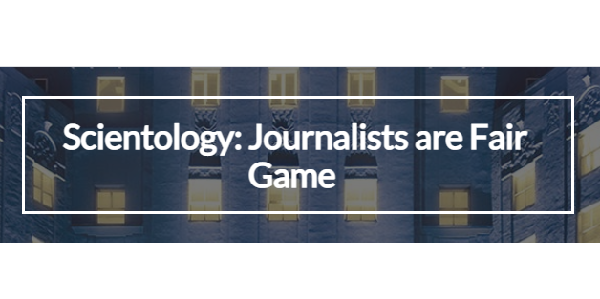 I came across this on Twitter. Jeffrey Palmaccio (his twitter handle is @longisland1892), a Masters of Journalism student at Hofstra University, wrote this mini capstone in December 2020 about scientology (I had to look that up: Also called a capstone experience, culminating project, or senior exhibition, among many other terms, a capstone project is a multifaceted assignment that serves as a culminating academic and intellectual experience for students, typically during their final year of high school or middle school, or at the end of an academic program. Similar in some ways to a college thesis, capstone projects may take a wide variety of forms, but most are long-term investigative projects that culminate in a final product, presentation, or performance.)
Jeffrey explained when I reached out to him that he had "been a victim of high control groups, namely radicalized political groups, and your story and advocacy work with Leah is tremendously courageous and immensely helpful to me and so many more.
It means so much to me that you took the time to read my work, with your hectic schedule, and for the feedback!
I'm so appreciative of the brave and necessary work that you, Leah and so many other ex Scientologist continue to do.
I'm a born and raised New Yorker like Leah, with Australian family too. In the 70s my Aunt lost one of her dear friends to Scientology.
Jeffrey has put together a pretty remarkable summary of scientology's dark side. Here is the link to the site for the full article: