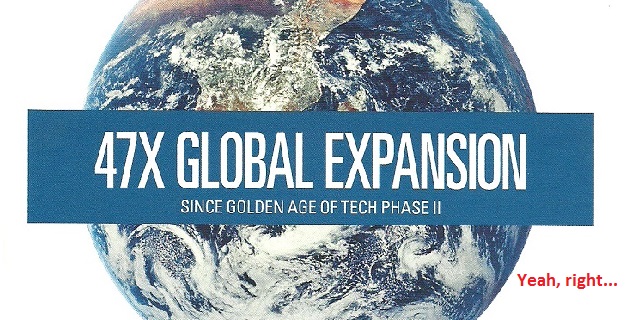 I noticed this comment on Tony Ortega's blog a couple of days ago and thought it worthy of being preserved in a more easily searchable place.
Thank you Panopea Abrupta — I quote your comment in full and then add some further thoughts below:
There are 14 , no, 15 oops, actually 16 states so far with NO $cientology Mission or Org.
Alabama
Arkansas
Delaware
Iowa
Kentucky (though they do have the Cinncinnati Org, just over the bridge)
Maryland
Mississippi
Montana
Nebraska
North Dakota
Oklahoma (though they do have Narconon.)
Rhode Island
South Carolina
South Dakota
Vermont
Wyoming
Our Mission network inquiry – results to date
(We're looking at Missions only, not Orgs or Ideal Orgs)
Anchorage, Alaska – an industrial building, without signage
Boise, Idaho- a CPA's office
Redmond, Washington – a sad suburban building in need of maintenance
Lake Oswego, Oregon – Mission closed
Temecula, CA – Mission closed
Alamosa, Colorado – a chiro's office with a faded Dianetics sign
Santa Monica, CA – moved to a house in Fair Oaks
(400 miles north, a trifle, a mere bagatelle, to a thetan)
Wichita, Kansas – whale-financed magnificence yet moribund
Mission of Peoria – Mission closed in 2015 after 61 years of operation
Mission of Champaign-Urbana – Mission closed though now listed at a 2nd floor mall suite
Mission of Middletown AKA Mission of Catskill Mountains, Liberty, NY – chiro's office, Mission closed
Mission of Westchester, White Plains, NY – chiro's office, Mission closed
Mission of Genesee County, Grand Blanc, MI – chiro's office, Mission closed
New England
Mission of Bangor, ME – closed
Mission of Brunswick, ME – still open
Mission of Merrimac Valley AKA Mission of Greater Concord – moved to a private residence
Mission of Hartford, CT – closed
Mission of Watertown, MA – has NEVER been in Watertown,
actually located over 50 miles away, in a private home with no signage
Mission of Woburn, MA – closed
Mission of Merrima, Haverhill, MA – closed
Mission of Quincy, MA – still open
Texas
Deep Ellum Life Improvement Center Hubbard Dianetics Foundation, Dallas –
a long named but empty dump
Mission of Harlingen, TX – still open
Mission of Houston, TX – still open, living on fumes
Mission of El Paso, TX – still open
Mission of San Antonio, TX – still open, living on fumes
Louisiana
Mission of Baton Rouge – open, active
Mission of Lake Charles – closed
Mission of Lafayette – closed
Mission of New Orleans – open, active
Mississippi
Mission of Gulfport AKA Mission of Biloxi – closed
This is a great start. But it got me to thinking — how many states in the US have not a single Class V org (and thus cannot even provide auditor training to anyone)? Here is the list:
Alabama
Alaska
Arkansas
Delaware
Idaho
Indiana
Iowa
Kentucky
Louisiana
Maine
Maryland
Mississippi
Montana
Nebraska
New Hampshire
New Jersey
North Carolina
North Dakota
Oklahoma
Rhode Island
South Carolina
South Dakota
Vermont
Virginia
West Virginia
Wisconsin
Wyoming
That is more than half the states in the US. Despite the ridiculous claims by Miscavige and scientology "we have expanded more in the last 5 years than in the 50 years previously" and "47X since GAG II" etc etc.
But then think about the entire world.
The largest country on earth — Russia, has two orgs total.
The largest country by population (China) has NO orgs and no missions.
The second largest population country on earth (India) has a few missions, and NO orgs (there used to be a lot of videos about "expansion in India" — those missions should have 1000 staff and long since have been orgs).
There is NO org in Korea. Or Thailand. Or Indonesia. The Philippines. Anywhere in Asia other than Japan and Taiwan.
And apart from Tel Aviv, nothing anywhere in the middle East or near East.
The entire continent of Africa, apart from S. Africa (and Zimbabwe sort of with two empty, derelict buildings bought by money the IAS could not get through exchange control), has not a single org.
Brazil, the largest and most populous country in S. America has no org. Only Argentina, Venezuela and Colombia have orgs. And in all of Central America, only Mexico has orgs.
And they repeatedly tell themselves "Planetary Clearing is being made a reality" and "we are Clearing the Planet for real now." Perhaps the most amazing accomplishment of scientology is being able to convince people that what they see before their very eyes is not "reality" and should not be believed — instead believe what we tell you.
One day I will take the time to work out what percentage of the world's population is actually served by a single org — i.e. there is a scientology org within 50 miles (ignoring the idiocy that all 15 million people are going to be served by Tokyo's only org).  Just take 7.5 billion and subtract the population within 50 miles of any org. I bet it is less than 10%. A lot less. And the percentage keeps shrinking every year. May have been double that in 1975… There are no NEW Orgs, but the population keeps increasing (where do all these thetans and their BT's come from??)