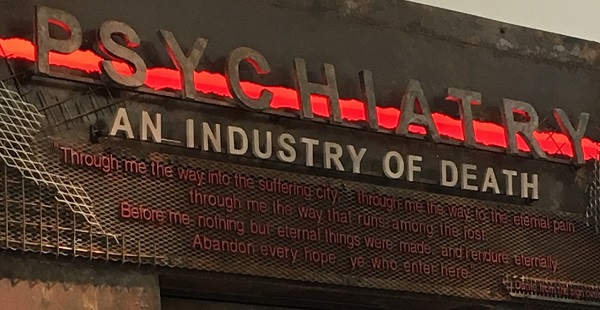 Scientology is often criticized by those who claim it practices medicine without a license. They protest this heavily, claiming they do NOT treat or cure illnesses.
Of course, in the scientology world, mental illness is NOT an illness. It is just a bunch of false labels used to persuade people to buy drugs (kind of like scientology is a bunch of false information used to get people to buy scientology)… In scientology, being prescribed a "psych drug" makes you an "illegal pc" ineligible for auditing (though plenty of illegal pc's have been persuaded to hand over money, only to later be told they do not qualify for auditing, but cannot have their money back).
Scientology's stance becomes especially problematic when they induce people to come off drugs they have been prescribed to treat mental conditions. This is a dangerous practice. Scientologists believe they know everything about the mind and personality and have the ONLY means of improving one's mental health. Hubbard even proclaimed that the "last reason for psychiatry to exist" was gone once he developed the "Introspection Rundown."
So, this is a very odd promotional item — but indicative of how desperate scientology has become to persuade anyone to cross its darkened threshhold.
I also not, the London "ideal org" is now calling itself "Scientology Celebrity Centre" which is a reminder that there used to be TWO orgs in London. Now there is only one. And its empty. Perhaps they are the ones that need to get rid of their depression!