The "Cause Resurgence" Rundown is one of the greatest boondoggles scientology has ever foisted off as a "standard tech" "religious" service.
The Running Program, as it was originally called, was used to punish crew at Golden Era who were, in the estimation of Miscavige, performing poorly. "Run around a pole until you get your shit together."
The first person to do it was David Mayo, when he had been declared a terrible squirrel. Hubbard ordered him to run around a tree at Gold "until he wore a trench in the ground". He did so for weeks on end until he was physically spent. He escaped shortly thereafter.
There was a large circle of sand constructed on the property — you can see it in the picture above.  I, and many others, spent a lot of time running around that tree. When this practice began being exposed in the media, Miscavige had the Running Program track at Gold bulldozed. "See, there's nothing going on here officer. Never has been. Do you see any track they talk of?"
Hubbard claimed the "Running Program" was taken from "whole track" recall of a process "OT's" had used to "straighten out their flows," by circling a planet out in space for a long time.
Scientologists pay thousands of dollars to literally run around in a circle. That is ALL. Run in a circle. And the "supervision" is to tell you "Keep running."
I have done this, as has almost anyone who was at the Int Base between the 80's and 2007. This is the entirety of the "rundown."
Miscavige decided he could make money from it. The top floor of the "Super Power" building was purposed as a "running track" with a lighted pole at its center, repackaged as a "Whole Track OT rundown" now called "Cause Resurgence" and sold as something exclusive, confidential and special, only available at Flag.
The sheeple show up for the "confidential" rundown and then announce their amazing "wins" as "OT's" from running in circles.
Check out this one below from an "OT VIII" who thinks it is INTERESTING and wants to know what other "OT VIII's" think?
Well, of course "this handled something never before handled — even by OT VIII". That should tell you everything you need to know about the "wins" that person got from all the other services he took. Running around a pole dealt with something none of his other auditing did…. Sheesh.
The comments further down the thread are just as unreal.
And then there is this clown. One of the people they love to promote as a huge success. He has "completed" this 4 times. 4 times? Why? No stable gains?
This is as stupid as saying proudly, "I bought my car 4 times" or "I graduated high school 4x". You really want to let everyone know? You have paid thousands of dollars 4 times to run around a pole? And you think that makes you look cool? Wow.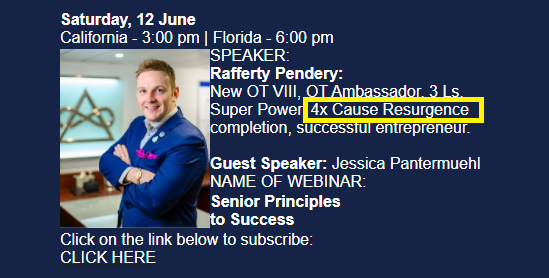 The Running Program highlights so much of what is so wrong about scientology.
It's easy to grasp the concept of what a con this is when you consider that scientology can soak people for thousands, several times over, just for telling them to run around in circles by claiming this is "OT." The other things one pays to do to achieve "OT" are no less ridiculous, they are just not as easy to grasp as they are done with the mind. This is literally an exercise in exercising you can do at the local YMCA… Or in a park by yourself. And at no charge.