"Amendment 1: Congress shall make no law respecting an establishment of religion, or prohibiting the free exercise thereof; or abridging the freedom of speech, or of the press; or the right of the people peaceably to assemble, and to petition the government for a redress of grievances."
Scientology is fast to claim protection under the First Amendment to the US Constitution — when it serves their purpose. Either to avoid responsibility for their actions or to try and claim some PR points as "champions of human rights." (See Freedom magazine as Exhibit 1)
Yet they are not so quick to announce their support of others' First Amendment rights if it does not forward their objectives. In fact, they will do everything in their power to prevent anyone speaking that they don't agree with. There is a great deal of evidence to support this fact, but let's just consider the recent events surrounding Phil and Willie Jones.
The Jones' two children are in the Sea Org in Los Angeles. Both have "disconnected" because Phil and Willie are "not in good standing" with scientology (they have been declared "Suppressive Persons"). What earned Phil and Willie that distinction? They said things and associated with people the church finds unacceptable (and yes, as you can see above, freedom of speech and association are encompassed by the First Amendment). It seems the self-proclaimed champions of the First Amendment aren't quite what they claim to be.
The "doctrine" (they like to use that word when they are trying to defend their activities as being religious) of scientology says that any scientologist who wants to remain in good standing with the church must disconnect from anyone declared an Suppressive Person (SP). And by disconnecting is meant severing any and all ties with the person. This applies to children, parents or spouses. And the prohibition on communication is absolute. Not even a birthday card. Scientologists will cross the street to avoid "interaction" with an SP. Apparently even physical proximity is unacceptable.
This practice (and many other abuses, including having people followed by PI's, harassed by camera carrying "protesters" at someone's home, training surveillance cameras on them etc) is excused by the church as being protected by the First Amendment. They claim "free speech" and "freedom to practice their religion."  You can see how far they take it by reading legal documents they have filed here and here. See also an earlier article I wrote comparing the practice of disconnection to the practice of segregation — also defended by its proponents at the time as their "right."
So, one might ask, what can a parent whose children have disconnected from them do?
Frankly, very little. Except try to communicate to their loved ones that they want to hear from them. But scientology goes to great pains to make this virtually impossible.
"SP's" are barred entry from any scientology building and scientology will call the police and issue trespass warnings if you attempt to approach a church building (as they did to me when I found out my son in the Sea Org had cancer and I tried to visit him after scientology began telling the media "I didn't care" about him – watch the video here).
No phone calls are passed on to staff members, the best you can hope for is to reach a receptionist and "leave a message" which is not forwarded "because there is no communication with a Suppressive Person."
Mail is not delivered from an "SP" but is instead forwarded to the "Ethics Officer."
So, Phil and Willie decided to deliver a message to their son and daughter (and to others similarly situated) in a novel way.
They crowdfunded a billboard: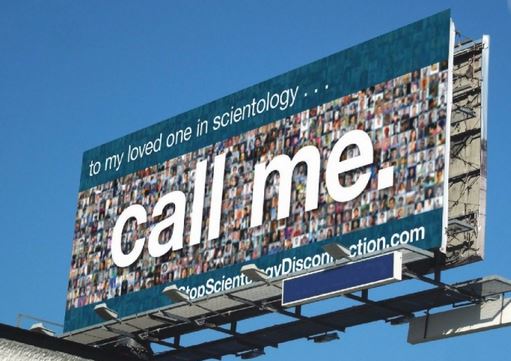 The message is simple and inoffensive. It doesn't call scientology abusers. Liars. Cheats. Criminals. Bloodsuckers. A cult. It is a communication of love. (BTW, the images that form the background represent some of the people and families who have been ravaged by the practice of disconnection).
How could a real church object to someone calling for loved ones to unite? After all, scientology claims THEY are the experts on familial relations and have "the tech" of successful and happy families, successful relationships and even the only real understanding of communication.
Well, as is so often the case with scientology, their altruistic claims of being caring humanitarians and bringers of happiness are exposed as a facade when the rubber meets the road. Their actions speak much louder than their words.
Scientology got wind of this particular effort to communicate and brought pressure to bear on the company that had agreed to put up the billboard. The next day the company chickened out and rescinded their contract without explanation. Though to anyone familiar with scientology, it was clear what had happened. And it was confirmed by subsequent events.
The Jones' then found another billboard company who agreed to support their right to freedom of expression.  Lo and behold, scientology was soon bringing pressure to bear on them too and even paying someone to try to stop it.  It was so important to scientology to stifle Phil and Willie's right to free speech they were even willing to buy EVERY billboard in the area! So far, the new company has not caved in and the billboard is scheduled to appear on 22 March.
Now, let's examine a couple of other aspects of the hypocrisy of scientology here.
1.  Scientology buys a lot of advertising — TV, print and billboards. Their advertising is offensive because they do not tell the truth. A recent decision in the United Kingdom banned a scientology ad because it contained unsupportable claims of "helping millions." Scientology asserts their right to put out FALSE advertising, but wants to stop others' speech because they don't like what they have to say. Not because it is false. If the shoe was on the other foot, scientology would be very fast to shout that "bigots" and "haters" were trying to stifle their freedom of religion and freedom of speech (Again, see Freedom magazine).  Only when an official body acts do they remain uncharacteristically silent.  There has not been so much as a peep out of them about this incident – yet they send out worldwide press releases about their "help" to a local boy scout troop. Why no apology or even an explanation about how they could have put out false information to try and hoodwink the public into thinking they are something they are not?
2.  In a sort of double irony, scientology claims they have an absolute right to practice their religion as a justification for anything they do that hurts people. Their "scripture" — the words of L. Ron Hubbard — is "above the law" and gives them the moral high ground to abuse anyone they see fit.
So, how strange is it to actually read on of the most fundamental "scriptures" of scientology:  the "Creed of the Church."
This is taken from the scientology.org website — highlighting mine: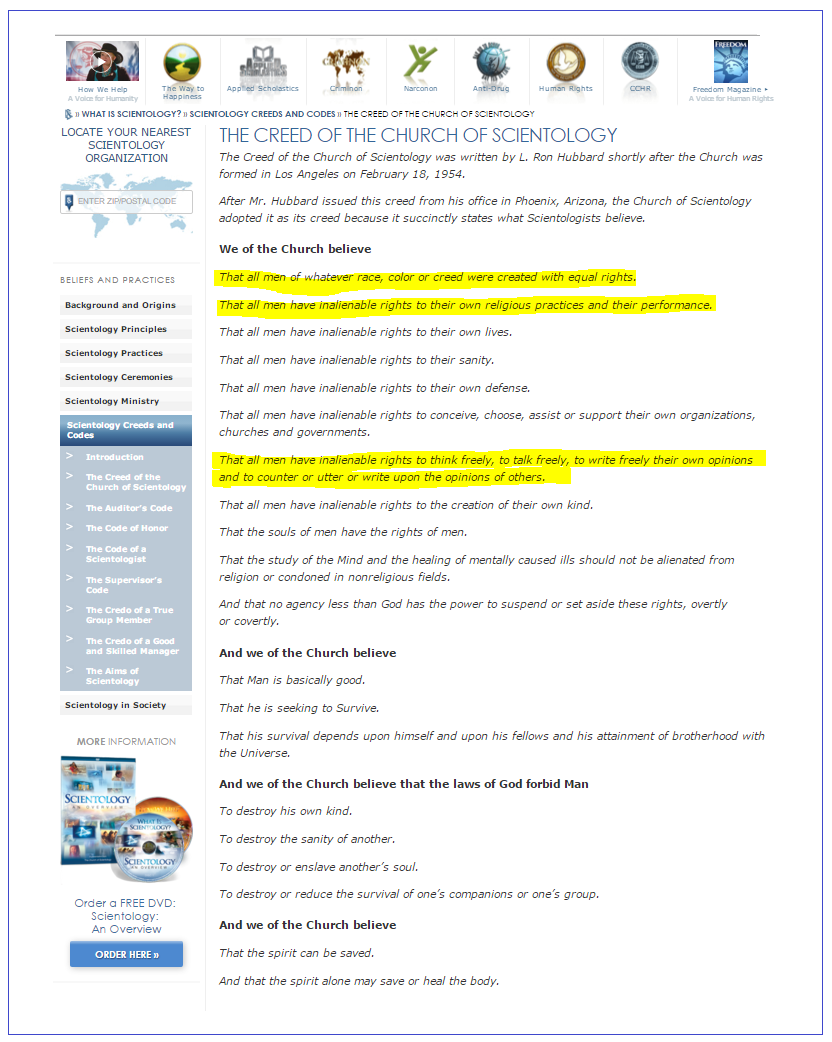 As you can see, their own "scripture" guarantees EVERYONE the right to "think freely, to talk freely, to write freely their own opinions and to counter or utter or write upon the opinions of others." The Jones' billboard certainly falls squarely within this pronouncement.
The Creed of the Church is represented as the most fundamental document that underpins the church of scientology. As with so much else scientological, it looks good on paper. But the hypocrisy that underlies so much of the practice of scientology is made apparent every time they act contrary to the PR they put forth in the media and the courts.
Apparently, despite protestations to the contrary, when it comes to SPs, scientology and its adherents do not have the conviction of their beliefs. Or perhaps it is more accurate to say that the conviction of their beliefs is malleable. Within scientology there are enormous contradictions — in one place Hubbard says to do one thing and in another it is the reverse. And it is always interpreted to be for the "good of scientology." So, they get to pick and choose which of their "beliefs" they are going to follow. And it is always the one that suits the circumstances for scientology. There is no principled belief in scientology — except to protect scientology at all costs no matter what the results is for others.
The bottom line in my opinion is this: scientology is heartless. It is cold, robotic and cruel. How can it be otherwise if it is willing to go to inordinate lengths to prevent parents who simply want to speak with their children from even expressing their wishes to be reunited?