Recently, a letter from the "Claims Verification Board" came to my attention. In it they state: "It has always been church policy that anyone requesting a refund/repayment must do so within 3 months" — so of course, they denied the request for return of funds (as they ALWAYS do).
This is NOT in fact even what "church policy" says.
Let's go through what L. Ron Hubbard said "church policy" is with respect to giving dissatisfied customers their money back (remember, the entire Victorian Inquiry came about because Hubbard refused to return a small amount of money to one dissatisfied man who then made it his mission to raise hell). And this is the policy letter he wrote after that, blaming the local organization for the failure to refund (Steve Cannane's wonderful book Fair Game details exactly how this went down):
Here are some salient quotes from the above.
In thirteen years, involving hundreds of thousands of hours of processing and millions of dollars of income, in any organization where I was assuming direct command I have always promptly and immediately caused to be refunded every penny of the money paid by any person who was dissatisfied with his or her processing. This has been the consistent policy I myself have worked with.
I have only worked then with these three policies:
Refund at once in full any refund demanded;
Work hard with tech staff to ensure good results;
Forbid the sale of further processing to anyone receiving a refund and make the case known to Scientologists.
My own often-repeated policy to my personal staff is "Give them what they want and keep them happy." That sounds like a very indefinite policy indeed. But it makes people face up to and handle individual confusions as they occur, each on its own merits; it presupposes people are basically good and it is successful.
The new policy then is:
Refund any fees when and as demanded, whether for training or for processing;
These are the subsequent policies issued by Hubbard on the subject: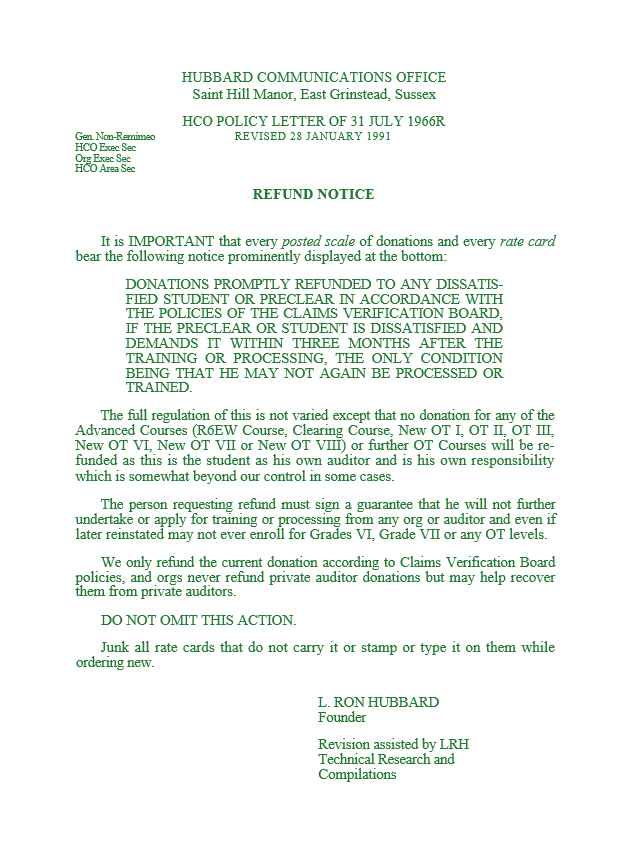 The original version of this p0licy letter of course did not include the "Claims Verification Board" which wasn't created until many years later when too many claims for return of funds were bankrupting orgs and Hubbard needed a mechanism to slow down the amount being paid out. This policy letter originally stated the notice should say that money will be promptly refunded if you request it within 90 days. Note, there is a distinction between a REFUND which is for services that have been TAKEN, and a REPAYMENT which is money on account where the services have not been used. This policy letter was also an effort to limit the amount of money being returned by implementing the "three month" rule.
He then felt the need to make it perfectly clear the very next day, with an addition.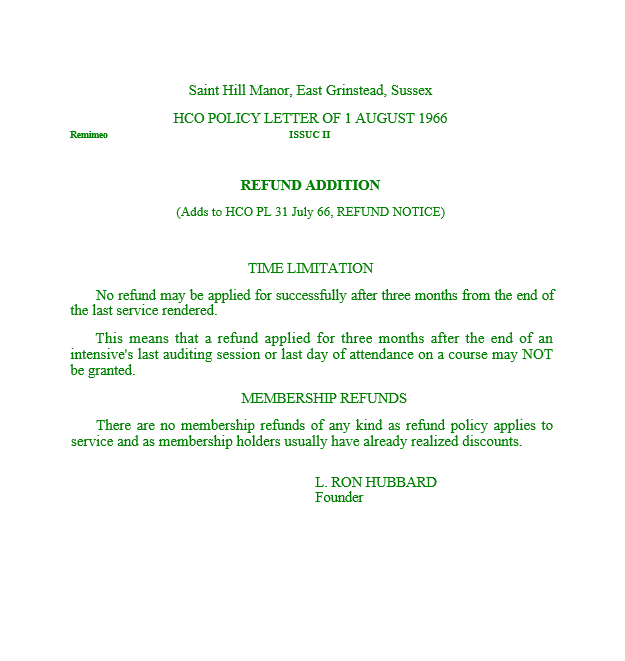 In1974heissueda
In 1974 he issued a policy letter clarifying the difference between a refund and repayment, saying they are both "covered by refund policy" — but of course there can be no 3 month rule for a service that has not been taken.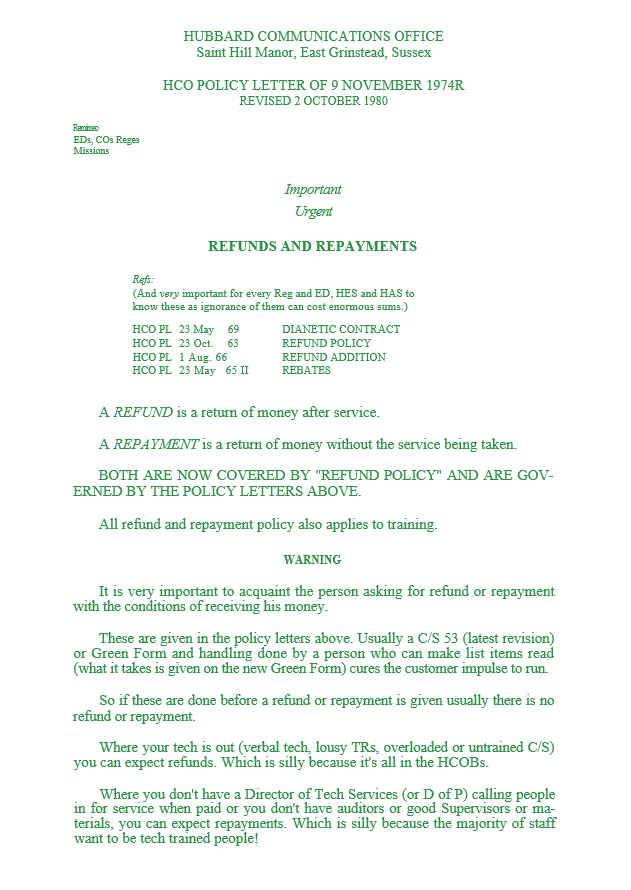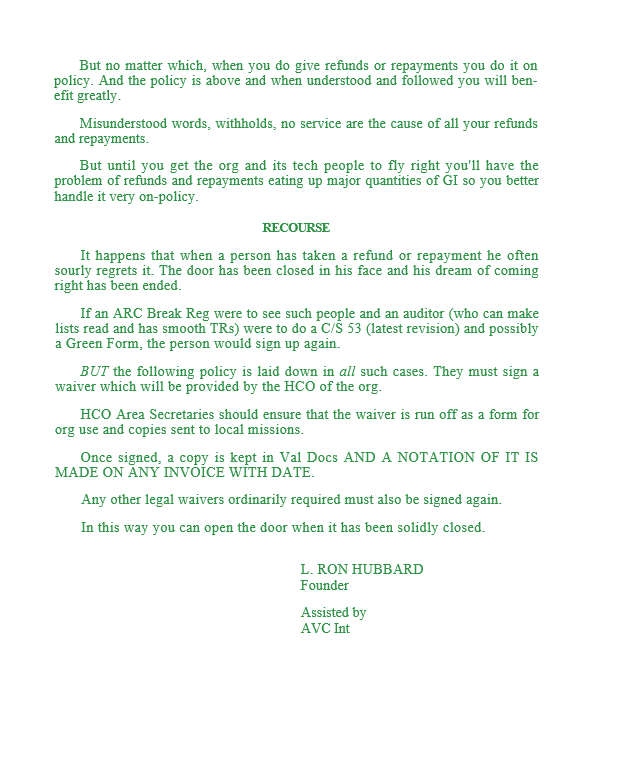 Subsequent to this, he directed the creation of the Claims Verification Board — but there is no Hubbard policy on this. It was in the days he was seeking to avoid entanglement with "scientology management" and specifically financial matters. So it was was all "advices" which were not published and the "Claims Verification Board" was established by "Board Policy Directive" rather than a Hubbard policy letter.
But, in 1993, the return of funds — whether refund or repayment — presented a real problem for gaining tax exempt status. Promising a "money-back guarantee" is indicative of a commercial transaction, not a religious one. The IRS wanted to know how this could be justified. Of course, scientology could not tell the IRS "we don't give money back" because the Hubbard policy said otherwise (it would have been a lot easier to simply cancel all refunds/repayments…) and so they provided this statement to the IRS:
It has been a long-standing policy of the Church that if someone is dissatisfied with their Scientology services and asks to have their contributions returned within a three month period, these amounts will be returned. Likewise, if the person asks for return of contributions for which no services were received (i.e. an advance payment), there is no three month limitation period. Anyone newly enrolling in services at a Church of Scientology is informed of the policies and signs an agreement to abide by them. As a further condition of receiving a refund or repayment, the person understands that they may not again receive services from the Church.
Within the Church, there are two separate terms: A "refund" refers to a return of contributions to a parishioner within 90 days of participating in religious services while a "repayment" refers to a return of a parishioner's advance payment before he or she has participated in religious services. For simplicity, the following discussion will use the term "refund" to describe both types of transactions, because both involve a return of parishioner contributions.
The Church's refund policy is exceedingly fair. If someone isn't happy with Scientology — which is a very small minority of people — he simply has to make a proper request for his donations back, agree to forego further services and his donations will be returned. For the Church, in addition to the fact that this policy aligns with Scientology principles of exchange, it also serves the purpose of allowing our churches and the parishioners who are very happy with Scientology, to carry on without the unhappy few in their midst.
So, now the entity responsible for administering the "policies" of scientology has, in writing, conflated refunds and repayments and asserts that even repayments are bound by a three month limitation.
Scientology cannot lie straight in bed.
Whatever suits them at the moment is today's "truth."