Jeffrey Augustine has been doing a wonderful job of documenting scientology's insane efforts to co-opt various women's rights' organizations and prominent figures to try to bring pressure on A&E not to pursue another season of Scientology and the Aftermath.
This is Jeffrey's latest blog post: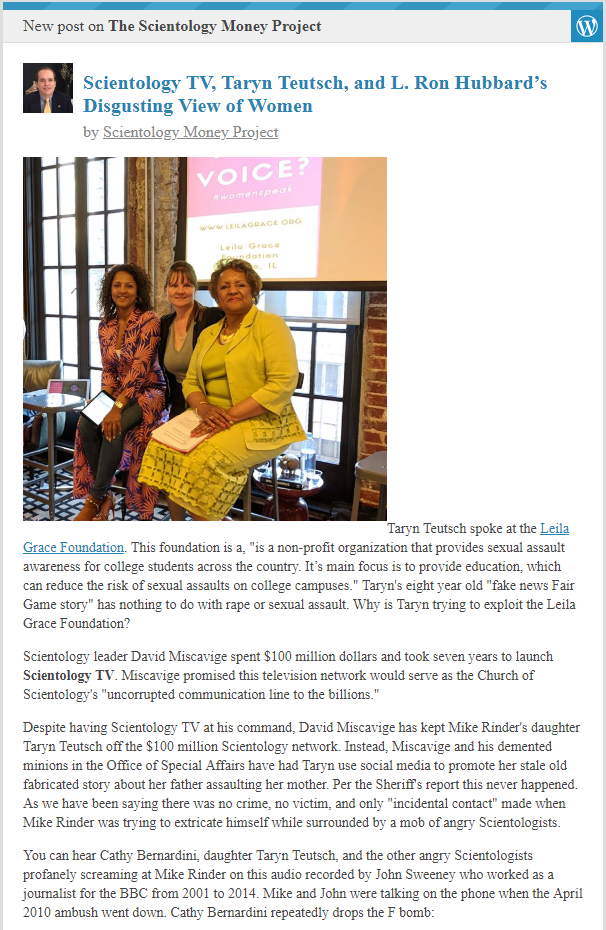 Read the entire post and his earlier coverage for the full picture. I have nothing to add to his comprehensive and detailed dissection of this sham.
But I will say this. Taryn was born into the Sea Org. It is all she has ever known. She has been instilled with no other values in her life than the "think" of scientology — the "wogs" are ignorant fools that need to be used any way possible to forward the aims of scientology; anyone who is critical of scientology is an enemy hiding vicious crimes; all decisions are made on the basis of the greatest good for the greatest number of dynamics (with the third dynamic — scientology — being the one that benefits ALL other dynamics) etc etc.
I came across an interesting Freedom magazine piece written by L. Ron Hubbard where he is quoting an article about brainwashing that he found particularly insightful.
You can find the full screed published in the "Tech Volumes" (if you are no longer a scientologist — in true Farenheit 451 style, the Tech and Policy volumes have been sent to the Golden Age of Tech incinerators if you are a bubble-dweller). It is dated 11 March 1969:
"…it is not necessary to break and remold the personality of the young. All that is necessary is to mold it the way you want it in the first place. Appeal to their search for meaning, appeal to their desire for conformity, appeal to their egotism and especially appeal to their sense of idealism and you can covert these qualities into any convictions you program. You can make the youth of America the tools of their own enslavement."
Let that sink in vis-a-vis scientology and the Sea Org.