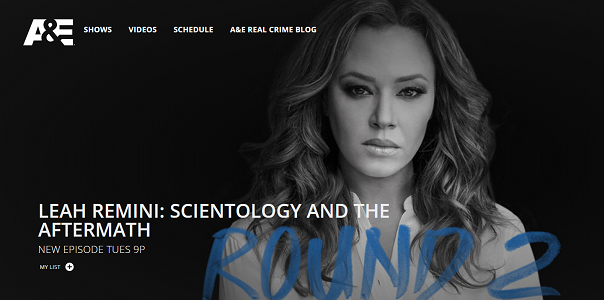 As has become their practice, within minutes of the show airing, scientology puts up a new smear site, with videos from family members — in this case Marie Bilheimer and Aaron Poulin's mothers, and Tayler Tweed's mother and brother.
They are sadly predictable — failing to address the issues raised in the stories and instead attempting to discredit Marie and Lauren (and Leah, Tony Ortega and me). Marie, according to Aaron's mother should "look in the mirror" and Lauren, according to Cathy Tweed, wasn't really even a friend of Tayler's.
Lame stuff. But can you get inside the head of the people who think this is a good way for a "church" to respond to tragedy? Once again, not a shred of compassion or concern for anything other than the "reputation" of scientology and "attacking the attacker."
Scientology is utterly tone deaf when it comes to responding to abuses that are exposed. And by their actions they prove what is being said in this and every other episode. In a general sense, scientology is being exposed for two things:
Inculcating a lack of empathy, compassion and love
Always operating on "scientology first" and "the greatest good" — sacrificing individuals for the "good" of the group
Yet they apparently think that shouting "this is being done for rating and profits" will convince people not to believe the most heartfelt recountings of personal pain by one person after another after another. Or attacking thosee people who share their stories with family members or friends on video saying "they never told me so it didnt happen" or "I knew her friends and I don't know you so nothing you say is valid" or, or, or.
And they surround these awful videos with what can only be described as insane rants. They read like the fake news websites "Alex Jones drops bombshell on Obama that lays bare his lies" or "Elizabeth Warren puts end to Steve Bannon's political career." They are long on hype, contain NO facts, but plenty of incendiary language and play to the biased audience they are intended for. In this case, strictly scientologists who are found to have watched the show.
The problem is that while these websites might be believed by scientologists, they are exposed to the world. Everyone can read them. They are absolutely insane. Any normal person would not want to be associated with this sort of neon-yellow journalism. Let alone a so-called church.
But scientology keeps churning them out as if the real world does not exist.
Here are some of choice bits from their latest website:
How low will Leah Remini stoop to keep afloat her anti-religious hate campaign that has generated more than 500 threats against Church of Scientology parishioners?
This is how their rant begins.
Of course it's the wrong question. The real question is "how low will scientology stoop to abuse people?" because that is what is being exposed. These are people that reached out to US to tell their stories. No stooping required from Leah Remini or anyone else. Just standing tall, giving a forum to those who have been abused and they step forward. This is like a crime boss complaining that the FBI is "stooping low" bringing up murders committed 10 years ago.
As for the 500 threats – we know this is just a number plucked out of thin air that they have not been able to support in any way. Wonder how long they are going to keep throwing it out? And surely it's increasing? More shows have aired. With their rapid international expansion this should be above 600 by now surely? The 500 was just from Season 1 and the abuses being recounted in Season 2 are far worse than Season 1.And everyone knows scientology loves throwing around numbers, and when you fake one why not just keep faking it to indicate "expansion"?
Remini now takes family tragedies and twists them to fit her ends. That's because she's following the playbook of her consulting producer and vicious wife beater, Mike Rinder, who churns out tales he knows full well are a fraud.
Now, they have for a long time called me a vicious wife-beater and I pretty much ignore it as everyone knows where this comes from (See earlier article Mike Rinder: "Lady Killer"). But there are always new viewers and readers, so let me give you a quick view.
Briefly, the incident to which they refer is when my ex-wife, daughter, brother, Jenny Linson, Guillaume Lesevre, David Bloomberg, Sue Wilhere and two PI's assaulted me in the parking lot of a doctor's office in Clearwater. Much of it was recorded by John Sweeney of the BBC who I was on the phone with at the time. These people flew in from across the country and Australia, followed me to the doctor's office and accosted me as I was waiting outside for my wife talking on the phone. I attempted to walk away from them and then to get in my car and drive away. They tried to physically prevent me from getting in the car, and took the car keys. The doctor heard them screaming, witnessed what was happening and called the Sheriff's Department. Linson, Bloomberg and Lesevre got scared the police had been called and took off with the two PI's. The Sheriffs came and interviewed my ex-wife, brother and daughter. My ex-wife sustained a graze on her arm, apparently from when she was trying to prevent me from getting into the car and closing the door. The police noted it as "incidental contact" and that no further action was to be taken. There was no "wife-beating."  But of course, Scientology took a photo of the graze on her arm and photoshopped it to look worse than it really was. The incident was entirely created by scientology and they have tried to milk it as "victims" ever since.
Scientology loves to say "if this happened how come there are no police reports?" Well, there is a police report and it clearly says there is no "wife-beating."
And as for "churning out tales he knows full well are fraud" – perhaps whoever writes the copy for these websites should actually WATCH one of the shows they are writing about (they are probably not allowed to do so) because if they did they would see that it is not ME who is telling these "tales". It is the victims who witnessed and experienced the abuse. You look foolish making statements like this because it makes it clear you have not even seen what you try to discredit.
Rinder criticizes the reaction of the Church's external affairs office to the handling of the tragic suicide of Aaron Poulin. Yet he conveniently fails to mention the name of the man in charge of that office at that time – Mike Rinder.
Thank you so much. For years you have maintained I was a low-level nobody who held no positions of importance within scientology…
As to Aaron's suicide, scientology knows full well that I was in The Hole at that time. Or at least the "pre-cursor" to The Hole.
But I do appreciate the recognition that I am well aware of what the Office of Special Affairs mandate is and that I would be the one to offer insight into what was happening and why because I was "in charge."
…the Church does not treat those in need of mental health as Church policy has stated for years on our website.
Fascinating.
We have made it clear over and over that scientology does NOT believe in mental health problems and refuses to treat them. It's a major point of this episode. Yet this is such a heavily ingrained doctrine in scientology that they feel the need to repeat it here just to make sure the world understands their position.
And that is EXACTLY THE POINT. Nobody in scientology has any chance of being helped by any mental health professional.
Mike Rinder and Leah Remini have no shame when it comes to lying in front the camera because to them it's all about ratings, making a buck and stirring as much hate as possible.
Right or wrong, I feel that Marie as Aaron's wife was responsible for taking care of him.
This is part of the statement by Aaron's mother.
Well, she got that right. She is in fact wrong. And she knows it.
It is the SEA ORG that is responsible for everything about the life of a Sea Org member. That was the point. The Sea Org is incapable of dealing with someone who has serious mental health issues, as they went to great pains to explain above. Now blaming Marie is just sick and probably the worst example in this smear piece of the scientology mindset of "protect the church at all costs" and "attack the attacker."
Sadly, the story is being twisted at the expense of Sheila and her family to spread hate about a worldwide religion.
How is the "story being twisted"? Some specifics please.
As for the "worldwide religion" – that fact that you have to assert it speaks volumes.
As Marie wrote at the time, "I am grateful for the assistance provided to me by the Church and the care and attention that has been given to me." Marie also said, "I have had a severe personal difficulty and the Church took the time and care to ensure that I was assisted."
Many people ask how it is that scientology has the gonads to get people to sign things before they leave the Sea Org that "hold scientology blameless."
There are many victims that this has been done with, it is a standard operating pattern of the Office of Special Affairs (remember, I used to be the head of it).
People will sign anything to be able to finally leave the SO once they have decided they want to go. They believe their agreements to never speak out are legally binding, even when they are not. This keeps many people in fear of speaking and scientology knows that.  This is in terrorem in legalese, meaning it is designed to create fear if you do something in the future (in terrorem is Latin for "in fear").  People who take the time to "route out" of the Sea Org (as opposed to "blow" which means to leave without authorization) do so in order to stay in communication with their family and friends. If they don't submit to the sec checks and sign what is put in front of them they will not be let go. These are coerced statements and agreements not to speak. Scientology has only tried to enforce one of these agreements once that I am aware of. It blew up their face the minute Debbie Cook took the stand and they quickly withdrew.
The documents people sign are then used in times like these. The statements above may have been SIGNED by Marie, but they were not WRITTEN by her. Even the most deluded person would not write those words about themselves. They are constructed by OSA staff so they can be quoted later if needed. Just as they are now. They sound sort of convincing, if a little strange — until you know the circumstances under which they were written. And I do know, I was the head of OSA.
"I don't think Marie would have been doing what she's doing unless she hooked up with Leah Remini and A&E and Tony Ortega," Marie's mother June said. "I don't think she would do that. And I think these people find people and they use them as a puppet and they use them for their own end."
Sadly, this is how deluded people inside the bubble are. They truly believe that there has been no harm done and no pain caused and there are no damaged people at the hands of scientology. They have convinced themselves that anyone who says they have been hurt or damaged is being "manipulated" by SPs and "used" like puppets. It is amazing how twisted one's view can become when you are fed a steady diet of scientology "truths."
Too many people suffer in silence. That they now have outlets to release their heartbreaking stories is not "manipulation" — it is help.
June and her husband Mike described the entire story as manipulated and false. They were outraged that no one from A&E, co-owner Walt Disney, Slauson Productions or anyone from Remini's office bothered to reach out to them to fact check, inform, and ask questions, NOTHING.
Now, now. Naughty, naughty, naughty.
Scientology was approached and asked to respond to this story. How do you think they got these people together and had their outraged statements and videos ready to go BEFORE the show aired?
Marie's parents were NOT mentioned anywhere in the show. They were not involved in Aaron's life. The Church, including the specific people involved in handling the aftermath of Aaron's suicide were asked for to be interviewed. They conveniently don't mention this. Just pulled some other people out to be "outraged" that they were not asked.
As for Tayler Tweed — they have a lot less to say.
But they start out with this:  "Sadly, before Tayler's untimely death, she was a troubled woman using meth and involved in dealing drugs." 
Way to go scientology. Claiming that the memory of Tayler is being tarnished by this show and you start out by completely trashing her.
And yet you claim you have the ONLY workable drug rehab program and have "salvaged 2.5 million lives from the ravages of drugs"? But that didn't work with Tayler so now you blame the victim?
Haggis is grossly exploiting the death of someone she knew years ago to tell stories that she herself did not see nor witness.
True she did not see Tayler. She makes that VERY clear. But she DID witness her emails and texts. Why no response to those? Didn't notice them in the episode? How come you don't challenge the authenticity of them? They are the documentation of the entire story.
This disgusting act by Lauren is all in order to get publicity for herself just like her father did in using the Church to get publicity for his sagging career.
Hah. Nobody wants publicity for themselves connected to scientology. Not even "your" celebrities. Scientology is so poisonous nobody wants to be associated with it. This is seriously lame.
The scientology clown car has driven off a cliff. But they think they are flying and are patting one another on the back about how smooth the ride is and how they have the planet in the palm of their hand.
Absolutely nuts. And it would almost be comical if people were not being harmed by these toxic policies that they refuse to even acknowledge, let alone rectify.