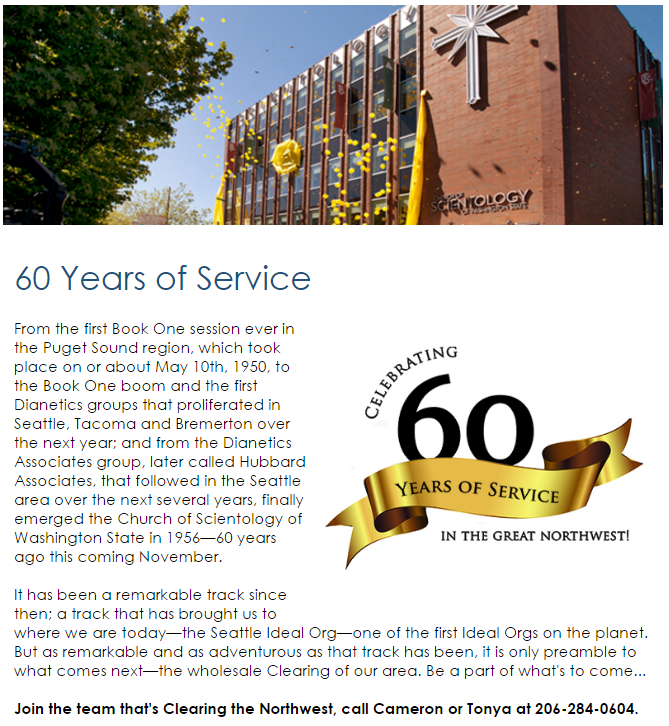 Things are progressing pretty slowly on "the wholesale Clearing of our area" when they are only working at it 12 hours a week.
As with many other "ideal" orgs — they have been moved away from the city center.  They are not the worst, they are in the fairly near suburbs. Some have ended up in industrial parks and alongside freeways where there is no body traffic. The volume of people walking past orgs has traditionally been a measure of their likelihood of success. "Body routing" line has always been one of the few methods of attracting new people into scientology.
You see the staff from these ideal orgs sent to "apprentice" at the "model" ideal org in LA and they are invariably found standing on the corner of Sunset and Vermont in front of the subway entrance trying to entice people to come in for a free personality analysis. This is considered to be THE "successful action" on bringing in new public. They do the same thing at the "Life Improvement" center on Hollywood Blvd.
Seattle "ideal" org is now off the beaten path where there is no foot traffic. So, they have a "Life Improvement Center" in the downtown area, bought and renovated at great expense.
This is the sign on the front door of the Life Improvement Center.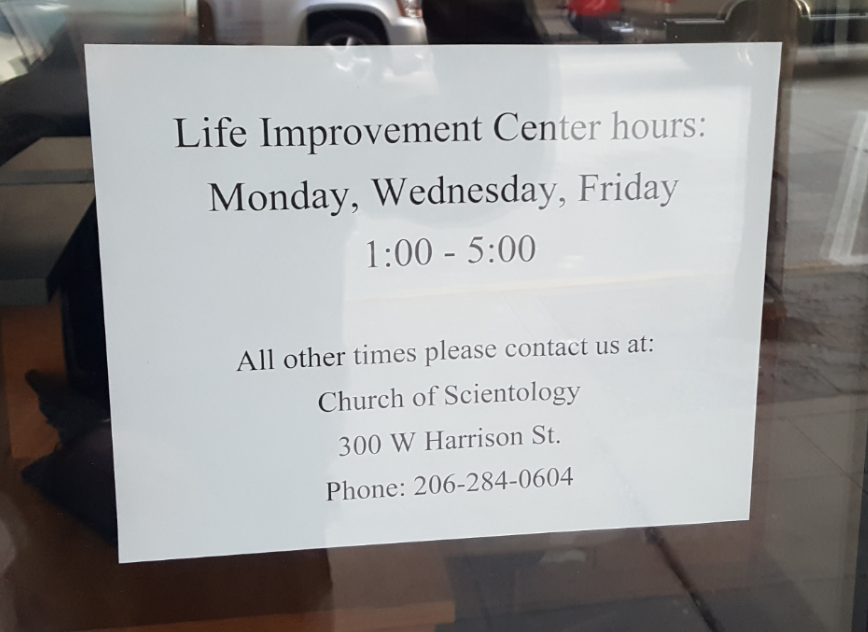 Presumably, those who need their Life Improved in the morning or evening or on Tuesday, Thursday or the weekends should go elsewhere.
This is a reflection of the REAL state of this $20 million "ideal" org.
It does not have enough staff to man their main "new public entrance route" full time. And it is not considered a "viable" investment of the few staff they do have to try and get new public into scientology through their "Life Improvement Center."
This is their idea of "wholesale clearing"???
The contrast between what they SAY and what they DO could not be more dramatic.
And Seattle exemplifies "ideal orgs" around the world…