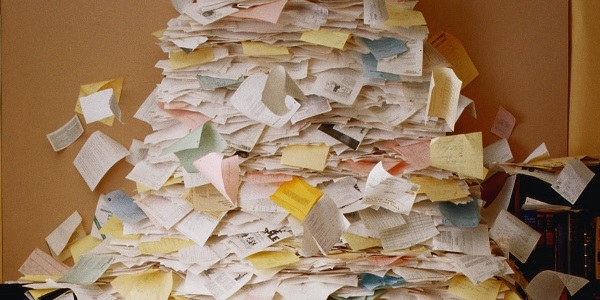 A lot of people are curious about the "CF filing" that scientology obsesses over.
It is a mystery to many of the uninitiated, though certainly anyone who has been around an org knows about CF and its perpetual backlog of filing.
"Central Files" is a Hubbard invention to keep track of everyone that has ever bought a book or taken a service in a scientology organization. Each person has a file folder (or many as time goes on) that includes copies of all invoices (yes, invoices for payments are still written with colored copies to be filed in Accounts Files, Student and PC Files and Central Files), all correspondence, success stories and other records. Every org is supposed to have a team of "Letter Registrars" who stay in touch with every person in the CF to encourage them to pay more money.
The letter writing is commonly done by "all hands" or "volunteers" or the lowest level, illiterate staff who can perform no other function.
But sending out these letters, according to Hubbard, is the "key" to an org's income. It's all very 50's.
And it is why you see insane, hand-written, grammatically challenged letters routinely appearing on internet forums. They slop these things out because Hubbard says its what they should do. He also says there is one statistic in an organization that is COMPLETELY under the control of the staff. They can ALWAYS write letters. So if you don't see the "letters out" statistic going up you know they are not trying.
Here is a write up from the self-appointed king of backlogged CF filing in Clearwater. This guy rallied the troops for Tampa, Atlanta, Miami and now for Orlando.
I guess even the most dedicated KoolAid drinker tires of the endless "CF Filing" projects — so he did a write up to describe the steps needed. As you can see, they even have "CF digs" in one of the Flag buildings. Flag, the "Mecca of Techncal Perfection" actually have a dedicated space for sorting files from other orgs and they ship them in… Of course, this is because these orgs cannot scrape together the manpower needed locally to do their filing. They have virtually no local scientologists — but they are going to be "ideal" this year. Because everyone knows, a shiny new building will change everything, Field of Dreams style.
Get a kick out of reading this craziness: