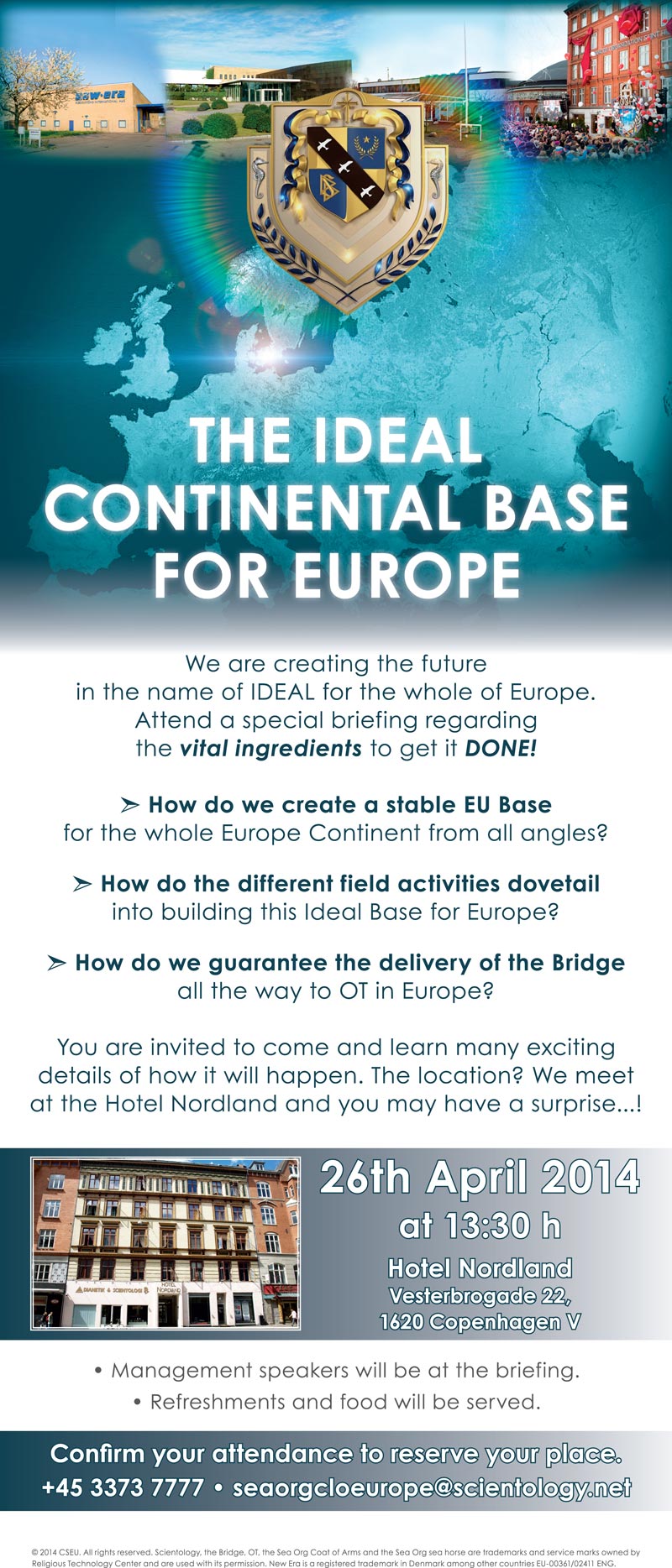 This email was sent out the DAY before the event, offering to help book travel tickets….
From: "Sea Org CLO Europe" <[email protected]>
Date: 25. April 2014 02:53:57 MESZ
To:
Subject:Europe Ideal Base Event  
Reply-To: "Sea Org CLO Europe" <[email protected]>
Dear,

you are invited to come to the Ideal Continental Base for Europe Event!

Let me know if you can come and also if you need help to book a ticket or anything like that.

Much Love

Claudia Fendt
HCO Chief CLO Europe
Surely nobody thinks that these events are ANYTHING other than "give us your money now" events?
I would love to hear Walter Kotric explain how he plans on making the orgs in France ideal? There are 6 of them — more than any other country in Europe except Germany. They do not even get mentioned except in the press about how they have been convicted of fraud. And speaking of Germany, the rest of the orgs outside the failed Berlin and Hamburg ideal orgs are limping along and there is no sign of "ideal" anything on the horizon. Berlin can't pay their phone or elevator maintenance bills at last report, they have closed down altogether for all I know. No doubt Malmo "ideal" industrial park org is a morgue and they probably aren't paying their bills either. Meanwhile Stockholm non ideal "org" has been relegated to a strange building out in the sticks that may or may not be the place where the org supposedly exists. Not to mention Brussels. And Denmark, right under their noses, where they have combined Copenhagen and Denmark orgs — this on the apparent operating pattern that two orgs is one too many for a major city so we combine them to make one "ideal" org as that is going to make planetary clearing a reality, see London, Portland, Dallas and Las Vegas for evidence — they have had a building for many, many years and no ideal org. Lisbon is no more than a part time field auditing group. Vienna the same. It's just not a happening scene there in Europe.
So, in fact, I would be interested to attend.
The other truly mystifying thing about this is that the event is not being held in the atrium of the "ideal" AOSHEU but in the Nordland "hotel"? Must have been poshed up as part of the AOSHEU "ideal" morphing, but it still makes no sense. It would be like holding the "WUS Ideal Orgs Convention" in the Fountain building?