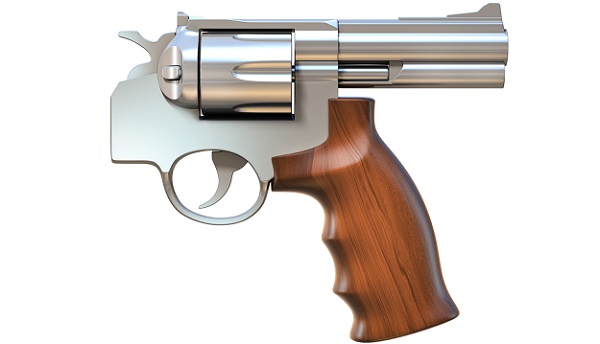 Funny how transparent scientology is. Under the guise of being "standard" and "on source" these clowns stumble and bumble around doing the most incredibly foolish things that invariably blow up in their faces.
I recently received two separate emails, both containing the same text, though they concern two different people.
Under the guise of conducting an "ethics interrogatory" the emails are intended only to create mistrust and worry about Glenn Samuels and Candy Swanson in the minds of the people that are the recipients of the emails.
How can you tell these are not a real "interrogatory" but are instead just a fair game tactic?
A real "interrogatory" must come from the "Hubbard Communications Office — HCO" and it would say so at the top
A real HCO in an authorized scientology organization must have a scientology.org email address, NOT a gmail address. No scientology organization is allowed to have a gmail address OMG — it would open them up to the evils of the internet.
A real HCO interrogatory would be signed by someone. Scientology communications are always signed by at least a post title — to do otherwise is squirrel. Scientology organizations pride themselves on their "communication skills" and use of the "communication formula" which includes an origination point.
The email violates the standard Hubbard policy on writing such an Interrogatory which says it MUST give specifics on what is being looked into, otherwise it is a "suppressive generality."
If some org HCO, or RTC, wanted to investigate these people they could come right out and issue an interrogatory (unless they are so backed off they are afraid to make any public statements these days…)
So, what is this?
Most likely — some project put together by RTC or OSA to get a "volunteer" (most likely a public scientologist trying to get approved to go onto some OT level that has to prove their dedication to the cause) to set up a phony account and send out an email to the OSA mailing list of declared SPs and others. And they think they might get lucky and some less than bright person may answer and give them some information they can use. Or,
Highly unlikely in my view: Milestone Two has decided to "put ethics in on the field" and sent this out.  But this does not fit their pattern as they don't hide their identity and have no reason to do so. (UPDATE: Confirmed that this was NOT sent out by MS2)
Whatever, it is a sleazy attempt to black PR these two people. I have no idea what they do or don't do, but I doubt based on the evidence that "scn4stadtech" ("stad" tech??) is any less squirrel than what they accuse their targets of being….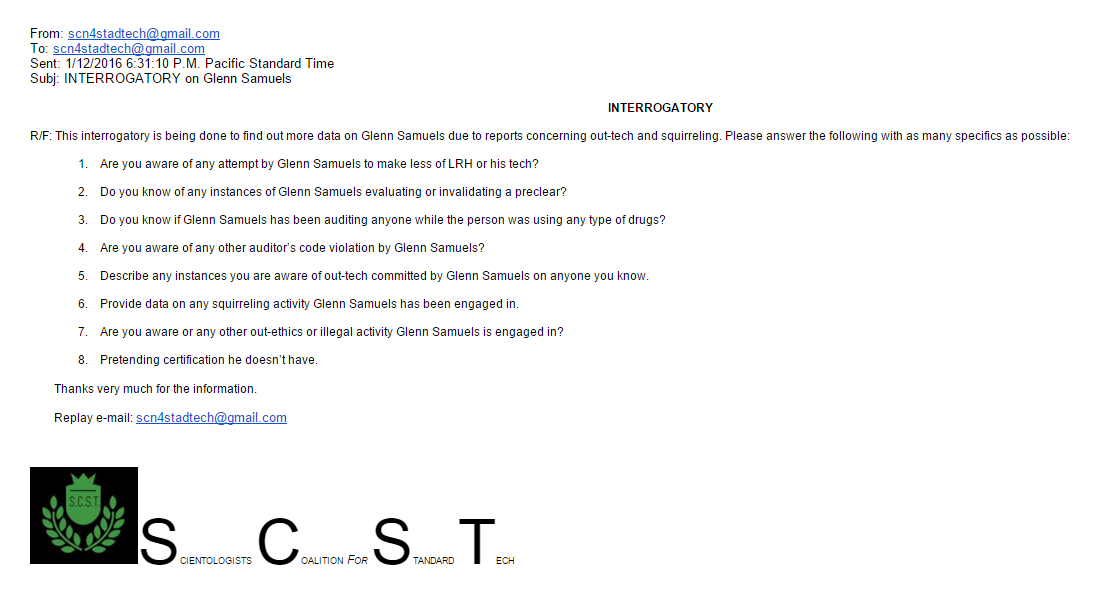 INTERROGATORY
R/F: This interrogatory is being done to find out more data on Candy Swanson due to reports concerning out-tech and squirreling. Please answer the following with as many specifics as possible:
1. Are you aware of any attempt by Candy Swanson to make less of LRH or his tech?
2. Do you know of any instances of Candy Swanson evaluating or invalidating a preclear?
3. Do you know if Candy Swanson has been auditing anyone while the person was using any type of drugs?
4. Are you aware of any other auditor's code violation by Candy Swanson?
5. Describe any instances you are aware of out-tech committed by Candy Swanson on anyone you know.
6. Provide data on any squirreling activity Candy Swanson has been engaged in.
7. Are you aware or any other out-ethics or illegal activity Candy Swanson is engaged in?
8. Pretending certification she doesn't have.
Thanks very much for the information.
Replay e-mail: [email protected]
Scientologists Coalition For Standard Tech