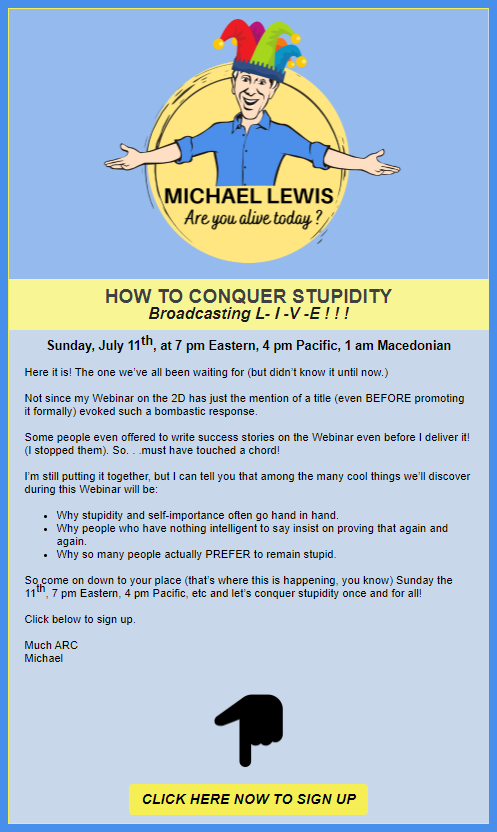 This is a remarkable promotional item that one of our readers just sent in.
Michael Lewis demonstrates his lack of judgment and intelligence right in his own promotional piece. Aren't those the two elements of stupidity?
First, the image of himself he is using — the court jester — represents the polar opposite of "conquering stupidity."
Second, he claims he got a "bombastic" response to his announcement — like that's a good thing. Apparently he doesn't know the word means "high-sounding but with little meaning; inflated."
Then he announces that some people offered to write success stories on the webinar even before he delivers it. WTF? That's a good thing? Tells you how much "success stories" are worth. I guess his saving grace is that the people he is targeting are stupider than he is. As the old saying goes, in the land of the blind, the one-eyed man is king.
That's not all. He announces that he hasn't even put his seminar together yet. Why publicize that? But claims he will cover:
Why stupidity and self-importance often go hand in hand. Exhibit 1: Michael Lewis
Why people who have nothing intelligent to say insist on proving that again and again. Exhibit 1: Michael Lewis
Why so many people actually PREFER to remain stupid. Every single scientologist on earth who refuse to look at facts…
Oi vey.