This may be one of the best ever admissions to leak from the bubble.
Not only is the SuMP doing phony photoshoots, they are PAYING people to show up to try to get enough of a crowd that it doesn't look like the few lonely losers that are the backbone of the "Santa Barbara" "ideal org."
This call to arms says so much — they staged a beach event in Santa Barbara, but it looked measly.
So, the bright sparks decided to re-do the "Santa Barbara" beach event in LA so they could get LA people to attend to look like they were from Santa Barbara.
And though they could import some Sea Org members as "extras" apparently they didn't think they could pull off enough of them so they offered Starbucks cards to anyone who would show up! Hell, if they stood at the beach and told people they would give them Starbucks if they stood in for a photo shoot they would get a ton of people. But of course, if anyone asked what it was about, nobody would participate, or they would worry they might expose the sham…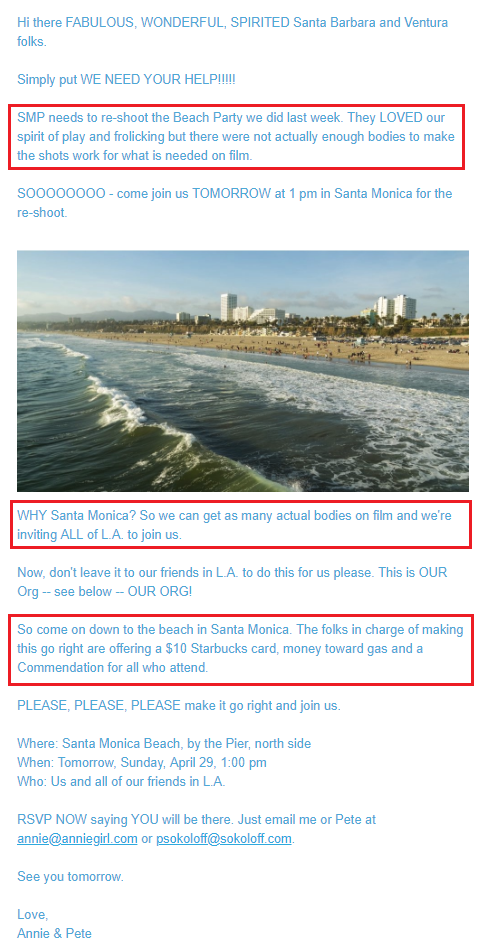 And just to demonstrate the organizational genius of these poor fools, the same morning people are supposed to show up at Santa Monica at 1pm, they are informed that the location has changed to Marina Del Ray.  We will no doubt see some version of this at the next Maiden Voyage event. When you see the "Santa Barbarians" frolicking in the sand, you will know they are simply extras brought in for the occasion to make it appear Santa Barbara actually has a staff and field that warrants a $20 million building.