The latest promotional items from Tampa org – this is "ideal hype" because everything Tampa does is "ideal."
They are on an all out over the ramparts effort to recruit staff – perhaps because they are losing so many.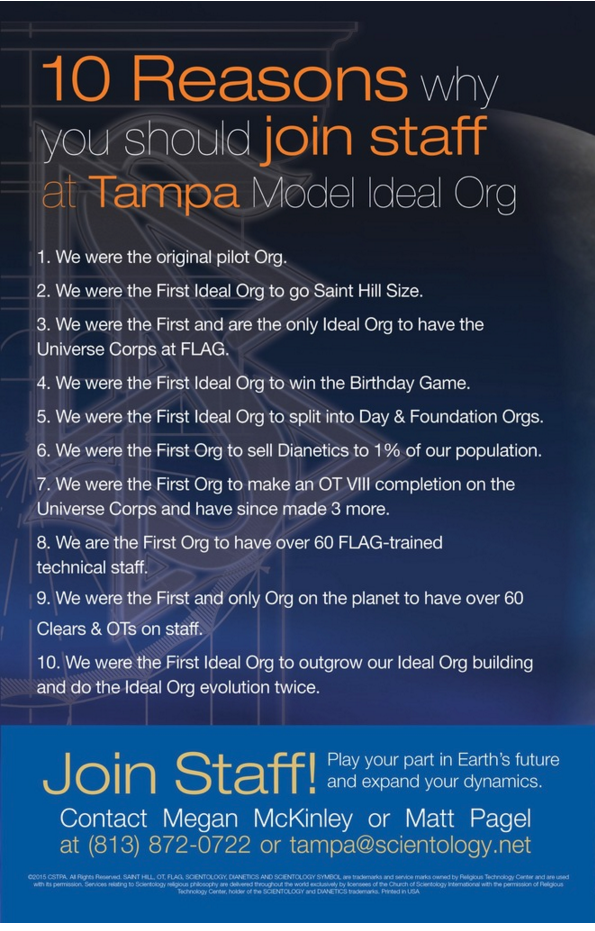 And then this 6 pager…
This tells you everything you need to know.
Even the Dir Reg cannot survive on staff pay alone — she has to have a "Supportive husband who runs a successful, expanding business" (David Tapia runs an Allstate Insurance agency in downtown Clearwater…)
This is the first pilot org. The first ideal org. The first ideal SH Size org blah blah blah. And even the Director of Registration who gets a lot more commissions than any other staff member in the org cannot live on her "staff pay."  How is this possible? Either one of two things are true:
The org is making little money — but how could this be if they are so big and expanding? Services in scientology are not cheap. And they are not given away for free. Ever.
They are delivering a lot of service and making plenty of money but they don't give any to the staff.
Either way, being on staff in the best org on earth sucks. You can imagine what it is like in the lesser ideal orgs. Let alone the run-of-the-mill shitholes that are not "ideal."