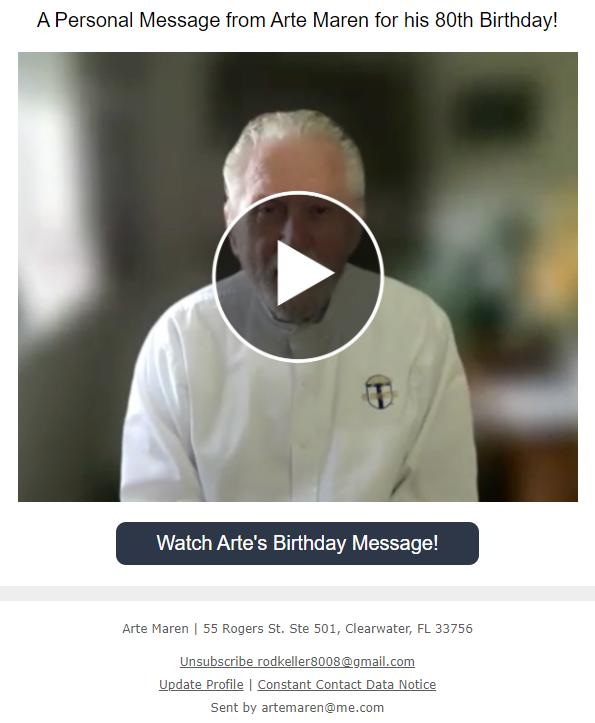 You can check out his video here.
It's heavy scienospeak — his birthday is to "celebrate my identity in this body, the name on this body"… And he goes on from there claiming he is going to relate some of his personal experiences with L. Ron Hubbard (not including mentioning I am sure that L. Ron Hubbard considered him and the other people in the GO to be treasonous bastards who had tried to take him down). Credit where it's due though, Arte looks pretty damn good for 80…
His event is pretty strange. Just trying to rekindle his glory days with himself as the center of attention it seems — his Arte Thon is of course a fundraiser.  You have to pay $80 to attend it virtually and apparently all the money goes to the Philadelphia "ideal" org. If he gets 100 attendees (I doubt there will be that many) that means $8,000 which may be enough to buy the custom woven doormat for the entrance, but is not going to really have any impact on this building. Remember, Philadelphia is one of those cities (like Battle Creek, New Haven, Toronto, Boston, Albuquerque and a bunch of others) that have "ideal" buildings but cannot get them renovated… Check out this posting from 2016 – it has only deteriorated from then.
The Marenthon has "surprise" guests — though if they are announced they are not surprise are they?
It's a collection of usual suspects, though somehow the Chan Man is missing. Perhaps he will be added before the big event happens.
If, like me, you ever wondered what Hana Li actually sounds like, this is the video from above.
I doubt she would get a chair to turn on The Voice. She tries, but her vocal skills are not much better than mine.