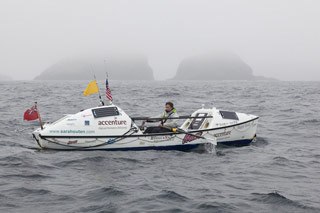 It's getting wackier.  If that's possible.
Now anyone's crazy scheme is being tagged onto the crazy scheme of "Ideal Orgs."  And the orgs are even promoting it.
It used to just be the blind leading the blind. 
Now its the crazy on the coattails of crazy.  
There are so many things wrong with this it is difficult to comprehend. Including his kid? He wants to row across the Atlantic to "back up Chairman of the Board"?
Hey, I have an idea. I want to build a house. How about an "Ideal House" program. Give me $500,000 and I will make my dream come true and make it to the level of Humanitarian (I will get Tony Ortega to give me a cert). Maybe I could get some orgs to promote my fundraising campaign to become a Humanitarian. 
Genius 🙂
Dear Scientologist,
Hello! My name is Danny. I have had an idea for a long time of rowing solo across the Atlantic Ocean. I kind of got a failed purpose on it as I thought it was impossible.
So when I was talking to Surinder and Aaron (UK Ideal Org Fundraisers) at Saint Hill, they asked me if I wanted to do my Humanitarian so I said "it's impossible", but when talking to two Sea Org members, "impossible" doesn't exist!
I looked at some ideas of how this could be done. I remembered that I had the Atlantic rowing cycle which I really wanted to do so I thought I would combine the two.
A solo crossing to raise funds for the Ideal Org!
The crossing is from Grand Canaria to Barbados and is 3,000 miles in an ocean rowing boat. It has been completed by a few dozen people, but hundreds have tried. The record is 42 days.
Please see the pictures below to give more mass on the whole project.
| | |
| --- | --- |
| | |
| Ocean row boat | Kit for solo trip |
The standard operating basis for an ocean row is 2 hours rowing and 2 hours resting. It is quite a gruelling challenge, but can be done. I am not a stranger to adventure sports. I was skydiving for 3 years in the UK and USA and regularly jumped from aircraft at 13000 ft and 18000 ft. I have even tried my hand at bull riding – however nothing as adventurous as this!
This has been a dream of mine to do, and it is also a dream of mine to become an Ideal Org Humanitarian!
I want this for all of us, and especially for my son Trin who is 7 years old and we have come down from Manchester so he can study at Greenfields (an Applied Scholastics School at the other end of England). I have included a picture of me and my family at the bottom of the email so you can get mass on us.
My wife is the ED Manchester and just came back from an ED's conference at Flag and we really want to back up Chairman of the Board and the release of Golden Age of Tech Phase II with the aim of getting Ron's postulate of a Clear UK done!!!!!
I want to do the Humanitarian this week! I think if I can do this, then anyone can and so want to do it now and I hope this will inspire others.
I need help from Scientologists to sponsor me in advance so I can do the Humanitarian and also fund the project itself.
I am sure many will think I am crazy, but if you are reading this communication now it is because I feel that you understand this craziness and see it for what it is, which is a real, burning desire to achieve and win! You have to be willing to be crazy and adventurous to get anything done and we live on a crazyplanetwhich tells us that we can't and should not and I disagree with that.
I need 75,000 to complete my Humanitarian as well as fund this project. If you can share my dream of opening Ideal Orgs and share my ideas on how this can be used to create huge interest, then please consider sponsoring me. Sponsors will be advertised on the boat I row in and on merchandise produced for the project.
My idea is to get 15 people to sponsor me 5,000 each. Any amount is welcomed however.
Please email me back and let me know how you can help. You can also click on the donate botton below to sponsor me. Please note in the space provided that it is sponsorship.
Best,
Danny Fitzgibbon