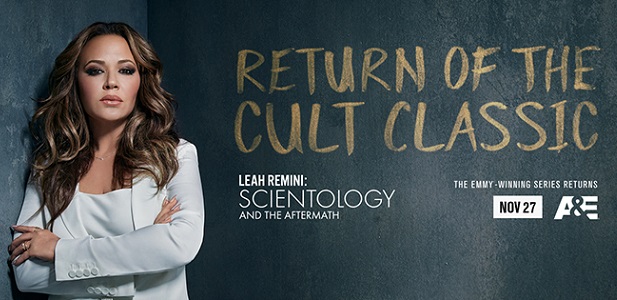 This ad aired multiple during Sunday night's episode of The Aftermath:
The woman "Sadie" IS a real person. She was at Golden Era productions in the Sea Org with her husband Axel (her husband in the ad).
Sadie is infamous for an incident at the base where David Miscavige commanded her to run over Marc Yager (then CO CMO International) in her car (she had a VW Beetle).
As any good Sea Org member at the Int Base would, Sadie jumped in her bug and started trying to run down Marc Yager. He literally ran for his life, and jumped off the loading dock that is part of the parking lot at the Castle. In doing so he injured his leg — whether he broke it or sprained his ankle I don't recall — and was on crutches for some time thereafter.
Sadie was held out by Miscavige as a shining example of a "real" SO Member, someone who "complies" and "gets the job done without Q & A."
Anyone who was at the Int Base at the time knows about this incident. I happened to be present.
Now, the astonishing irony of this is that Sadie and Axel were able to leave the SO and have a child because of the people who have appeared on The Aftermath — in particular Claire Headley who recounted her experiences with being coerced to have abortions in the media and in court testimony. Scientology changed their policy due to the exposure. The Aftermath is the reason Sadie and Axel are in the position they are in today outside the SO.
But both of them belong in the ex-SO Hall of Shame (along with quite a number of others who I will be addressing in the coming weeks in coordination with an upcoming episode of The Aftermath)– they left the Int Base and they KNOW what happened there. They have remained silent. People remain at that base who were formerly their friends and they continue to suffer abuse.