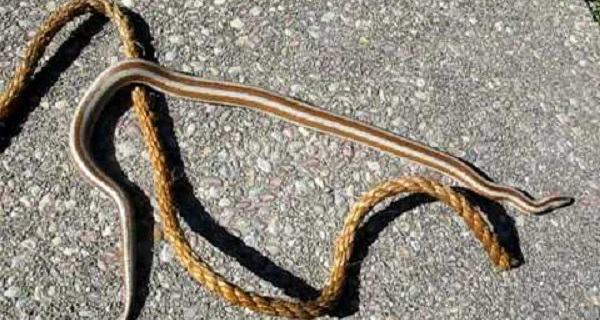 Another provocative essay from long time commenter Brian Lambert
"Clear your mind of dogmatic theological debris; let in the fresh, healing waters of direct perception" Lahiri Mahasaya
Once there was a man who was walking nonchalantly through a beautiful forest. Not a care in the world did he have. Absorbed in the beauty of nature he descended serenely down a winding pathway to an open glen of multicolored blossoms. Many birds of varying throated syntax graced the air with inspired innocent melody.
He came to a big rock and decided to sit and lean against it. Taking out his packed lunch he took his first bite.
Then he looked down to his right and there, a foot away from him, was a large venomous snake hidden in the underbrush. Terror seized him. His heart rate pounded as if it were exploding out of his chest. Beads of sweat trickled down his forehead and paralysis seized his muscles. He was in fear for his very existence as deadly poisonous snakes were known to inhabit this forest.
Sitting there in terror with eyes closed he sent out a prayer for protection. His inner intuitional voice said," Don't be afraid. Look directly at the snake."
Heeding his own inner guidance he opened his eyes and forced himself to confront his doom. On close inspection he noticed the snake was motionless. "Was it asleep?", he thought.
Following the guidance to look directly at the snake he moved his face closer. It still did not move. Then he took a stick and poked it. An incredible feeling of relief coursed through his body. His heart rate went back to normal. Such a sigh of relief.
What he found was a thick piece of 5 foot rope curled up that only appeared to be a snake.
Yet this man experienced all of the physical, emotional and mental states associated with real imminent death. But the reality was, there was no snake. The snake was in his imagination. An unreality was experienced as a reality. The body, mind and emotions could not differentiate. The unreal was experienced as real.
If that man was hooked up to a meter during the time he thought it was a real snake, the needle reactions would be all over the place verifying the reality of a snake.
This in essence is what is happening on the OT levels. Unrealities are experienced as real. And the "realness" is reading on the meter.
Let's tell this story with a different ending
After seeing the snake, he just threw his lunch up in the air and ran away. Putting great distance between himself and potential death. His heart still pounding, emotions in a knot and mind dispersed, he felt relief but this time he was left with the false perception that it was a real snake, and that he "really" did escape danger. The relief was real, but what he was relieved from was a non existent imaginary snake.
Let's say this guy then develops a fear of forests because of his experience and a Scientologist tells him auditing could help him. He pays his auditor and gets relief from his fear. Thinking all the time that the auditing session was freeing him from the terrors of a snake that was in reality non existent.
The entire experience of the snake was his own imagination. What he ran in session was an imaginary snake occasioned by all of the physical, emotional and mental indications of a "real" experience. His body mind and soul experienced the "reality" of a snake. If he was holding the emeter's cans he would be getting all of the needle phenomena of a "real memory".
That, in eastern thought is called Maya or delusion. Seeing the unreal as real. And a failure within the discriminating intelligence of telling the difference between that unreality and that reality.
It is the same in a dream at night. How many have awoken from a nightmare with heart pounding and breath heaving? In the dream, the nightmare is real. Upon awakening the nightmare dissolves with a giggle.
It's also the same with those female manikins we see by the road side with moving arm holding a sign with huge perky breasts and long bare legs.
Every man knows it's a manikin but we look anyway. Noticing her perky mams and cute face. That's the imagination causing a real reaction, real feelings, real emotions felt towards a lump of carefully molded plastic.
BTs are that molded plastic.
ALL AN UNREALITY, YET CAUSING REACTIONS (READS) THAT RESPOND AS IF IT'S REAL.
You can google cutting edge neuro brain studies and discover that the physical brain and the subconscious mind does not differentiate between reality and imagination.
THAT IS WHAT IS HAPPENING WHEN YOU RUN OT SPACE OPERA!
The mind has already been conditioned to believe everything Ron says. If it's not in writing it's not true. Corollary: everything written by Ron is true. So when you mention to an OT 3 true believer, those who are running BTs everyday, they will scoff at science when you tell them Hawaii was not created 75 million years ago. Or they will simply go into denial when you ask," If running out BTs is the road to freedom, why was Ron in a delusional mental state asking Sarge to go locate a BT on the ranch. And the king of all arguments that running BTs is not the road to freedom: the man who created these processes wished for suicide while running BTs.
So unreality becomes reality. That unreality, if doubted, is enforced by ethics behavior modification or handled as out lists or out rudes or out ethics or missing gradient or PTS or no case gain SP. All of these actions throwing a smoke screen over the snake. Barring it from being directly perceived as it is; rope. Denying the TRUTH.
The emeter cannot tell the difference between reality and imagination because the brain and subconscious mind cannot either. Maybe it can with real memories that can be consciously remembered as in last year or as a child or a clear past life memory. But millions of years ago cannot be independently inspected and verified. Ron's imaginary magic weaves unreal memories that read as "real" and feel as "real."
What people are freed from by running the OT levels is their own imagination.
The relief of being freed from imaginary experiences IS the OT success story.
Ron convinced you that his imagination is your imagination. And then your mind convinces you that it is real. Then you have all of the mental, spiritual and physical phenomena of going through an incident or finding BTs. The emeter reads just like the man before he discovered it was a rope. The suffocating terror was "real" the stomach knot was "real" the sweat was "real" the emeter reads are "real." 
But none of it is real!
We overwhelm ourself with imaginary beings and then we overcome our imagination; then we attest to an OT level. Freed from the non existent, the imaginary, the unreal.
Don't underestimate the power of Ron's absolute power of suggestibility over us. Especially after granting him infallibility; self hypnosis. His promoting the dangers of the non interference zone creates certainty of the non existent snake. Agreeing to this story makes it come alive in your imagination. Then the mind creates the images to run. Peopled with implanters, flashes of light, angels as implanted images on and on and on.
This powerful suggestibility enforces the "reality" of a snake about to kill you. Or in Scientology terms: save the universe from evil SPs and implants (imaginary snakes).
Scientologists who still have an emotional attachment to running the OT levels are creating imaginary memories that follow Ron's imaginary constructs, that in reality, are nothing more than a mistaken identity, a story from L Ron Hubbard's Sci Fi imagination, made into church dogma and unquestionably accepted in the mind as real by his students.
The snake, in reality, is a piece of rope. OT 3; the theory and practical, gets it's "realness", solidness and certainty, from your own powers of the mind.