It's finally arrived… the day for the ribbon yanking of the greatest boondoggle in scientology history (and that is saying something).
After all the put-off dates and promotion with NO dates and emails from anyone and everyone, the crowds will gather, the video crews will be capturing every word and every angle, and scientology will launch itself into the 20th century with a white elephant for the ages.
Below is just a sampling of the frenzy of urgent messages to implore all scientologists everywhere to show up for this event. You have to wonder how many "celebrities" will be there, as this is all about impressing Hollywood and celebrities outside of being a fundraising tool. It's never really been much use asa fundraiser as the purchase was announced regardless of thermometers and statuses and kooky pirate parties. If the purchase and renovation had to wait for the money to be collected from public this would literally NEVER have been done. It cost a LOT more than Valley ideal org and that still isn't done 12 years into the project.
But interesting is the level of paranoia associated with this "grand opening" of the "international dissemination center" intended to "put scientology on the comm lines of the world."
They didn't want to announce the date publicly, so the promotion has been very strange and secretive.
The first poster gives no date and no address. Just a demand to "call for information."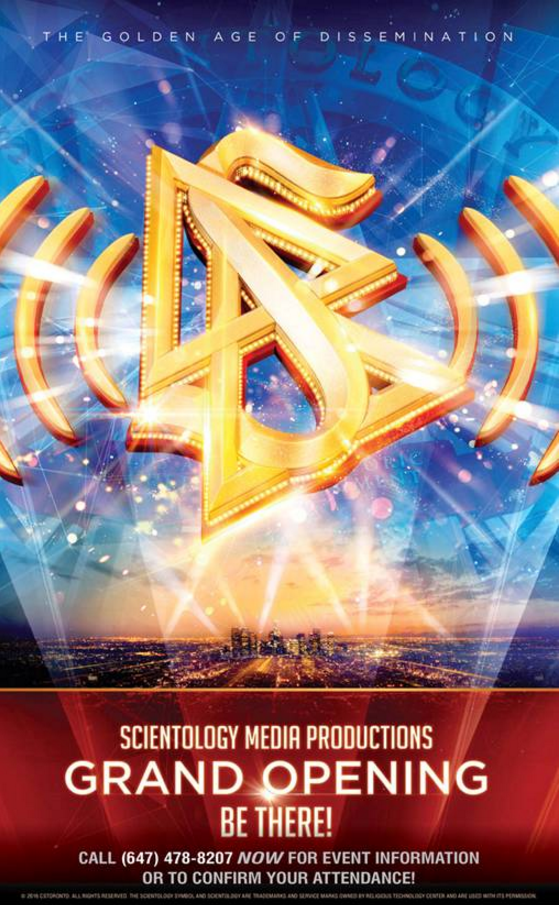 Then there are the apparently endless emails ti get "event passes" beforehand. Tickets are no longer good enough. You have to show up at ASHO in person and be issued a pass. The general public are verboten. So too the media. Even scientology public of doubtful loyalty will be excluded.
But the emails and pleas have been at unprecedented levels.
Tells you how much heat there is on getting attendees for this event.  It's really the ONLY thing Dear Leader has to talk about at Maiden Voyage. He will of course make a big deal about Atlanta, but a lot of the public at MV were there for that as they went right after the March 13th event at Flag.  Harlem "ideal org" is STILL not done.  Neither is Silicon Valley. No AO's have opened. There isn't a new org in sight anywhere on this planet that is being so effectively "cleared." 

This invitation is very "personal."
Dear Xxxx,
I am sure you have heard the news by now of the upcoming grand opening of Scientology Media Productions.
I wanted to take this opportunity to personally invite you to come in to ASHO Reception and sign up for your event pass to get into the Grand Opening.
I am personally completely thrilled about what this means for our religion.
As a veteran staff member who has personally made hundreds of auditors, I have always been concerned about how we would be able to contact enough people to actually clear the planet. And now we have the answer.
Let me know if you need any help or have any questions.
Much Love,
Cosimo Sherman
Lead Tech C/S
Just as a note, you might help with "contacting enough people to actually clear the planet" by opening the doors instead of doing everything in secret.
This next one, from the same person, is not so personal for some reason.  But the Lead Tech C/S is really doing her bit on call in for this event. Probably doesn't have anything else to do….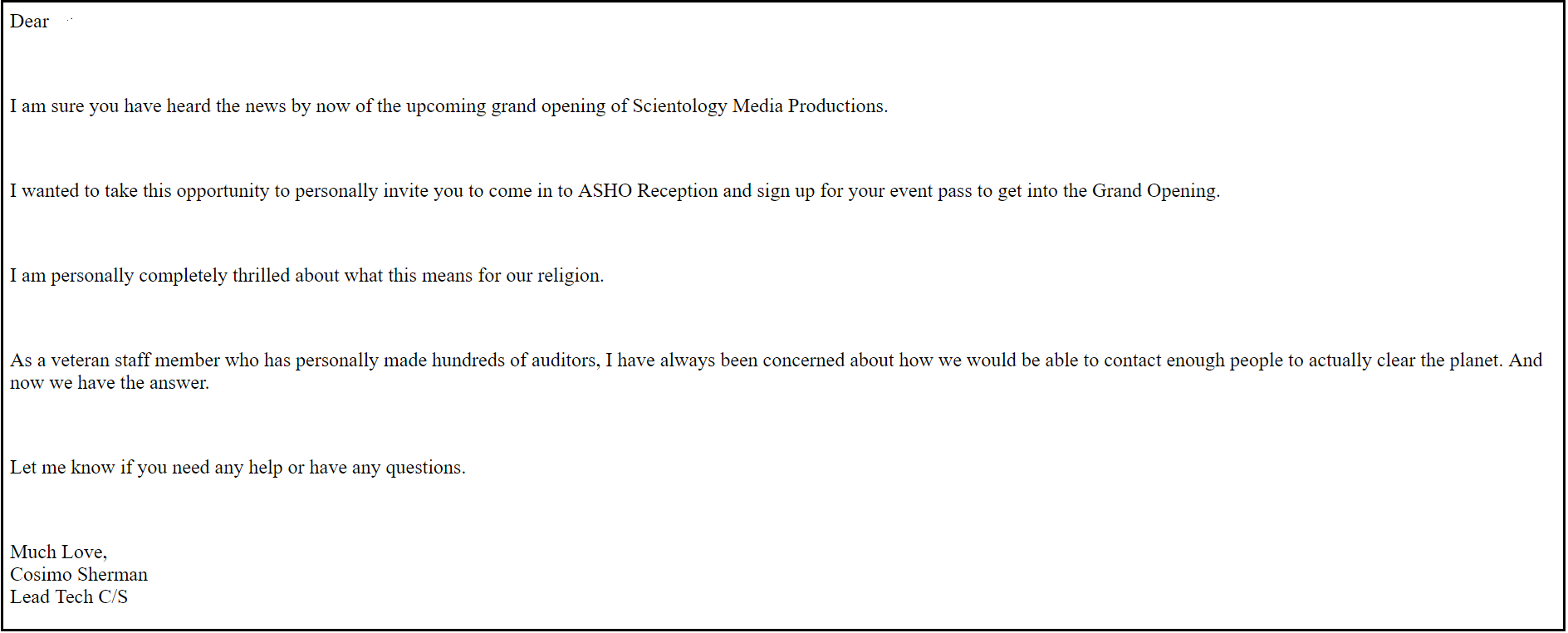 Ken Hoden makes a passionate pitch about being on staff for 42 years. And a large portion of that time was as Port Captain of Golden Era Productions — so he knows better than most that this is an atrocious waste of money, duplicating the facilities of Gold. And Gold was massively overbuilt and has not come close to being fully utilized.

And all the way in Battle Creek they are battling to try and get some people to attend. Battle Creek? They would be better off getting two people in session on Saturday and Sunday and doubling their WDAH.

And finally, this idiocy. Ron Hubbard "received an invitation to write pictures" from this very studio. These guys just make shit up to fit whatever the circumstance. But even more to the point – what hell does an invitation in the 1930's have to do with today? That's right Ian. Absolutely nothing. This is just babble for the sake of babbling.