You may have seen something I put in the Thursday Funnies about how Tampa "model ideal double St Hill size" org is working on making it viable to be on staff.
This is a another of the whopper lies in scientology — somehow these organizations that charge people hundreds of dollars AN HOUR for services, do not have money to give a decent wage to staff members. Most live on income levels that are unsustainable without: a) a spouse or someone else who supports them or b) they work a second and sometimes third job in their "spare" time — usually for a local scientologist.
This working on another job in addition to staff is called "Moonlighting" in scientology. L. Ron Hubbard despised the practice. The entire reason for the existence of WISE was to "get scientology businessmen off the 'backs' of orgs" — and Hubbard viewed them that way as they staffed their businesses with "his" org staff. He considered giving staff jobs to be poaching them, distracting from their ability to perform their functions in the orgs.
Hubbard wrote Policy Letters about it, laying down the law. His 1982 LRH ED 339R which is the bible of all orgs — the "game to make all orgs the size of old St Hill" had as a primary purpose the idea that org staff members would make more than a comparable job in the "wog" world once their org was "SH Size."
Without going into great detail — believe it there is a LOT Hubbard had to say about the evils of "moonlighting" and that it represented not only incompetent local church leadership, but also incompetent management.
Of course, the catch phrase these days is "ideal org". This is now supposed to be the magic bullet that solves all problems, including staff pay (of course, everyone knows this is a lie as the first "ideal org" and SH Size Org for decades, Tampa, still cannot pay its staff enough to live on). For the uninitiated, the reason is because there are written in stone allocations of funds that come in to scientology orgs — at the MOST they are entitled to 14% of the Corrected Gross Income (Total income MINUS all strict "donations" to IAS or Ideal Org or anything else, minus book, lecture and E-Meter sales, minus FSM Commissions, minus refund/repayments and a few other things). If a "service" business (which a scientology org most certainly is — it manufactures nothing and apart from books sells nothing other than personal services) tried to operate on about 10% of it's revenue it would go belly up in a week. The only reason scientology doesnt is because it is artificially kept afloat by the staff who essentially run the business without being paid.)
But nobody is told this when they are being recruited to join staff in scientology organizations. They are told how excellent things are and that they "are expanding" and "pay is going good" and "the new system is terrific." Any lie the person might buy will do.
Everyone knows the big push is on ideal orgs. It is the panacea to all that ails scientology (except where the ideal orgs already exist…)
So, one of the very prominent NON ideal orgs that has been being talked about for a decade now is the "Harlem ideal org". Talked about and talked about. CGI videos have been shown of this "org" numerous times. They have been promoting their "imminent" opening for years.
Well, the "ideal org" in Harlem has a full time, dedicated SEA ORG member who is posted specifically to assist anyone they can get signed up to find a MOONLIGHTING JOB to supplement their "staff pay."
And guess who this person is?
One of the "Let's Make A Date" poster girls also seen in Thursday Funnies. Hannah Mets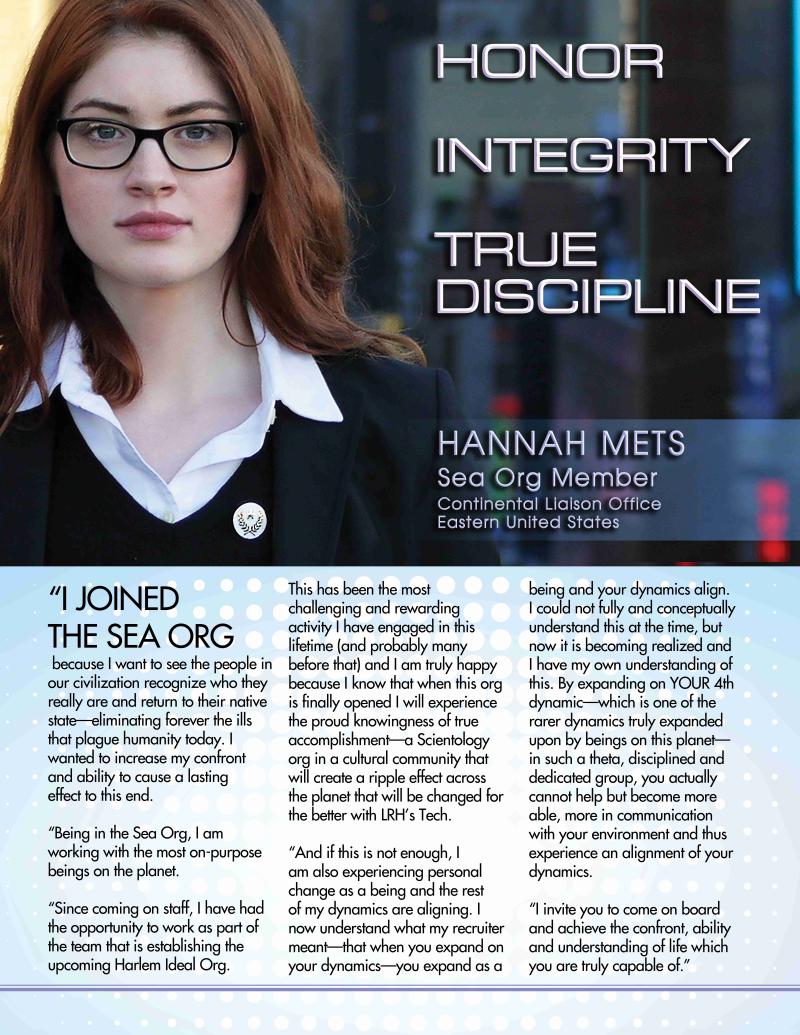 Here is Hannah's LinkedIn page: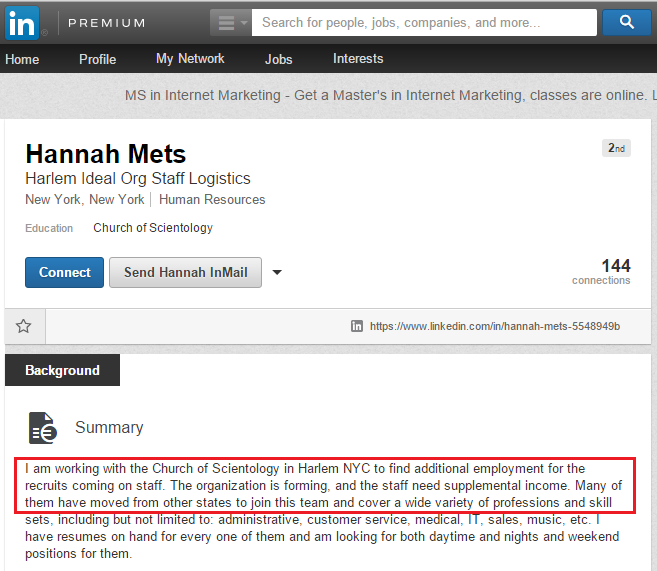 "The organization is forming, and the staff need supplemental income." Wow.
But then, perhaps even more shocking is this: "Many of them have moved from other states to join the team…."
Seriously, there are not enough people in NY? Even though the NY Org itself in the same city, is one of the first 5 "ideal orgs"? And is one of the oldest scientology orgs on earth. They are bringing in people from other states to man just the second org in the largest city in the US?
More evidence of the "big lie" — scientology is not expanding. Not even slightly. It is disappearing.