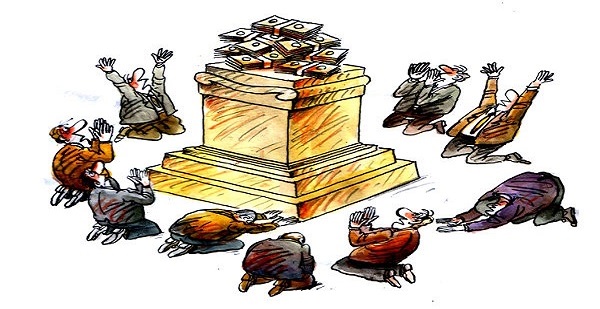 Anything is good reason to hand over your cash in the world of scientology…
A disaster. A new building. Ron's birthday. Your birthday. The end of the year. Thursday at 2. The Super Bowl…
But this one, from Mr. CCHR himself, the Financial Investment Advisor, Author, IAS Freedom Medal Winner, Keynote Speaker, IAS Reg and all around homo novis, is over the top even by scientology standards: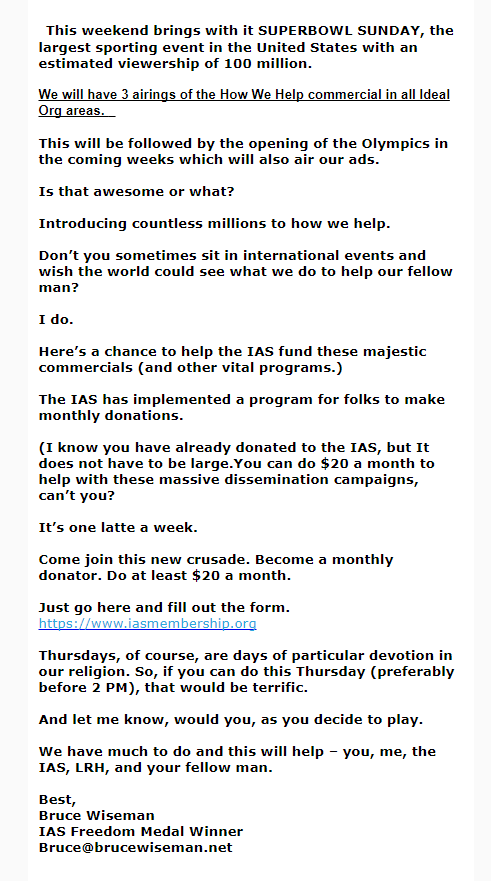 Bruce Wiseman is pitching people to give $20 a month for the "majestic" commercials (this last one was anything BUT majestic — confusing drivel more like, with a condescending "we thought so" to top it off) but he gives himself away "And let me know, would you…" and then "this will help — you, me the IAS, LRH and your fellow man".
Obviously he is planning on trying to establish a steady stream of income for himself — 10% of $20+ a month for every person he gets signed up. He need do nothing more. He wants people to "let him know" so he can make sure to claim the commission on the money they fork over.
And then there is this: "Thursday, of course, are days or particular devotion in our religion"… OMG. It is true, Thursdays should be set aside as a special day of EXTRA devotion to the dollar. Worship the cash. Pray that it comes in before 2pm. This is the holiest of holy days and the credit card is the sacrament of the religious services so devoutly performed each Thursday lunch time and shortly thereafter.
Let's not even mention the last guy that forked over $10 million was told it was to finance "planetary dissemination", and so was every other sucker that did the same, whether it was 10 mil, a solitary mil, 100K or $100. In the last month they have collected AT LEAST 10 times what they spent on these ads. They only run them so they can have SOMETHING to show the people that give them money. And they will keep hammering away for more and more and more… Scientology can NEVER have too much money. Even if they have nothing they are willing to spend it on.
It's a sickness of the scientology organization built into its DNA. Greed.