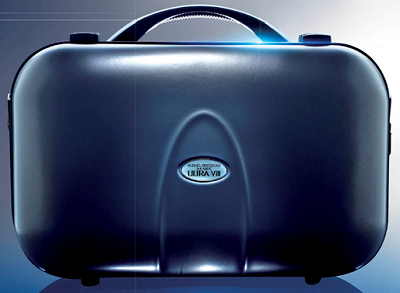 We just got this write-up from a Special Field Correspondent.
It contains interesting information about the Warehouse VIII and how it is going to blow a lot of people off auditing and training.
I bet there is a SERIOUS panic happening right about now over the shitty sales of the W8. Everyone HAS to buy two and they HAVE to pay cash…. Yowzah. What a BOMB this is going to be.  
Anyone want to take bets on how long it will be before this "policy" gets changed because after 10 years of warehousing, these beauties are STILL sitting in a warehouse? Miscavige will scream about CI and SP's cutting across the sales and crashing the scene and reluctantly give in to the low-havingness, downstat DBs just to get them out of the warehouse…
The first person to report on the "new" policy will get a prize.
I called Bridge and asked them a number of questions they didn't have posted on their Mark VIII Ultra E-meter site.
It's funny that the first "answer" on that page is "Many of your questions may be answered in your Mark Ultra VIII Owner's Manual." It's typical of the "church" these days that they don't actually answer your questions. In the case of the Mark Ultra VIII they're expecting you to buy it first, then get your questions answered.
Apparently this is a Miscavige-era application of the HCOB 18 June 1957 PEOPLE'S QUESTIONS, which used to say:
A congress MUST
An organization MUST
Answer people's questions.
This is the primary public complaint – that Scientologists in the organization or out won't answer directly questions asked about this or that.
Understand it, answer it, make friends.
Anyway, I asked Bridge how long I had to buy a Mark Ultra VIII meter, based on the experience I had when the Mark Super VII Quantum was released. When the Mark Super VII Quantum was released and the whole world had to upgrade from their Mark Super VII and get their meter "Quantumized", there was a grace period of about three to six months before you wouldn't be allowed to use a non Quantumized meter on course or in an org for auditing.
Bridge said that every org in the world was requiring the use of only Mark Ultra VIII meters on an immediate basis. There was no "grace period" as before.
I double-checked this: so, you're telling me that if I was on the Pro Metering course on November 16, I cannot go back into the courseroom without a Mark Ultra VIII meter? The Bridge representative hemmed and hawed and didn't really answer the question, since he realized that I was asking if the church set up the Mark Ultra VIII release to facilitate kicking people out of courserooms all around the world.
So I changed the topic: I have friends at Flag who are telling me that I have to come up with cash to buy a Mark Ultra VIII meter; I cannot buy the meter off account. Is that true? Bridge answer: Yes. The orgs don't have enough money to buy Mark Ultra VIIIs and keep them in stock, so the parishioner is required to pay the cash up front for their meter, so that Bridge can deliver it.
Nothing is a clearer indicator of the "lack of expansion" than you release a new meter that the orgs can't afford to stock.
And nothing will be a bigger block on the future expansion of Scientology than requiring cash up-front for new materials when the person has already put that amount of money on account.
I asked about the legal documents that must be signed. The Bridge rep told me that after I pay the money, only then do I get subjected to the "Okay to buy a meter" check required to obtain a Mark Ultra VIII meter. When I get "Okayed", only then does Bridge send me the documents via surface mail in order to sign.
This is pretty tricky, in my mind. I have to first pay, so I'm out $5400. Then I get "okayed", which is a check to see if I'm in good standing. If I'm not "okayed", do I get an immediate refund of my money without having to go through A-E steps in the future?
The number of arbitraries added to the process of getting a Mark Ultra VIII meter is much more than any previous meter.
If I'm "okayed", then Bridge sends me the Mark Ultra VIII e-meter agreement to sign, which apparently I wouldn't be allowed to read in advance of paying the money to the church.
I had to pay the money, get okayed, then I get to see the documents. So I asked, "What if there's something in the documents I can't agree to? Like forcing my first-born male child to join the Sea Org?" The Bridge rep assured me it was all commonsense stuff, like not using my Mark Ultra VIII meter to squirrel with, and to keep my IAS membership current at all times.
I asked if I could see the legal documents before forking over $5400, and the Bridge rep said "no".
But I made a mental note: what's commonsense to me is not what is commonsense to the church, or to David Miscavige. In fact, by this point in the conversation, I had already accumulated a half-dozen items that were definitely not commonsense. Like paying first, then signing a legal contract, then taking delivery of a meter.
I double-checked: there is no additional cost for the yearly internet re-activation fee. The basic way it works is that you hook your Mark Ultra VIII up to an internet-connected computer, log in to the Bridge Mark Ultra VIII re-activation site using the login you got when you bought the Mark Ultra VIII and your meter's serial number, and the re-activation sequence and any needed software updates would be automatically beamed into your Mark Ultra VIII meter.
The countdown timer in your Mark Ultra VIII would be re-set for a year's worth of use.
The digital display in your Mark Ultra VIII flashes a message starting when you have 14 days or less on your current activation cycle, reminding you to re-activate your Mark Ultra VIII.
Of course, if somebody conveniently false-reported you to OSA in the past year, you won't be considered "in good standing", and your meter won't reactivate.
Fuck your pcs, delivering what you promised, and not allowing a frequent change of auditors.
I asked if I was training as an auditor, did I still have to buy two meters. The answer was "That's what HCOB 4 December 1977R CHECKLIST FOR SETTING UP SESSIONS AND AN E-METER says to do."
I reminded the Bridge rep that when that bulletin was issued the only approved meter was the Mark V, which had a nickel-cadmium rechargeable battery in it. LRH said that NiCad batteries had the annoying habit of going flat without warning, so having two meters was the only way to keep a suddenly flat battery from interrupting a session. "That's what the bulletin says."
I pointed out that HCOB 24 October 1971 RA III FALSE TA says that "A cadmium-cell meter discharges very suddenly when it goes flat." and asked what kind of battery was in a Mark Ultra VIII meter and he said "Lithium rechargeable". I asked if the meter had a "remaining battery life" indicator on it, and he said yes, it counts down from 8 hours to 0 hours depending on how much charge was left (it requires 10 hours to fully charge a Mark Ultra VIII )
I pointed out that with a remaining battery life indicator and a non-cadmium cell battery in the Mark Ultra VIII, the technical requirement for having two E-meters was gone.
The Bridge rep stuck to the mantra of "that's what the bulletin says".
I remembered that in the '90s when the "new cans" came out for the Mark Super VII Quantum, that the briefing given at the event told us that the cans were made of a copper-beryllium alloy with a thin tin plating. "Yes" agreed the Bridge rep. Then I said that HCOB 21 January 1977RB FALSE TA CHECKLIST says "Cans, of course, should be steel with a thin tin plating", and when I KR'd the fact that the cans had been changed from LRH's specifications, nothing was done to fix it.
So, I asked, is there LRH that says when LRH can be ignored in the face of a technological advance but not be ignored in the face of a technological advance?
Obviously, the Bridge rep was in a bind and couldn't give an honest or straightforward answer. The answer, of course, is there is no such LRH, and that the policy, all verbal from the COB, is that when you're on staff you make decision that will cost the parishioner the most and keep him from auditing as much as possible.
So I veered off the topic since I knew the guy couldn't answer it without getting face-shredded.
I asked how the reads from the Mark Ultra VIII could be 50,000 times clearer than those of previous meters.
The guy told me I should have seen the event. I told him I'd love to, but the word on the street is that the event was not recorded for orgs and missions, so I'll never get a chance to see it now.
So he read me a 2-page piece about how the awful old meters had circuitry that distorted reads by 50,000 times and that circuitry had all been eliminated, allowing the carrier wave passing through the pc's body to directly affect the needle. So the reads were clearer. I asked what the measurement instrumentation was that proved the reads were 50,000x clearer (which is a very specific number) and he said he didn't know. I asked if there was documentation, like oscilloscope traces, showing the carrier wave and what the Mark Super VII Quantum displayed versus the carrier wave and what the Mark Ultra VIII displayed.  He said "no".
He went on to explain that the computer in the Mark Ultra VIII sampled the carrier wave 240 times per second, and the computer compared those samples against the past 5 seconds worth of samples and the needle displayed the difference.
He didn't realize, of course, that he had just given me contradictory information: the needle directly reads the carrier signal and displays the difference on the needle, and what displays on the needle is the difference between 240 samples of the carrier wave and 5 previous 240-slice samples of the carrier wave.
He went on to explain how the Mark Ultra VIII has an optical tone arm. The tone arm on the meter's face is connected to a clear disc divided into 600 slices by a black pattern printed on the disc. This gives you 1/1000 of a division of tone arm precision. (I decided not to challenge his arithmetic on this.) The meter's digital displays all report in 1/1000 division units of TA, like that will improve auditing results.
I immediately thought of auditing NED, where if the TA is higher you demand an earlier similar incident. Is that rule still applied with the 1/1000 division precision of the Mark Ultra VIII? How many NED pcs will overgrind on NED incidents because of that?
I asked if I could buy the highly-touted reads-recorder, and the answer was "no, that's for orgs only". I reminded myself that that was the same situation for the reads simulators in the '90s: only orgs could have those too, restricting GAT drills and correction to orgs, and removing the possibility of drilling and correcting field auditors and mission auditors without sending them to an org.
I guess that's what an Ideal Org means: it's the Ideal scene for the church getting more money and crushing the spirit and production of field auditors and mission auditors.