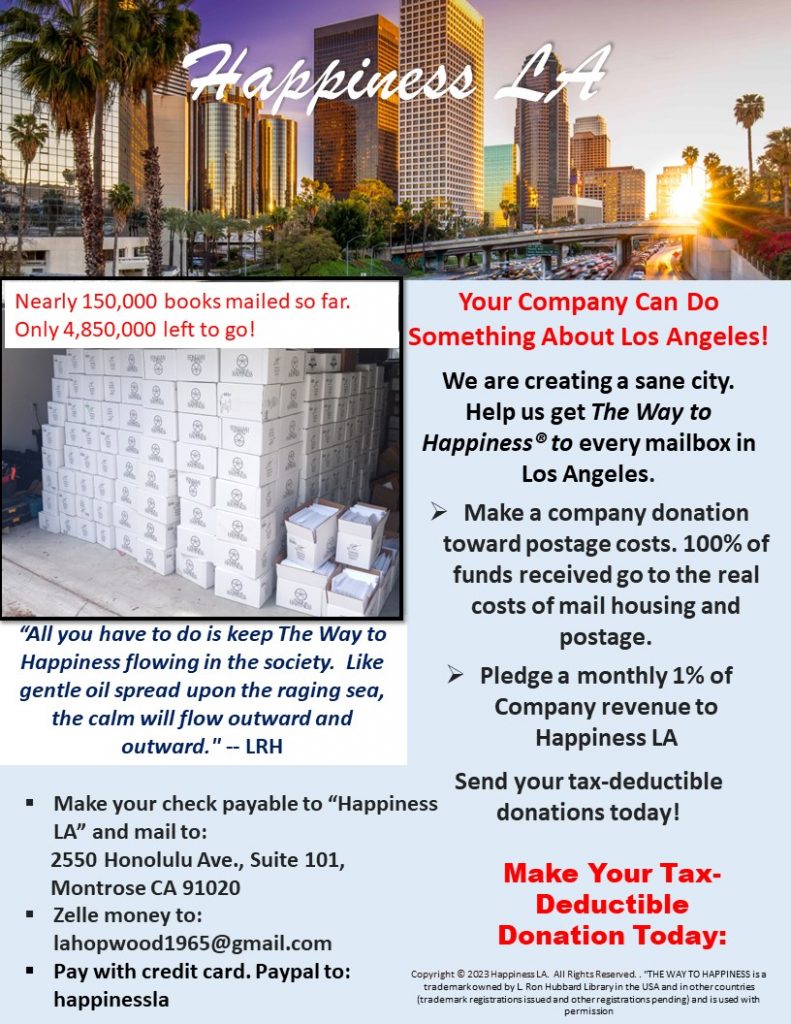 The money grubbing never ends.
They've got tens of thousands of WTH booklets sitting in a garage. But they don't have money to mail them out.
They quote the words of Hubbard — but clearly scientology does not believe these words. If they DID believe them, they would spend a tiny percentage of their billions of dollars on mailing/distributing copies of the booklet to everyone in LA. Everyone in California. Everyone in the US… don't they want a calm, happy world? All they have to is get the WTH booklets out everywhere…
But instead, they use this "moral code" as a FUNDRAISING tool.
You can bet Lydia Hopwood is not sending back the commissions she is making from this campaign. Selling Hubbard books (even if his name is not on them) is a lucrative source of income. You will note the booklets were bought (and the commission paid), but now they have to get them sent out. Why not take each $100 and buy AND MAIL 50 booklets rather than buying 300 booklets and putting them in a warehouse? Because they care more about the booklets being SOLD than they do about distributing them.
Of course, this is all delusion anyway — not a single thing has changed in Los Angeles following the distribution of 150,000 copies of this booklet. This statement from Hubbard that is the motto of the WTH has NEVER been proven, not even hinted at. Anywhere. Ever.