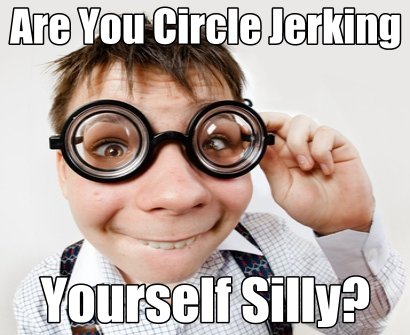 This is like witnessing a massive, LA wide circle jerk.  Not only are the Valleygirls and boys engaging in their usual self-pleasuring, they are getting it from all sides.
Jon Lundeen stroked them with this: "Valley is the most important Org in all of Scientology. It is the solution for the youth in Los Angeles. As an Ideal Org, it will deliver GAT2."
And he called them "Magical Beings" ? (I guess one's magical ability as a being is in direct proportion to the size of the check you write to the church).
Baseball fan and Captain AOLA, Cal Cole bestowed on them the coveted "All Star Team!" moniker. All star whats? They are certainly not all star scientologists or all star staff. They are apparently incapable of doing ANYTHING to deliver dianetics and scientology.  (Oh, wait, they cannot "do GAT 2" until they have a renovated building — it's part of "KSW.")
And Quinn The Eskimo, the Affluence Aficianado, chimed in with his proclamation: "Our affluence is our new expectancy."
And there was more. Unfortunately, attendance was down, so a bunch of people missed out on all the good news, but they can now read it here.
Date: Mon, 14 Jul 2014 
From: Valley Org <valley@scientology.net>
Subject: Valley OTC Minutes, July 8, 2014

MINUTES
VALLEY ORG OT COMMITTEE MEETING
July 8, 2014

Note: The minutes are for the sole use of Valley OTC members. All members receive a copy. Please do not forward the minutes to anyone else for any reason.

ATTENDEES Kathy Welch, Kathie Heard, Mary Lee Krackow, Mary Elizabeth Glosup, Diane Temps, Ralph Temps, Karen Brown, David Nunez, Carol Loweree, Charlene Thorburn, David Wilson, Irad Ron, Tamara Dahill, Kevin Dahill, Kathy di Galbo, Dean Glosup, Alicia Kreisberg, Scott Kreisberg, Mark Anderson, Rochelle Goodrich, Chuck Jacobs, Bob Welch, Colleen Bigler, Vered Ziv, Donna Greisen, Jill Halverson, Larry Marshall, Nancy Parodi, Kathy Foster, Diane McPhee, Alan Gilbertson, Ben Ghiora, Heela Cohen, Linda Massey, John Massey, Lauren Perreau, Bob Brooks, Sue Kattoo, Jill Kirsch, Tracy Andruscavage, Marty Kassowitz, Bobbie Kassowitz, Jeanette Douglass

Quinn Taufer, Valley Ideal Org project I/C opened the meeting at AOLA.

Continental Finance Director Austin Nickels gave his updates: and can see the decisiveness of the OTC members in getting the Valley done! What Valley does influence on the rest of West US orgs.

Target is to have all WUS orgs funding in by Mar 13, 2015.

MV1 and MV2 are creating a drive to complete Valley and West US.

Int fundraising is at highest in 7 years.

Valley is #1 org and WUS is #1 Continent. Valley is thinking big, in action and moving faster.

Target is to beat last week with $1,500,000 invoiced!

Valley Org has the most $million weeks. Added effort is needed now. Keep your eye on the mountain. Persist.

CFD read from the LRH data "What Does It Take"

Valley is the most crucial Class 5 Org in this field. This is the center of the most Scientologists in the world.

Quinn Taufer introduced Captain ASHO Day Mr. Lundeen. He said I have felt the Valley cause a rumble around here. The ground is not completely secure.

Valley is happening. All of the Captains are with you! Valley is the most important Org in all of Scientology. It is the solution for the youth in Los Angeles. As an Ideal Org, it will deliver GAT2.

A most important datum from LRH is Having a basic purpose and doing something toward it. We appreciate you (OTC members and Staff) Magical Beings taking it on. Please get those pledges in this week!

Captain AOLA said, as a baseball fan, this group is like an All Star Team! Valley sends lots of people here for OT courses. We are totally behind you. Let's pull this off!

Quinn Taufer covered the realities involved in reaching the target: At current invoices of $270,000, we must change something in order to get there! Today (Tuesday 8 July) there are 127 status increases and 400 individual donations for the week.

We changed the International demand for GI. We are inducing more activity and more fundraising internationally. If current pledges all fund now, we'll make this week's target. The match game has been extended!!

Next big Valley event is July 27th at the Country Club in Sunland.

"Our affluence is our new expectancy."

OTC members went into production sending out letters and invoices to last week's donors!

Reminders:
Kathie Heard is Overall I/C
Kathy Welch is Humanitarians I/C
Carol Espinoza is CC OTC I/C
Mary Elizabeth and Dean Glosup are Premiere Benefactors I/C
Susan Jacobs and Nancy Parodi are the I/C's for Alumni


STATS

Division 1 – Karen Brown

Active Members – Down from 75 to 64

Division 2 – Mary Elizabeth Glosup

Gross Income $964,360

Division 4 – Tamara Dahill

# of Volunteer Hours – down ever so slightly from 383 to 282.75
# of all GAT2 starts – Up from 5 to 8
# of Events & Briefings Held – Even at 2
# of Service Starts – Even at 15

Division 5 – Kathy Welch

New stat forthcoming…

Division 6 – Kathy Welch for Joan Roeschke

Meeting Attendance – Down from 59 to 38

ANNOUNCEMENTS:

Reminder: Vered Ziv is organizing and preparing the next OTC dinner: Friday July 11th at Irad and Hagit Ron's home at 6:30pm