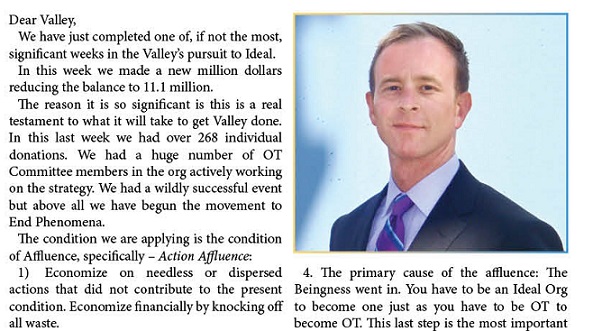 Quinn the Eskimo is baffling them with bullshit out there in the Valley.
If you actually read what he says it is complete mumbo-jumbo "you have to be an Ideal Org to become one" Huh?
He is really one mixed up dude.
If he really wants to repeat his "successful actions" he should dispense with all the bs and simply come out and say it. To keep the affluence going, Nancy Cartwright and David Wilson BOTH need to cough up $550,000 a piece this week. They're not going to get it from anyone else.
And if they just keep that up for a few more months (a million or so a week), the current target will be met and they will be able to BEGIN renovations (and once started they will need more money of course as it's ALWAYS more expensive than any initial estimates).
It's also amusing to see the staged shot done for the Maiden Voyage and the shot of the actual fundraising event — 50 down to 20. But even for 50 people, don't they have any concept that spending $20 million plus on a building for such a tiny number of people is pure insanity? This number of people would be lost in empty rooms of a half million dollar building.
The one thing Quinn ISN'T confused about is that he has the absolute right to keep demanding that people give ridiculous amounts of money for ridiculous reasons. Money that is then wasted. But that is not his responsibility. He just gets it.
I wonder how he sleeps at night (if he is allowed to sleep)? Probably he buys his own bs about how important all this is to saving the planet — it's the only way he can get through life.

BTW — I would bet a MILLION DOLLARS that the NEXT newsletter from Quinn isn't going to have a graph showing their "weekly donations" stat.
And a bonus feature. A list of ALL Valley public. This is a new technique — put out a list of everyone that the org hopes will be at the event and try to shame them into showing up. But the entire list is LESS THAN 300 PEOPLE (and some of them on there I know would consider themselves CC public or AO public and others they appear not to even know their names, they are "Mr. Wife's Name").  And how come the Mayor of the Valley isn't on the list? Or Bart Simpson?