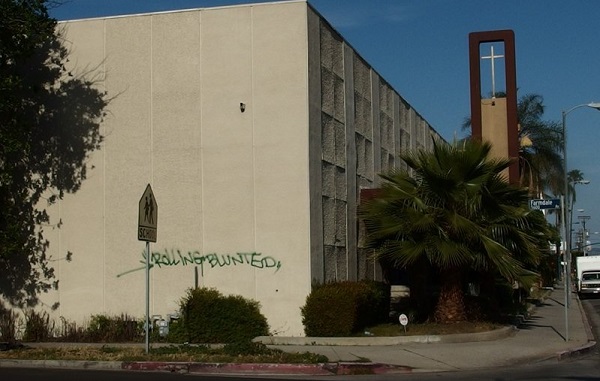 Douglas D. Douglas over at the Underground Bunker, posted an excellent comment and photos this afternoon.
It is too good to be possibly lost in the huge number of daily comments that appear on Tony Ortega's blog.
Without his permission, I am turning this into a posting here in order to preserve his fine work and to make it easier for everyone to find.
Here is his original comment, followed by the photos. Some very sharp observations. Honestly, can anyone other than a hypnotized zombie NOT see the insanity on display here. By their OWN claims, the "Golden Age of Tech II' is going to "salvage this sector of the universe." They also state that you need an ideal org to properly deliver GAT II. AND they claim that Valley is "the most important strategic org on earth" to be made "ideal." Look at this shithole and think about what $10,000 per week paid to PI's to follow David Miscavige's father would do to fix a place like this up. Fix it up so it could be delivering some service. It would buy a lot of paint, repairs, windowpanes and furniture. Not marble floors, custom rugs and hand-made furniture. These people don't even believe in their own bs. If they have the answer to all ills of every man, woman and child on earth in their hands, and all that is holding them back is having a large enough premises (yeah, right…) then NOTHING is holding them back because they have a building that is 20 times bigger than their current ability to fill. And they are NOT using it for this purpose because they have been told they can DO NOTHING until they have handed over $16 million to turn it into a pimp palace.
Scientology, once again, your lies are laid bare for the world to see.
Douglas D. Douglas • 6 hours ago
Scientology has a lot of money for important things, like tracking 80 year old men for months on end, but when it comes to Clearing the Planet, the funds just never seem to be quite all there.
I happened to be down in the Valley again this weekend, and couldn't resist swinging by the not-at-all-uptone Valley Ideal Org building to note the progress. They have accomplished at least 47X as much as when I was there last month. That is, 47 times nothing still equals NOTHING.
In the photos you may note that not only is last month's rubbish still there (rotting phone books, anyone?), but a new layer has been added, starting with very visible graffiti on the west side. Those aggregate panels on the facade are starting to get really loose. I hope a member of the CoS is on hand to give out Touch Assists when they start falling on unwary pedestrians.
Further down the west side the "children's wing" is showing signs of Spring. The weeds are getting nice and high. This section of the building faces a quiet street with apartment buildings and homes. Bet the neighbors just love what the Scientologists have done with the place. Despite the "no trespassing" signs posted, someone managed to get inside and tag the windows. Backwards, apparently. Pretty clever.
There was a lot of broken glass in the planter strip on this side– so somebody managed some successful Shattering, anyway. I have no idea what the abandoned sneakers and cigarette package in the doorway mean. Somebody spontaneously exteriorized during a smoke break?
Over on the east side the situation looks even more bleak. This side faces a rather scary alleyway. (I stitched two photos together to present the inspiring panorama.) As you can see, the milieu has been enhanced by the appearance of derelict vehicles. The VM van looks right at home.
Meanwhile, on the south front (the one that faces the main street), not a thing has been improved since they were setting up for the LRH Birthday Gala Fundraiser. There is one rather gross addition. Next to the rotting phone book there appeared to be human feces. I confined myself to a photo from the sidewalk.
I managed to get a shot through the lobby windows to see what progress they had made inside the building. And there it is! Since there has been no real construction, they have set up a display of pretend construction, complete with 2X4s, concrete blocks, and hard hats. Pretend progress for a pretend religion…!
Same old rotting phone books at the doors, but there is some new rubbish inside: a ladder leading nowhere (what, not a Bridge?) and a pile of trash in the neglected corner of an abandoned office…
STRAIGHT UP AND VERTICAL!!!!!!!!!!!!!!!!!!!!!!!!!!!!!!!!!!!!!!!!!!!!!!!!!!!!!!!!!!!!!!!!!!!
EDIT: Wow. I just refreshed, and Disqus has totally randomized the photos. Oh well. You can sort them out for yourselves.