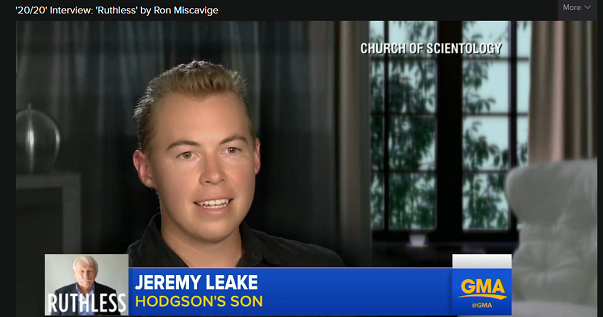 Regraded Being had another engagement. Will be back next week.
Scientology has a sick new tactic right out of the North Korea playbook. You have likely seen videos of POW's "confessing" and denouncing imperialist America. We saw Peter Schless paraded before the cameras calling Ron Miscavige a lousy musician.
Now they have taken it to an even lower level.
This GMA segment on Ron Miscavige's book contains two bizarre statements from Lori Hodgson's children. (Around 2:55)
In typical scientology style they have been coached to "attack the attacker" by claiming it is "more important for her [Lori] to have this vendetta against my church than to have a relationship with me." This bizarre statement makes it sound like Lori's daughter WANTS to have a relationship with her mother except she is too busy speaking out about not being able to have a relationship with her disconnected child that there just isnt any time left in the day. This is insanity — if her daughter is so upset about Lori's vendetta she could easily stop it in 10 seconds. Just call her mother. It's a hell of a lot easier than going through hair and make-up, drilling and rehearsals and numerous takes that were undoubtedly required for her 15 second of fame. But why doesn't she call? Because she is not allowed to. She is instead directed to make a rehearsed pitch, looking like a programmed robot salesperson.
And her son complains about Lori going to the media — while making a video FOR THE MEDIA to denounce his mother.
This is a new low even for scientology. The parallels between the scientology bubble and North Korea continue to grow stronger.
Do they really think the world looks at staged mannequin videos like this and thinks "wow, they make a good point, they look totally natural and sincere?" They probably do — Dear Leader has a "bright idea" and of course inside the bubble they are high-fiving his brilliance and the great success they had with the videos because they were aired. They are not even aware any longer that the media love their responses because they invariably make the point about how insane the world of scientology is better than the material that is "attacking them" does.
I call it the Baghdad Bob syndrome. His very presence and every statement demonstrated to the entire world that he was a puppet of an oppressive brutal regime.
Maybe this should be called doing a Tommy Davis (in honor of the first and greatest scientology Baghdad Bob practitioner) as in "there they go again, doing a Tommy D."