The church of scientology loves to toss around the term "bigot" to describe anyone who expresses opinions that differ from their own. They shout long and hard that those bigots are discriminating against them and are "attacking their religion."
But the truth of the matter is that the church is the source of a great deal of discrimination against those who do NOT wish to be scientologists. Such people, especially those who may have once called themselves scientologists, are singled out for disconnection, libel, harassment, trickery and various forms of fair game. Of course, when the church engages in these activities they proclaim they are simply exercising their constitutional rights to freedom of religion and/or freedom of speech. For a perfect example, see the arguments they presented to the court in Texas claiming their repulsive "squirrel busting" and fair game tactics were "religious activities."
Of course, there has still been no final determination of that matter, though the Judge was not impressed with this argument. It remains on appeal.
But on a much smaller scale here is a story that is a microcosm of how the outside world views the activities of scientology. And this is a final word on the matter.
It comes from my old friend Martin Padfield in the UK.
When Martin was refused service by his Scientologist Financial Advisor he decided this was discriminatory and took the company in question, Sovereign Finance, to the Financial Ombudsman. This is an independent impartial body to investigate and resolve disputes outside the judicial system. Or something like that.
I will let Martin tell his story:
The background to this is that in June last year (2014) I tried to get back in touch with Sovereign Finance as my registered IFA (Independent Financial Advisor) to get some advice on my pension. In the UK the IFA's job is to do just that – advise. It doesn't hold the pension funds but can and should make sensible recommendations based on the individual's circumstances and needs. There has been a LOT of changes to pensions legislation in this country recently with far-reaching effects, so I was keen to make sure I was getting the best value from my relatively modest private pension.
I had been with Sovereign since 2004 and resigned from the Church of Scientology in November 2009. In December 2011 I spoke briefly to the pensions advisor, a guy called Arie, who also wrote me a letter about my funds and their allocation. I also received a letter from Tom Shuster in June 2011, nineteen months after I left the Church trying to sell me life assurance. I continued to receive mailings from Sovereign right up until 2014. So I really had no reason to believe they wouldn't be prepared to continue servicing me as they are legally obliged to do, not least as they were continuing to take monthly commission payments (trail commission) off the back of my pension contributions right up till July last year. 
So I phoned Sovereign last year and Managing Partner and long-term Scientologist OT VIII Tom Shuster answered the phone. I asked to speak to Arie (also a Scientologist) about my pension and he asked me if I was "the Martin Padfield who had left the Church" [of Scientology]. An odd question as I suspect he doesn't know too many other Martin Padfields, but I confirmed I was — to which he replied it was his policy not to service people who had left the Church. I protested, saying that was discriminatory and he couldn't do that. He became, in his own words later, rude and abrupt and assured me he could and would do that. 
There followed an exchange of letters to and fro, which culminated in a very antagonistic one from Tom that said I was, effectively, attacking his wife and children. At that point I referred the matter to the Financial Ombudsman as a formal complaint.
The adjudicator carried out a very thorough study of the case, and after eight months issued his findings, which another six months after that were upheld by the Ombudsman – the final authority.  
I should mention that it was Tom's decision not to accept the adjudicator's decision; he could have settled with me at any point up til then and there would have been no ruling on the Ombudsman website and no legally binding judgement, but he chose not to. He has now paid the compensation and apologised.
It's probably also worth mentioning here that this incident was only the latest on a chain. My Scientologist accountant withdrew his services after he found out I was an overnight SP (although still awaiting the declaration in writing). I didn't immediately take action against him then as he was at least courteous and somewhat respectful about it. Tom was anything but, and I don't take kindly to bullies so I thought enough is enough. A third company withdrew service due solely to my religious allegiances.
Obviously the Scientology disconnection policy is at the heart of this. In Tom's eyes I am not just a garden-variety Suppressive Person, but since I have spoken out in a critical way, I am far worse – "an enemy of mankind". I tried to point out in one of my letters that I wasn't anti Scientologist (his rebuttal to the adjudicator was that I was equivalent of being an anti-Semitic or anti-black) but I was very much anti-being lied to, deceived and defrauded.
Having been a victim of human trafficking at a Scientology behaviour modification camp doing hard labour overseas at the Int Base with no passport or possibility of escape I feel I have a right to speak publicly about my experiences with the hope that others may be forewarned – I think that is called freedom of speech. However the initial crime that led to my alleged SP declare was simply asking awkward questions of Graeme Wilson of OSA UK, the answers to which I am still waiting. Hence I resigned. My further crime was talking to Marty Rathbun and Mike Rinder – possibly the greatest crime in the known universe to a true-blue believer in the Miscavige era.
I have subsequently written several emails and letters to OSA advising them that they need to take some responsibility for what their "OT Ambassadors" (as Tom is, and also ex-GO apparently) do and say in the field, and that they must uphold the law of the land. I am still awaiting any response to those communications too. I have even helpfully suggested some policy changes that they could undertake.
The UK anti-discrimination laws are very clear. Such actions don't just make them look cult-like and out of touch, but also one might ask: who are real bigots here? My supposedly bigoted friends and I don't have any problem talking with Scientologists although I would certainly now think twice before doing business with any!
Ultimately although Tom Shuster behaved reprehensibly and unprofessionally, compounding the idiocy by lying to the Ombudsman regarding the nature of the complaint, he was just being an obedient Scientologist. I actually don't bear him any ill will personally. The real source of the problem is of course the Church, its mind control and toxic disconnection policies and indoctrination into Scientologists.
I don't know what ramifications or implications this judgement may have, if any, going forward. It is legally binding so it may set some sort of precedent – in the UK at least. But if nothing else it hopefully shows that Scientology companies must operate within the law of the land and that their "superior ethics tech" does not supersede the law! This type of behaviour is a form of bullying in my opinion, and no one should tolerate that, or with passive acceptance, effectively agree with it.
I must say the Financial Ombudsman did a very thorough and professional job, and in case the Adjudicator or the Ombudsman him/herself is reading this I should say a big "Thank You" for all the hard work and for being scrupulously fair and even-handed. 
Martin Padfield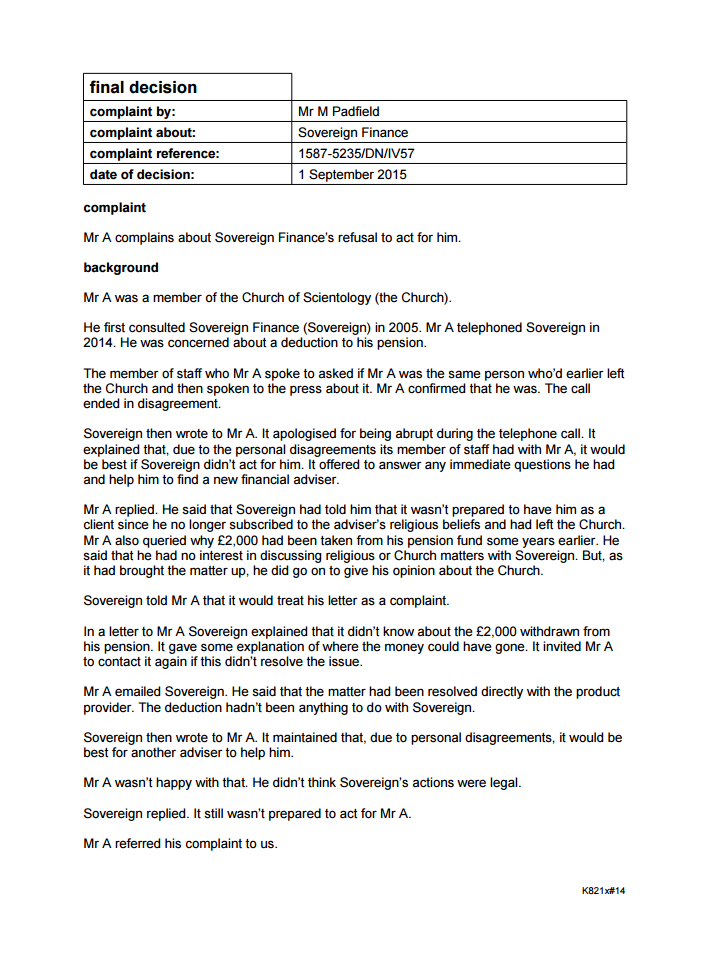 kk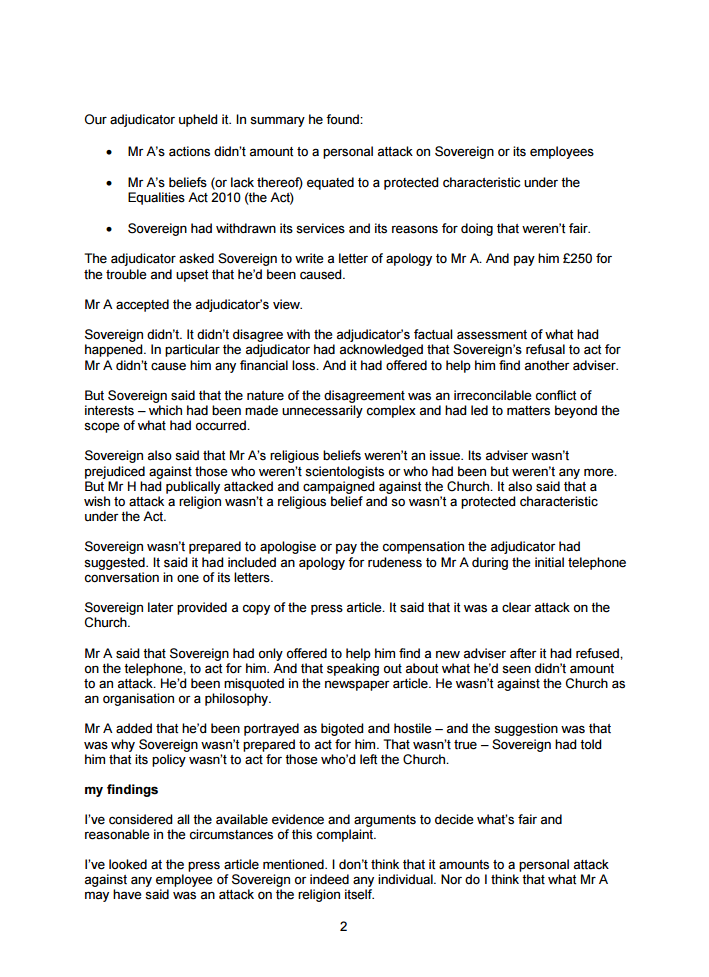 nn