Scientology are off and running with their "25 year unbroken record" of Winter Wonderland self-promotion.
Can you imagine putting out a press release in advance of "beginning construction" for few plywood elf-house facades? Only a scientology-mind could conceive of this. "Construction"? Makes it sound like they are building the Great Wall of China.
The desperation to get themselves in the news for something other than defrauding people of their life savings and destroying families is palpable.
The citizens of Clearwater should be aware that the park in which they construct "Winter Wonderland" is itself a deception.
While they post a sign saying all are welcome, they reserve the right to throw you out if you are drunk, loud, setting of fireworks, carrying a gun or generally being obnoxious. What they DON'T say is that they will demand you leave if you don't follow their religious beliefs. Particularly if you are what they deem to be an "anti-scientologist" — or even connected to one.
Last year, they demanded that the wife and children of Aaron Smith-Levin leave Winter Wonderland (he was not present) or they would call the police. Aaron's wife and 3 daughters have never uttered a word against scientology, but no matter, they are connected to Aaron who is deemed a "Suppressive Person." Not very "Christmaslike" behavior. The girls were participating in what scientology claims is a "community event", they are residents of Clearwater.
So too scientology called the police to evict Mark Bunker for sitting in the park a couple of months ago — he was doing absolutely nothing. The only person present, sitting quietly on a bench. Not consuming alcohol, swearing or setting off fireworks. But that didn't matter.
Don't be fooled. The sign at the entrance to the park is a lie.
And don't be fooled that scientology actually cares about Christmas. They believe Christianity is a false religion created to enslave mankind. (In fact, all other religions are false enslavements of man, though they are a little easier on Buddhism because L. Ron Hubbard said he was Guatama Siddhartha in an earlier lifetime). Christmas is simply an opportunity to appear to be in harmony with and supportive of other religions.
Again, don't be fooled. Scientology tells the world you can be a scientologist and a Christian, Jew or Muslim. It's another lie designed to entrap the unwary. Though they continue to take this position publicly, when asked about this as part of the effort to gain tax exemption, they had to tell the IRS the truth and admit this is a lie.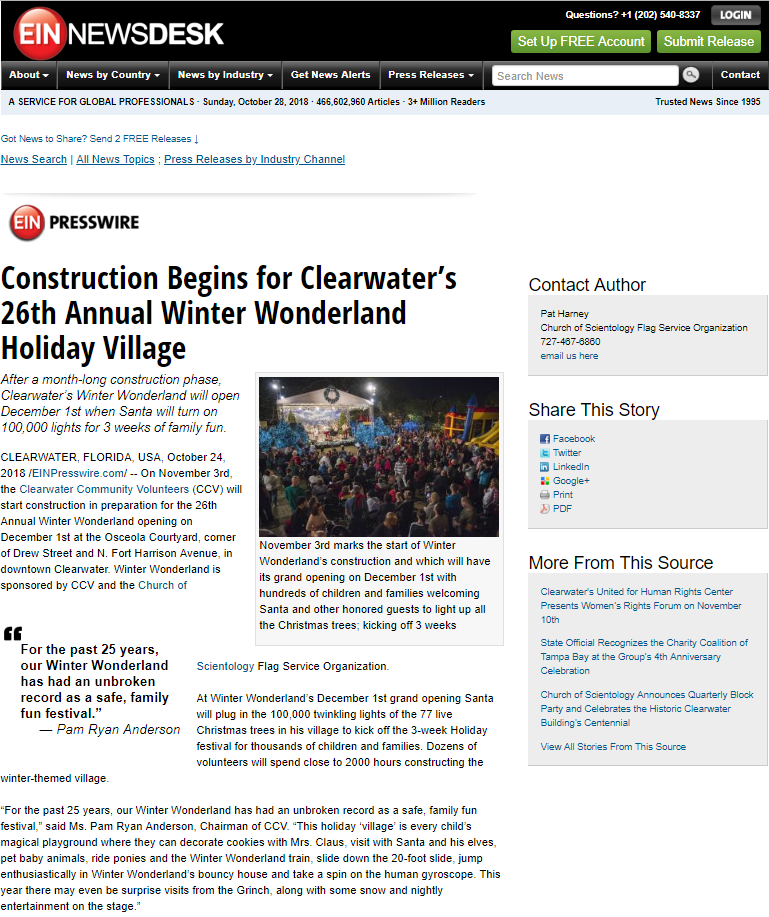 PS: Only scientology can get excited about "construction planning". They do it with their "ideal" orgs and now with their PR front for Christmas. It's another sign of how out of touch with reality they are.