I am not sure who sent this to me, but it is an interesting collection of quotes from the leader of the Nation of Islam: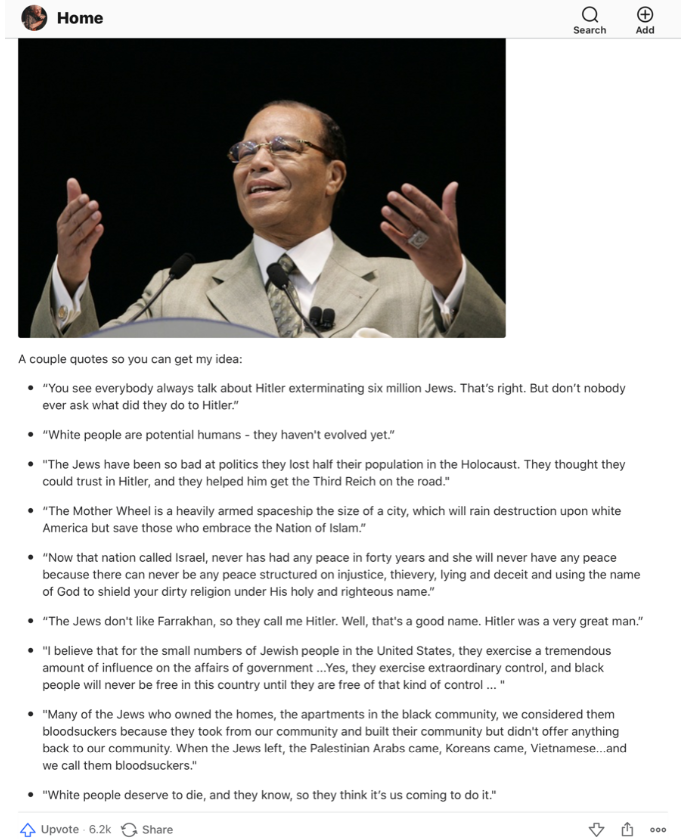 The brazen racism and Antisemitism is breathtaking.
And yet, it was just announced that Abdul Malik Sayyid (formerly Tony Muhammad), his Western Regional Director, had attested to the state of Clear…
Alfraudie, in his tweet making the announcement, even acknowledges the great "HON MLF" (Honorable Minister Louis Farrakhan).
Scientology is SO desperate to try to attract members they are still hitching their wagon to the idea they are making inroads into black society through partnership with the NOI. In fact, what they are doing is positioning themselves as even more wingnut than people already perceive them to be. If that is possible.
What baffles me is the ethnic Jews who are such an important part of the old guard of scientology tolerating this. There are many of them. Because support of the NOI is condoned by Miscavige they just bite their tongues and say nothing? Miscavige has not yet come out and publicly distanced himself and the organization from this hatred. Yet scientology continue to tout themselves as great "humanitarians"… It is going to have to happen sooner or later. The two universes are going to implode.
This sort of cognitive dissonance almost defines scientology. It is a study in contradictions.