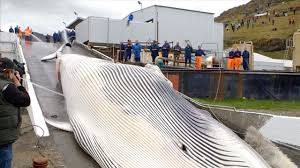 Lauri Webster is back hunting the dwindling number of whales they have not yet harpooned and slaughtered for their blubber.
Tony Ortega mentioned the launch of the new Lauri Webster fundraising this morning on his blog with a copy of a letter (several people also sent copies of the same letter to me). But I also received another communication containing some further specifics on what the "Super Power" people are now up to.
Here is what Lauri had to say:
Your help has most definitely accelerated Scientology's speed of expansion!!! And now we have officially launched the next phase to dramatically increase the size and power of our Religious Center here in Clearwater!!!!
The target is the creation of the L. Ron Hubbard Hall. Where all future International Management Events will be held!
We are asking all our loyal supporters to help us launch this special activity with a gift to their best friend ever & accomplish the 1st level of status, the Status of "A Friend Of Ron" with a gift of $1,000 this week.
Friend of Ron. Really? To construct a hall for "International Management Events" that Ron said should never be held? 
Wonder what you get for $100,000 this week? A certificate proclaiming you "Ron's close family friend"? For a million I wonder if they would give you one proclaiming you "Ron's brother"?
They become more brazen as each day goes by.
To steal (and slightly alter) a famous statement from an entirely different context — but which seems so appropriate here:  "Have you no sense of decency, madam, at long last? Have you left no sense of decency?"