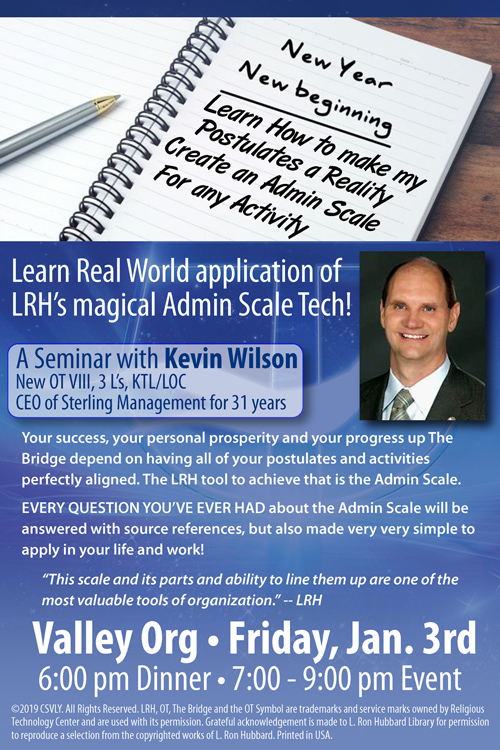 One of our faithful readers sent me this promo piece with a bit of background that illustrates the inherent dishonesty that is part and parcel of being involved in trying to sell scientology…
Hi Mike,
Every New Year's our org would promote that they were having a New Year's Admin scale workshop. I dodged it for years and one year I found myself really in need of a new look at my business to just inspire me to start the new year.
So I called the person planning and I said if I go to this thing I want to do a admin scale for my business not for the ideal org or whatever.
She said oh that's fine, no problem. So I got there and it was all about my goals and purposes for moving up the bridge and the ideal org and when I started working on one for my business in spite of all that they had said. I got major dirty looks and I could tell that I was probably on the road to getting a KR.
So I put away my business admin scale and made up one for my goals and purposes for the future on my bridge. And boy did that make me unhappy. That must be why I left soon thereafter.
When I read this promo, it reminded me of how predictable they are with their New Year's events. It also made me wonder if you've done a blog lately about the bait and switch about goals, how they co opt your goals, like I have a goal to make my business better and the next thing you know, they're making me write it up about my bridge goals and my freedom goals. Just a thought.
I have not done a post about co-opting goals, but I might find the time to do so in the near future.
In the meantime, I bet there are others who have had similar experiences to this and we will see them reflected in the comments.
There is virtually nothing that is said in these promotional pieces for "seminars" and "free meals" and "come in to admire our carpet" that is in fact stating what the real intention is. It is ALWAYS about getting your money. Always.
Scientology, the game where EVERYONE pays.