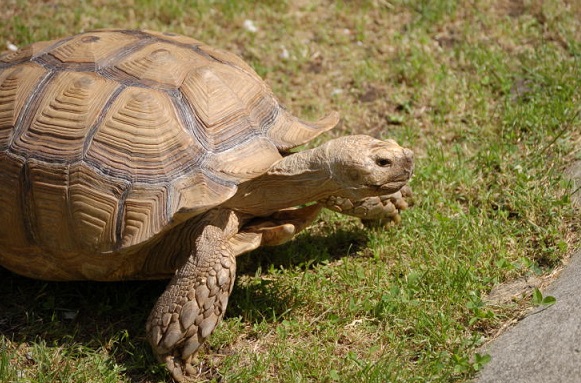 Another inadvertant disclosure of the real scene inside the bubble — this time from Clive Rabey D/CO of the FSO.
They have been trying to reach the target of "10,000 onto or through Solo NOTs" for 30 years or so and are still not even close. And this is a CUMULATIVE stat. It's not 10,000 this year. Or even 10,000 this decade. It's 10,000 from the beginning of Solo NOTs.
And still they cannot make any headway.  I have written about this before.
10,000 of the world population in 1985 (4.5 billion) would be equivalent to 15,770 of today's population (7.1 billion). (I am ignoring the fact that the twisting of the quote that they claim says they need 10,000 is from the mid-50's and so adjusted for the increased population, the 10,000 should have been more like 30,000 at the outset and 45,000 today). Net gain toward the goal over 30 years adjusted for expansion is 663.  It makes that tortoise look like a cheetah.
This stat is the ultimate reflection of the health of the RCS. It measures more accurately than anything the [purported] goal of the church — moving people up the Bridge to achieve the highest states of awareness.  Everything culminates in this, or it should.  If not it is surely a failure.
Just the simple math of reaching 2/3rds of the target in 30 years means it will be another 15 years before the full target is reached. But Clive gives us even more. Apart from his problems with addition (6,433 are done, that only leaves 3,367 to go — to reach our target of  9,800?), he is "targetting" to reach the goal of 7,000 this year. That would be 567 in a year. Or about 10 per week. Which is the TARGET (clearly not a target that has been even approached in the previous 30 years as 10 per week for 30 years is 15,000). They will not come close.  There is no target that is ever set like this that is ever met (the only ones that seem to be are fundraising where they really care). Even with that, he is planning to take until 2020 to achieve the 10,000 target and until 2030 to achieve the 15,770 target (ignoring any further expansion of earth's population).
This is hardly indicative of a massive, straight up and vertical scene of people "rocketing up the bridge"…
Nor does it seem to take into account the scare tactic claims that "this civilization does not have long…."
You have to wonder at the IQ of someone that keeps spitting out the same tired rah-rahs over and over. Has he never stopped to think about what he is saying? Or that it's the same thing that has been being said for decades? Isn't it just a little bit embarrassing? And wouldn't you feel just a bit strange if you believed that the people you are talking to are the most enlightened beings on earth and yet they are so rock dumb stupid that they don't spot anything amiss? Cognitive dissonance much?
Anyway, here it is in his own words….
Clearly people are balking on going to Flag as they are kept there until they have nothing left and get kicked out the door. Everything is about how if you come to Flag you will get to return home relatively quickly.  A major "success story" from someone who went to Flag in July as a NED case completion and went all the way to OT VI  "Phew, I'm a different person from when I arrived!" is hardly earth shattering. It's not the result being pushed, but the speed…. (7 months is fast?)
No outpoint is big enough to be noted by the clubbed seals it seems.
Date: Sat, 01 Feb 2014
From: Clive Rabey
Subject: Re: Completing the First 10,000 On Or Through Solo NOTs target

Hello!

I thought it was time for a quick update on the First 10,000 On Or Through Solo NOTs target as we need you heavily promoting this vital campaign out there to all your area Scientologists. As of last week we are now at 6,433 in our quest to get to that 10,000 figure – 3,367 to go! We are aiming to be at 6,500 by LRH's Birthday and 7,000 by the end of this year, so we do need to get you to urgently promote this message and get you area OT Vs to arrive ASAP!

With all that is happening in the "Cathedral of Scientology," (the new Flag building), Super Power, the Cause Resurgence Rundown, the greatly increased Ls delivery, as well as the Golden Age of Tech Phase II Student Hat, Survival Rundown and other technical courses, moving to the top of the Grade Chart is within easy reach for all!

And in the Flag AO we have the brand new Solo Auditor Course and Advanced Solo Auditor Course (New OT VI Part A); we already have over 200 completions on these incredible courses, with public moving rapidly and smoothly through and onto their next OT Level with more certainty than ever. As one of our Solo C/Ses stated, "These are a whole new breed of solo auditor!" On the non-confidential course they learn the tech perfectly and then when they start to audit they demonstrate that perfection right from their very first solo session!

And finally and very importantly adding into the mix is the amazing Mark Ultra VIII meter and everything that means for precision handling of one's case.

All aforementioned aspects combined make the attainment of the first 10,000 On Or Through Solo NOTs target very doable in the very, very near future!

It is vital that all New OT Vs especially get enlightened on the above and are gotten to move up to Flag with no delay!

As an example of what is now possible, one OT V, a mission holder from LA who had never been to Flag before, arrived at Christmas to get onto Solo NOTs. Less than 5 weeks later he is on his way home, Solo NOTs materials in hand, now one of the 10,000.

Or there is the OT V from France who had completed OT V some time ago speaking little to no English, he had assigned 8 weeks for the trip. Needless to say he had to work out what to do with the more than two weeks he had left over at the end as he was through all his OT Preps, OT Eligibility and OT VI Part A, B & C in just over 5 weeks.

Or there was the girl from EUS. She arrived as a NED Case Comp at the end of July 2013. Just last week she went home with her Solo NOTs materials, less than 6 months after arriving and having completed OT Preps, Solo I, Solo II, OT Eligibility, R6EW, the Clearing Course and New OT I through New OT VI. In her words, "Phew, I'm a different person from when I arrived!"

It's more important than ever that we get your area OTs and especially all OT Vs to arrive to get onto Solo NOTs. If they need other actions before starting on New OT VII get them onto those as fast as possible right there in your local org, so that they arrive for Solo NOTs that much sooner.

Let me know if there is anything that you need to help get these people arrived and especially those who are already New OT V Completions!

ML, Clive
D/CO FLAG AO