What happened to Clive Rabies?
Clive was the worldwide cheerleader of the "10,000 onto and through Solo NOTs" campaign. A target that has been around for more than 20 years and has STILL not been attained. Last time they reported they had not even cracked 7,000 — notwithstanding that of that number I would estimate HALF are no longer scientologists or are dead.
We havent heard much from Clive for a while and now he has surfaced with a new gig: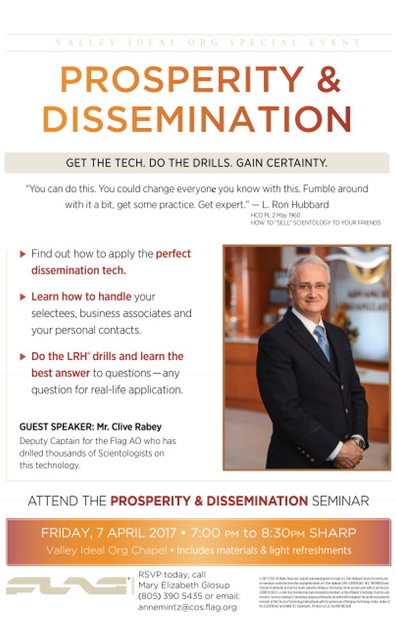 Oh, how the mighty have fallen.
He is now pitching prosperity and dissemination?? THIS is now the route to planetary salvation? Remember, the 10,000 are supposed to steer the planet straight into glory like they brought down the Berlin wall.
This is a very strong indicator that things are bad at the top of the bridge.  Rather than the Deputy Captain of the FSO for the Advanced Org being needed at Flag to ensure all the public are being serviced, he is out trying to round up fresh meat. And not even those who are ready for Solo NOTs, but down to the level of a Class V org to help them get new people in.
Clearly Flag is starving for new public.
Another advertisement for the implosion of scientology from the bottom all the way to the top.