I have finally written a book.
It was announced in a press release today — it will be available on 27 September.
You can find it at the Simon and Schuster website where there are links to all major retailers to pre-order if you are so inclined.
There is also a description of the book and some initial reviews from Leah, Alex Gibney, Lawrence Wright and John Sweeney.
It's taken a long time to put together. I hope it doesn't disappoint any of you who have been asking me to write a book.
I am about to begin recording the audiobook.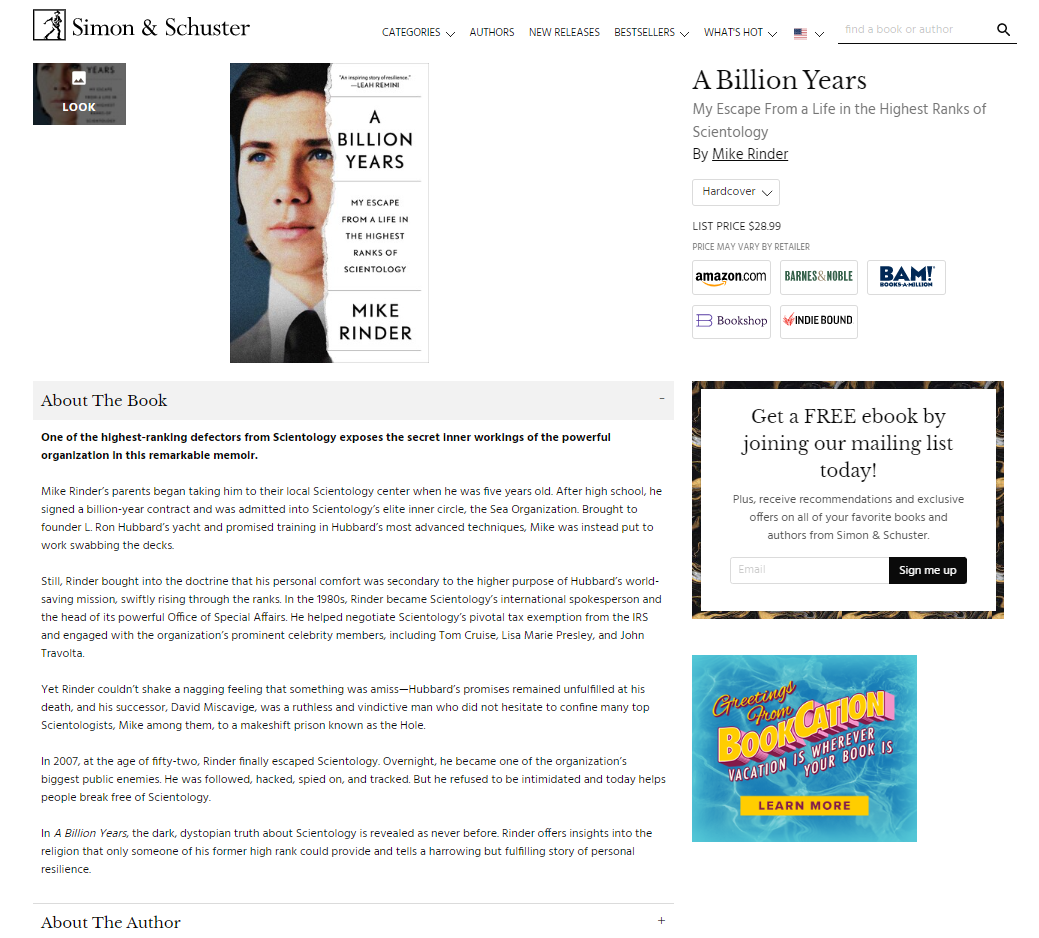 The press release:
GALLERY BOOKS TO PUBLISH MEMOIR BY HIGH-RANKING SCIENTOLOGY DEFECTOR 
Gallery Books, an imprint of Simon & Schuster, will publish Mike Rinder's A BILLION YEARS: My Escape From a Life in the Highest Ranks of Scientology, on September 27, 2022.  Rinder, a member of Scientology for nearly fifty years, offers insights that only someone of his former high rank could provide and tells a harrowing but fulfilling story of personal resilience.
Mike Rinder was brought into Scientology by his parents when he was five years old.  After high school, he signed a billion-year contract with the Sea Organization, Scientology's elite inner circle. Buying into the doctrine that his personal comfort was secondary to the higher purpose of Hubbard's world-saving mission, Rinder swiftly rose through the ranks. He went on to serve as the church's international spokesperson, a member of its international Board of Directors, and head of the Office of Special Affairs, known as the "dirty tricks" division, responsible for looking out for its celebrity members and attacking its enemies.  But Rinder couldn't shake a nagging feeling that something was amiss—Hubbard's promises remained unfulfilled at his death and his successor, David Miscavige, was a ruthless and vindictive man.  Yet he stayed on, helping negotiate Scientology's pivotal tax exemption from the IRS and engaging with the organization's prominent celebrities, including Tom Cruise and John Travolta.
In 2007 at the age of fifty-two, Rinder escaped Scientology with only the clothes on his back.  His family disconnected from him, and he soon became one of the organization's biggest public enemies. He was followed, hacked, spied on and tracked. Today he helps people break free of Scientology and is a prominent whistleblower against the organization's abuses.  He has appeared in the HBO documentary Going Clear and cohosted all three seasons of the Emmy Award-winning show Leah Remini: Scientology and the Aftermath on A&E. He and Remini currently cohost the podcast Scientology: Fair Game. While other members have revealed some of Scientology's inner workings, Mike Rinder's A BILLION YEARS is the first account told from the perspective of a high-ranking, long-standing member who worked at the very top of Scientology's hierarchy, in both L. Ron Hubbard's and David Miscavige's inner circle.
Gallery Books Vice President and Editorial Director, Aimee Bell, acquired North American rights from Steve Fisher at APA. The audio edition will be published simultaneously by Simon & Schuster Audio, which will be read by the author.
#####
Gallery Books, a division of Simon & Schuster, is an imprint dedicated to publishing a variety of must-read books on a wide array of topics. Launched in 2010, Gallery is designed to showcase established voices and to introduce emerging new ones—in both fiction and nonfiction. Gallery Books is the publisher of Taste: My Life Through Food by Stanley Tucci, The Last Black Unicorn by Tiffany Haddish, Where Tomorrow's Aren't Promised by Carmelo Anthony, The Girl with the Lower Back Tattoo by Amy Schumer, One by One and The Woman in Cabin 10 by Ruth Ware and Anna: The Biography by Amy Odell.
Simon & Schuster, a Paramount Company, is a global leader in general interest publishing, dedicated to providing the best in fiction and nonfiction for readers of all ages, and in all printed, digital, and audio formats. Its distinguished roster of authors includes many of the world's most popular and widely recognized writers, and winners of the most prestigious literary honors and awards. It is home to numerous well-known imprints and divisions such as Simon & Schuster, Scribner, Atria Books, Gallery Books, Adams Media, Avid Reader Press, Simon & Schuster Children's Publishing and Simon & Schuster Audio and international companies in Australia, Canada, India and the United Kingdom, and proudly brings the works of its authors to readers in more than 200 countries and territories. For more information visit our website at www.simonandschuster.com
PRAISE FOR A BILLION YEARS 
  "Few people understand Scientology like Mike Rinder does. In A Billion Years, he tells the gripping, harrowing account of growing up in Scientology, serving founder L. Ron Hubbard, and rising to the top of its ranks. Mike has found purpose in his pain and his book offers not only a cautionary tale but also an inspiring story of resilience."
—LEAH REMINI, New York Times bestselling author of Troublemaker 
"A candid and deeply felt memoir of a life lost to false belief—and courageously regained."
—LAWRENCE WRIGHT, New York Times bestselling author of Going Clear
"A Billion Years is an extraordinarily powerful book. It is an essential account from the inside, and while it's a devastating exposé of the abuses of the church, the tone is measured and deeply humanistic. Rinder lets us feel what it's like to fall into a state of blind faith, and how hard it is to break free and see the truth for what it is. Nothing could be more relevant to our current moment."
—ALEX GIBNEY, Oscar-winning director of Taxi to the Dark Side and Going Clear
"Mike Rinder has written the definitive book on the great threat of Scientology in the twenty-first century. It's a flamethrower of a read, burning up the organization's wicked nonsense so all that is left is like so much ash in the ashtray. Read it."
—JOHN SWEENEY, investigative journalist and presenter of BBC Panorama's Scientology and Me and The Secrets of Scientology